Today we will see a TUTORIAL on how third-party applications and games can be installed on OCULUS QUEST in an easy way. If you arrive because you have recently bought some OCULUS QUEST 2, this tutorial also serves you.
If you have ever wondered if you can use any Android application on your Oculus Quest or Quest 2 and how it can be installed. You are in the right place as we explain it very easily.
This is useful when we want to install 2D Android applications and be able to enjoy them in the famous autonomous virtual reality viewer. But we can not only install Android applications, but we can also install the apps that are not available in the Oculus Store, either because they are games in beta or another option. We show you a small guide to do it in a very simple way.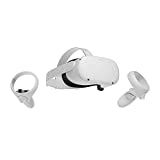 Oculus Quest 2 – Virtual reality glasses, 256GB
STATE-OF-THE-ART HARDWARE – With its ultra-fast and powerful processor…
ALL-IN-ONE GAMING EXPERIENCE – Explore new and classic titles in the…
IMMERSIVE ENTERTAINMENT – Get a front row seat at…
EASY TO SET UP – Open the box, set it up with the app to…
PREMIUM DISPLAY – No detail will escape you thanks to its…
STEPS TO FOLLOW:
Enable developer mode
The first thing we have to have, although it is somewhat obvious, is to have a computer with Windows 10 that has a USB connection. Once we have this step already done we will have to activate Oculus Quest Developer mode.
How to activate Developer Mode on Oculus
This step is the most important since without it we will not be able to install APK's on Oculus Quest. For this we must Sign in with our Oculus account at the following web address: dashboard.oculus.com.
Once inside, we will have to click on "create new organization"and we will create an organization with whatever name we want. And that's it, we are already developers and we have made the most important step, but there is still a little bit left, so we continue.
Now we will take our smartphone and we will open the Oculus application. We will go to the bottom menu where the toothed wheel and we will click on it and the devices that we have purchased from Oculus will come out on top of everything.
We will click there and a new screen will open in which we must click on more settings. Again another new screen will open and we should see the developer mode. Let's click on it and we activate the developer mode. And that's it, we have everything prepared, now we simply have to install the SIDEQUEST tool which is what we will see next.
How to install SIDEQUEST on our computer
The process is simple, we just have to go to the GitHub project page and download the latest application update. We download the ZIP of version that we need depending on the operating system that we have installed on our computer.
Once downloaded, decompress the ZIP in a folder and we will look for the file SideQuest.exe every time we want to open the program.
How to connect SIDEQUEST with our OCULUS QUEST
Now we just need to connect our Quest to our computer to be able to install games that are not in the Oculus application store. For this we will do it with a type-C USB cable .
When connecting, a pop-up warning will open in our Quest that notifies us if we want to trust the connected device. We'll give it to you if and allow.
Now we have all the configuration done to be able to install the applications easily. SideQuest already has several applications and games available directly within its library but we are going to go into more details on how to install a downloaded APK.
How to install an APK easily
We can download any APK application from the APKMIRROR website for example. Having the SIDEQUEST open and connected our QUEST to the computer, we just need to drag the APK that we want to install and then it will do it. SIMPLE, right?
Uninstall an application
If we have tired of the application that we have installed, we have not liked it or we simply want to uninstall it, we will have to perform the same steps as to install it.
To do this, we will enter the installed APP from SideQuest and a window will open in which we can re-install the application or uninstall it
But in case it has not been clear to you, we have made a video tutorial to make it much more didactic. We encourage you to subscribe on our YouTube channel in which you will find Gameplays, News, Tutorials and much more about Oculus Quest. Are you up for it? 😀