Razer announced the Razer Sila, a high-performance Wi-Fi router for home users who require a Wi-Fi service optimized for gaming, streaming and downloading high-performance multimedia content.
With the boom that mobile gaming is having, and with so many homes in which it is impossible to have a wired network in every room, having a fast and reliable Wi-Fi connection is more important than ever. The Razer Sila router is designed to provide lag-free gameplay and uninterrupted streaming over a fast wireless network, thus meeting the needs of today's mobile device, console and laptop users.
The Razer Sila integrates a number of technologies designed to offer gamers the fastest and most reliable Wi-Fi connection in their home or office with Razer FasTrack, Multi-Channel ZeroWait DFS and Mesh capability with a dedicated backhaul. The configuration and administration from a mobile application make the installation and use of Sila something quick and simple.
The Razer FasTrack software included in the Razer Sila is a proprietary QoS engine for intelligent traffic management. By using in-depth packet inspection and adaptive learning technology, Razer FasTrack allows users to prioritize traffic according to the type of applications and devices, from mobile phones and smart TVs, to laptops, personal computers or consoles. With built-in detection for PlayStation, Xbox and Switch consoles, users can easily configure their networks for the best gaming and streaming experiences. Razer FasTrack also includes a simple game mode to automatically reserve bandwidth for online gaming.
"We are constantly reaching new heights in performance with our hardware and software," said Ming-Liang Tan, co-founder and CEO of Razer. "But high accuracy and low latency can be useless if the Wi-Fi signal is interrupted. So we've taken the next step to develop a solid foundation for our ecosystem; with Wi-Fi that works no matter where you are."
The Razer Sila's patented Multi-Channel Zero-Wait DFS technology allows you to have free Wi-Fi channels to avoid network traffic and retain the highest speeds for the most demanding applications, without the susceptibility to drops, interruptions and disconnections.
The Razer Sila router also offers an advanced mesh network. Two or more Razer Sila units can be combined to provide fast and continuous Wi-Fi coverage in areas up to 6,000 square feet with two units, or in multi-storey houses over 6,000 square feet with three units. As a TriBand router, the Razer Sila features a dedicated 5GHz backhaul, and independent fronthaul links that operate on up to 4 simultaneous DFS channels, further reducing network interference and congestion.
The Razer Sila was developed in collaboration with Ignition Design Labs, wireless home networking partner – the technology and engineering firm founded by alumni of networking giants Qualcomm and Broadcom. Ignition Design Labs is known for having launched the award-winning Portal Smart WiFi router in 2016.
"Razer demands the best in engineering, design and performance. We are excited to be Razer's design partner, applying our engineering expertise and proprietary technologies to create a unique and powerful professional-grade router for the world's most important gaming and entertainment ecosystem," said Terry Ngo, CEO of Ignition Design Labs.
*Based on Allion USA verification tests, which shows that the Razer Sila outperforms other mesh routers and dedicated gaming routers when simulating a real home environment with additional Wi-Fi network signals.
Product Features: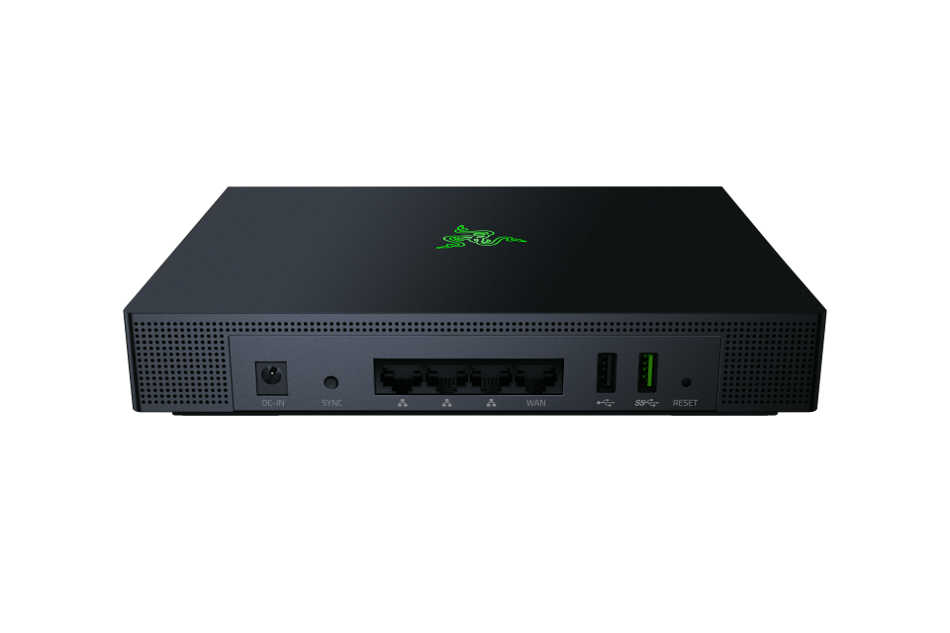 Razer FasTrack – Intelligent QoS that adapts continuously with Deep Packet Inspection prioritizes applications and devices for high-speed gaming and streaming.
Multi-Channel ZeroWait DFS – Get extra bandwidth on protected fast channels to have reliable connections free of interference and delays.
Tri-Band Mesh with Dedicated Backhaul – For wide coverage with maximum performance.
Intelligent active Steering – Ensures that client devices are always connected to the strongest signal.
Support for Applications and Smart Smart – The iOS and Android application with advanced features for guest network and security controls.
Availability:
Razer.com – October 3, 2018
Worldwide – October 3, 2018
Product features:
Cordless
Tri-Band AC3000
IEEE 802.11 a/b/g/n/ac
802.11n 2.4GHz: up to 400 Mbps
802.11ac 5GHz-1: up to 1734 Mbps
802.11ac 5GHz-2: up to 866 Mbps
Encryption
Antenna
9 powerful internal high gain antennas
Characteristic
Razer FasTrack Adaptive QoS + DPI Engine
Multichannel ZeroWait DFS
Tri-Band Mesh with dedicated backhaul
Multi-user MIMO and beamforming technology
Intelligent active steering
Isolated guest network support
Simplified configuration via Android or iOS app
Interface
4 Gigabit Ethernet ports (1x WAN, 3x LAN)
1 x USB 2.0 port
1 x USB 3.0 port
For more information about Razer Sila, please visit www.razer.com/desktops-and-networking/razer-sila