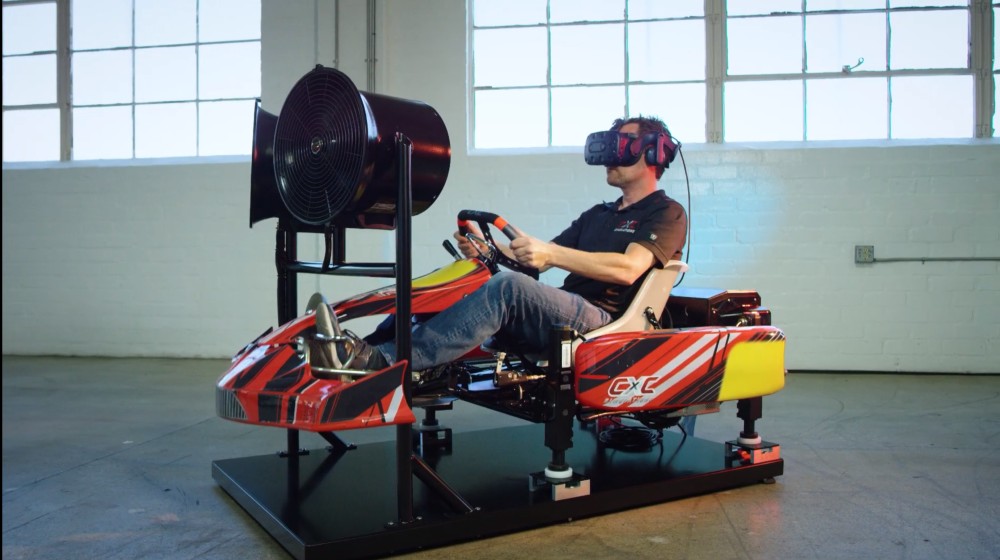 The American company creates a racing game specifically for VR. How much is an exciting driving?
The company describes CXC kart as fast, physical and hard — an incredible racing experience. The company then packages these properties in a specially designed simulator that needs to convey the feeling of driving a kart from the race track.
Karting simulator with wind turbines
The VR simulator was specially developed for karting. According to the head of CXC, Chris Considine, one of the special challenges was to capture the power and energy of this exciting sport and the most realistic display them in a compact simulator.
Considine said that his team has included everything she knows about haptic feedback in karting simulator.
While you are on a virtual race track in the glasses of virtual reality, pedals, steering wheel and shock absorbers of the simulator reproduce the behavior of the virtual kart. There are also two powerful turbines, for which CXC has developed its own software. They simulate the airflow and should provide even more realistic driving.
How much is the simulator VR-karting
Company CXC Simulations was founded in 2007 and creates a very realistic racing simulators. The clients include Mitsubishi Motors and the Royal family of Dubai. Home equipment can be configured and ordered through the website.
If you want to place one of the racing setups at home, or anywhere else, you will have to shell out a tidy sum. The standard version costs from 57 000 dollars. Upgrade to virtual reality costs an additional $ 3700.
Source