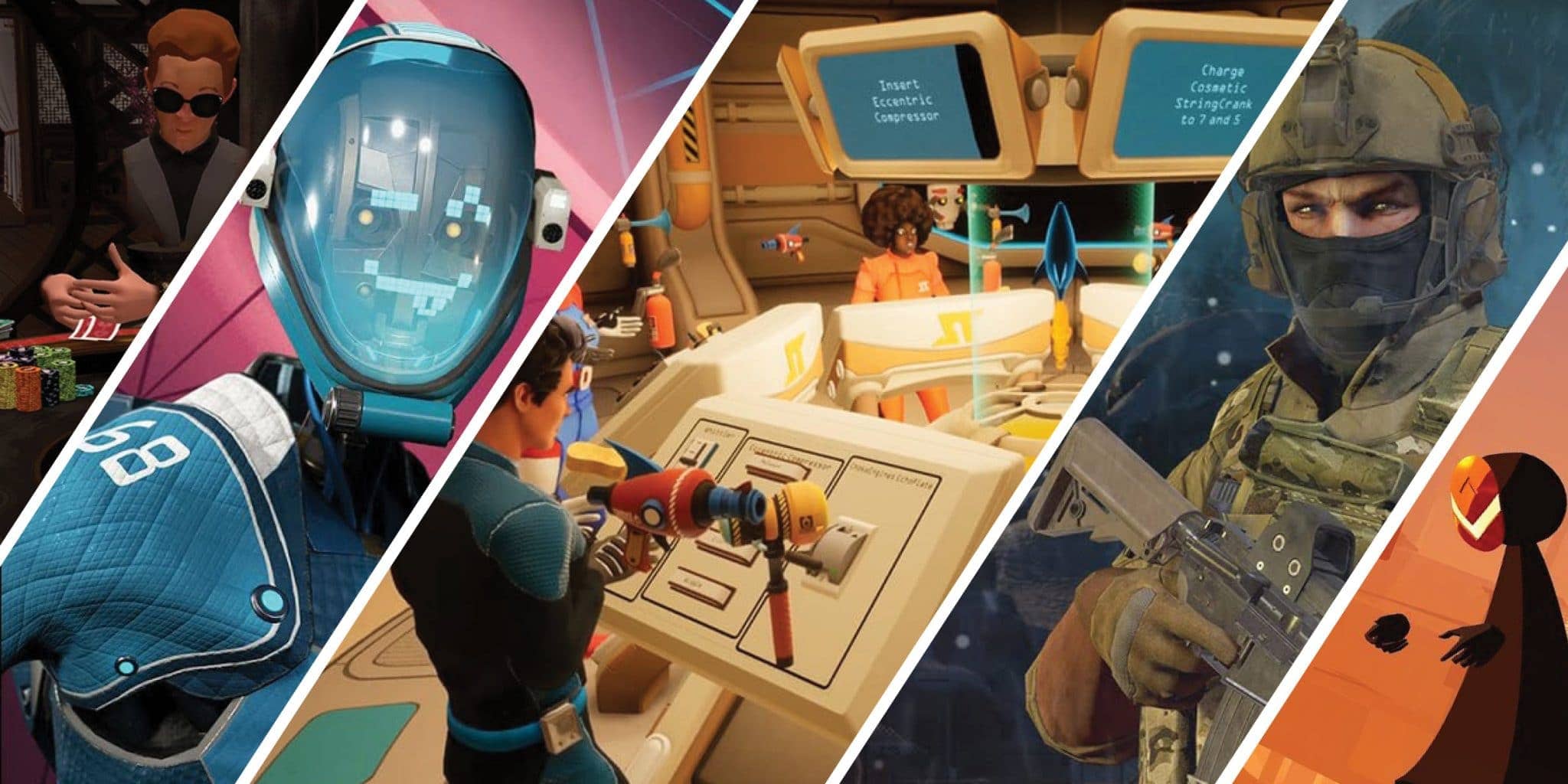 As more and more people get into virtual reality, the owners of the Oculus Quest may be looking for games that they can play with friends that also have a VR headset.
Below is a list of some of the best deals for multiplayer Quest Store, showing which of them support cross-platform play (this means that you can play with the owner of the other VR headsets). Here are the 15 best multiplayer VR games on the Oculus Quest.
15. Ironlights
If you are looking for a multiplayer game with melee combat to play online or with friends, Ironlights is a good option. It is a fun look at hand to hand combat in virtual reality, which uses slow motion, decaying arms and alternating system of attack and defense. This is a bold attempt to avoid some of the well-known problems associated with the lack of haptic feedback in hand-to-hand interactions in VR. If you have two headset VR, Ironlights you can play on the same network almost without delay. Yes, you read that right — it is, in fact, support LAN. If you're a fan of the genre of martial arts, you may want to try.
Cross-platform game: yeah, Oculus Quest, Rift, and SteamVR.
14. Half + Half
Half + Half is a collection of multiplayer mini-games. You are presented with text in full growth, and you can use voice chat to communicate with other players, except for the fact that your voice is converted to a high-pitched squeal that nobody can understand. The best game in the collection — Hide and Seek in which one player turns into a giant which throws balls at enemies, which are tiny and have a slingshot to teleport from place to place.
You can play with your friends or with random other players online, and because your identity is hidden, and your voice is modulated, it is quite a convenient option for the family and possibly safer alternative compared to the noisy lobby social apps like Rec Room.
Cross-platform game: Yes, between the Oculus Quest and Oculus Rift
13. The Under Presents
The Under Presents is something of a cross between games, adventure and lively VR theatre. It brings together other players an exciting and unique way, which can not be found anywhere else.
As you explore The Under Presents, you will meet other players, the way you dressed in a black cloak with a gold mask on her face. There is no other way of communicating, in addition to gestures, and you have no way of knowing who they are and where. Developer Tender Claws intends to use The Under Presents as a centre for the rotation multiplayer and live VR content. Access to multiplayer free as a 45-minute introduction to the world of The Under Presents.
Interactive multi-user view The Under Presents in real-time by Shakespeare's "the Tempest" limited edition back in March of this year .
12. Hyper Dash
Hyper Dash is a multiplayer shooter with multiple game modes, including some classic FPS — payload, death match, control points and much more. Pleased to note that this is not a military theme — Hyper Dash is more reminiscent of science fiction, robots aesthetic, in comparison with many other shooters in the Quest.
Cross-platform game: Yes, between the Quest and the PC VR platforms.
11. PokerStars VR
Do you love poker? You love to play poker with friends? Your friends have a VR headset? Well, then you can be 100% in tune with PokerStars VR . It's definitely the most well-known poker game available for VR headsets, and you and your friends can join many online tables to play poker like in real life. You can even smoke a virtual cigar, to feel yourself in a real poker table. PokerStars VR is poker with your friends in virtual reality — it's very simple.
Cross-platform game: yeah, Oculus Quest, Rift, and SteamVR.
10. Cook-Out: A Sandwich Tale
Cook-Out: A Sandwich Tale is a real pleasure that you can go with your friends. The General premise of the game — each person will have to cook food and collect it from the sandwiches for the customers that often require teamwork and coordination to ensure timely execution of orders.
Cross-platform game: Yes, between the platforms PC VR and Quest.
9. Arizona Sunshine
Arizona Sunshine is a zombie shooter with a campaign lasting more than 4 hours and Horde mode based on the waves. Moreover, the campaign and Horde mode support multiplayer mode, so you can join a friend, who also has the game on Quest (unfortunately, it does not support cross-platform play).
Although Arizona Sunshine has long been present in the world of virtual reality (it was originally launched for PC VR in 2017), it remains a reliable option for the Quest players who are looking for joint action on the basis of waves and / or your full cooperation.
Cross-platform game: No.
8. Walkabout Mini Golf VR
Walkabout Mini Golf VR is exactly what it sounds like — one of the most popular games of mini-Golf in virtual reality available on Quest. There is support matchmaking for faster online gaming, and support for a separate room for you and up to four other players with you. Each story focuses on a particular topic with some really tough obstacles. You can also find secret collector's ball on each hole, giving you a secondary goal, for which you need to follow.
Cross-platform game: yeah, between Quest and Rift.
7. Contractors
The fact that this shooter on the military theme lacks the visual effects in the Quest kompensiruet performance, content, and gameplay.
Like playing Call of Duty rate, Contractors offers a wide range of equipment options and a variety of weapons, all with an active recharge. There is a huge freedom of movement, if your stomach can handle it, for example, the ability to jump, run and slide on the cards. You can play in single player missions, but focuses on a multiplayer game where you can choose between the joint order online and adversarial PvP matches.
Cross-platform game: Yes, between the Quest and the PC VR platforms.
6. Spaceteam VR
Spaceteam was initially released as a mobile game in 2012, but has since found a new life and a new home in virtual reality. You can play with six players in a mission to clearly and effectively communicate during the piloting of the ship in space. You will need to ask your friends teams, so they instructed to press the buttons or to perform certain actions, but there is a lot of chaotic situations. Moreover, the team often mislead or distort words, your console may ignite, or your voice may be modulated while giving commands.
This is a hectic and fun with one of the best multiplayer games for parties available on Quest. In addition, you can even play with users who do not use VR at least one user to be able to play with five players on mobile devices, provided that you are in the same room.
Cross-platform game: Yes, between the Quest and the PC VR platforms.
5. Real VR Fishing
As PokerStars VR, it's pretty simple — fishing in VR with support for multiplayer games. If you want to throw a fishing rod with a friend in VR, the Real VR Fishing is the best (and perhaps only Quest). The game has existed for some time, but the multiplayer support is a much more recent addition to the game. It supports up to 4 simultaneous users in a multiplayer game. At a time when many of us are restricted in their movements and have limited access to outdoor activities, a trip to a real virtual fishing with friends can be just what you need.
Cross-platform game: No.
4. Eleven Table Tennis
When it comes to games, Eleven Table Tennis is a simple table tennis in VR. However, leave it as it is would be unfair — it's not just table tennis in VR, it's a really good table tennis in VR. There is something special to take with you wherever you go and Quest — when connected to the Internet — play against a friend (or random opponent) online with a perfect re-creation of the table tennis 1:1.
He also works so well because it seems more real when you hit the ball in table tennis in real life, there is a relatively small physical resistance, so the translation of the game in VR seems to be frighteningly accurate. Light vibration when hitting the ball — everything you need to Eleven Table Tennis looked really authentic. In addition, the game supports multiplayer for smooth operation, and you can even use a 3D-printed racket with a Touch controller for complete authenticity. This table tennis in virtual reality, recreated in impressive detail.
Cross-platform game: Yes, with users Rift and SteamVR.
3. Onward
If you are looking for a competitive multiplayer shooter on the Oculus Quest, then you should choose Onward . You play 5v5 battles against other players online, with a variety of weapons and three different game modes to choose from. Despite the fact that it lacks visual accuracy and some custom functions from version PC games VR (many of which are promised to appear in a future update), title remains one of the best multiplayer VR games in the Quest.
Cross-platform game: Yes, between the Quest and the PC VR platforms.
2. Population: One
With the success of Fortnite and the Battle Royale genre, the emergence of something like this in VR was inevitable. At the end of last year, Population: One filled this gap in the market.
If you are looking for a battle Royale VR to play with friends, the search can be completed. This shooter squad of three follows the same basic premise, that of Fortnite, complete with a basic system construction of the walls, but add the lasagna and deploy wingsuit planning makes it different so that you can scale any building or structure.
The game received a lot of support after launch, and updates of content, so if you are looking for a multiplayer VR shooter for the long-term prospects, Population: One is probably your best choice.
Cross-platform game: Yes, between the Quest and the PC VR platforms.
1. Echo VR
Echo VR is a competitive multiplayer game that can only work in VR, and that's why she is at the top of this list. Terms of multiplayer games available on the platform, the game remains conceptually and practically has no equal — it provides a unique game-play, creative movement and exciting competitive actions.
The basic idea is that you play in teams in a room with zero gravity with one disk, floating in the middle. At each end of the arena there is a goal, and you can start from objects or use boosters to navigate through the environment, throwing and shooting disc toward the goal. This concept is easy to understand, but, as in any competitive sport or game, it is much more difficult to master. Even better — Echo VR is available for free in beta on the Oculus Quest.
Cross-platform game: yeah, between Quest and Rift.
Source