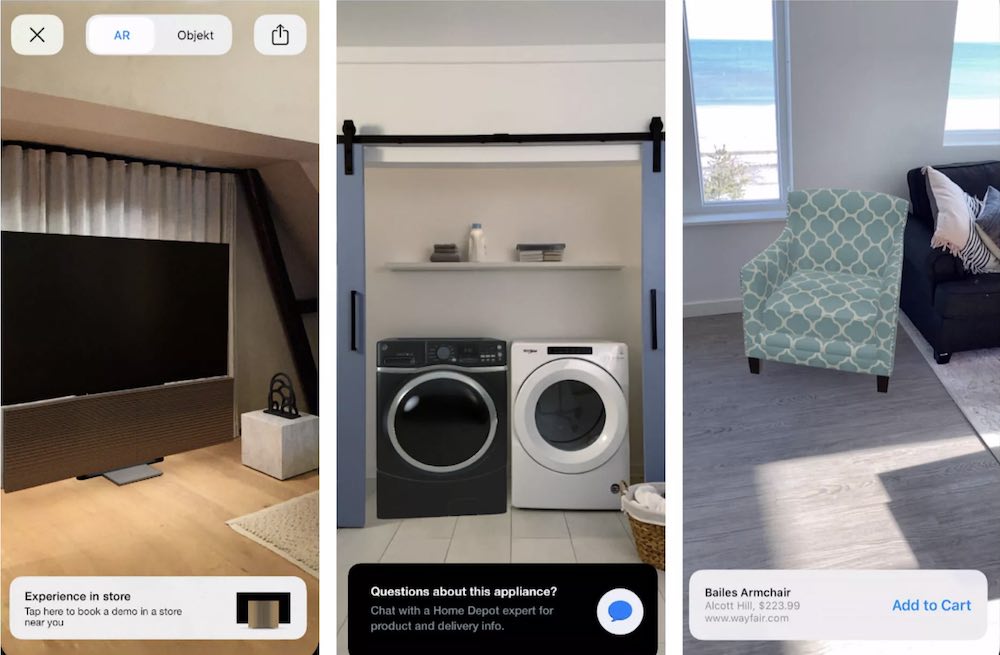 Buy and sell with the help of augmented reality has now become even easier thanks to the new iOS.
With a Quick Look AR-graph can be invoked directly from iOS apps such as Safari, Messages and Mail, and projected into the room.
You can see in the online store Quick Look-compatible 3D model of the product, and then a finger in augmented reality to place the objects in physical space and viewed from all sides.
This is especially useful for decorative items, furniture or consumer electronics. AR interface Apple ARKit provides the correct spatial representation, including artificial lighting. A separate application is not required.
Everyday augmented reality
Now Apple is taking another step forward and allows companies to equip objects quick view freely configurable button. For example, a user may connect to the support service, go to another web site or use the button "Buy now" for the products. All in AR mode.
The latest app for the first time provides quick and simple connection of augmented reality and electronic purchases. Previously, users had to download and install special applications, such as, for example, Ikea Place, for the furniture factory AR. Now it is enough to surf the Internet and open the appropriate object for fast review.
On the one hand, this should increase the popularity of augmented reality and, on the other, to increase the incentive to buy goods that in turn benefits of augmented reality. Home Depot, Wayfair and Bang & Olufsen are one of the first companies using this new feature.
Augmented reality in Google search
In the future, a Quick Look will support surround sound. If you place a virtual TV or stereo system in the corner of the room, the sound in the AR mode will also come from this direction, no matter where you are in the physical room.
In addition to Apple, Google is also working on a way to make the AR function is more suitable for everyday use, and introduces interactive objects AR in Google Search. There is also just one touch of your finger to switch to AR. However, there is no opportunity to click on other links or directly make purchases.
Source