Augmented Reality Augmented Reality in industry: Challenges, potentials, opportunities
Augmented reality has become an indispensable part of German jargon. Everyone talks about it, but only very few companies use it effectively. How much potential is there really behind it? What are the possible applications?
Related companies
AR offers great market opportunities for the German economy – if the technology is used correctly.
The digital transformation stands for drastic changes in the most diverse areas of industry worldwide. Some processes are changing slowly, others are changing the way of working as we know and live it today, almost revolutionary. The latter includes augmented reality (AR) technology.
Why do companies use AR?
With the Industrial Internet of Things, enormous amounts of data are generated every day. If these are to be displayed clearly, conventional applications often fail due to visualization. With AR, it becomes possible to display relevant digital data for a context in such a way that added value is created for the user. The possibilities are almost limitless – from interactive training directly on the machine or the visualization of work steps during repair, to warnings when entering danger zones in factories or laboratories, to an enhanced brand experience at the trade fair stand.
AR applications can increase efficiency in almost all areas of operational work. Several cases and studies show an average increase in productivity of 32 percent. For this reason, DHL Supply Chain, the contract logistics specialist of Deutsche Post DHL Group, also relies on AR technologies in logistics. With so-called vision picking, the logistics employee is shown work instructions as well as information on the location of the item searched for and the location of the placement by means of data glasses. The technology is supported by the data glasses of the manufacturers Google and Vuzix.
Further fields of application are shown by Bühler AG in Uzwil. From storage to quality control, various processes at the Swiss company were digitally mapped using AR technology. In the smart warehouse, an application is executed on the smart glasses, which, among other things, gives the employees feedback on each picked component. In this way, no confusion can arise with components that may only be noticed during assembly and thus result in a production delay. The tools used are integrated into the digitized process, so it can be continuously checked whether, for example, all screws are tightened with the correct torque. On the one hand, this information serves the fitter for inspection, on the other hand also for subsequent documentation.
The high-tech company Trumpf uses AR technology to visualize its systems. With the help of an iPad application, Trumpf systems can be visually placed in the customer's machine parks on site to scale. Space requirements, connections or possible collisions can thus be analyzed in advance. Possible wrong decisions can thus be avoided.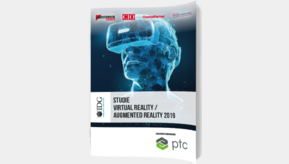 Use of suitable hardware
The selection of the right hardware creates an important framework condition. When it comes to AR, most companies immediately think of data glasses, but today the technology can be used with any modern device. Depending on the application, it can be a laptop, smartphone, tablet, smartwatch or smart glasses. The underlying AR software uses various intelligent methods to detect real objects based on real-time analyses of the camera image and other sensors. This makes it possible to link digital information with real objects, which opens up a variety of new applications.
With regard to data glasses, monocular and binocular models can be distinguished. While monocular data glasses overlay the vision of only one eye, binocular data glasses project the digital information in front of both eyes. Furthermore, different display techniques are distinguished. Non-transparent display techniques are called look-around or VR glasses. These project exclusively virtual information, reality is completely hidden. In contrast, see-through data glasses enable the perception of reality and the addition of virtual information through a semi-transparent display.
The use cases are diverse
Depending on which hardware is used, companies have various use cases available. The times when warehouse workers walk through the shelves with printed packing lists and take the required items out of the compartments after a complex comparison are already a thing of the past in many modern logistics warehouses. Picking 4.0 is the keyword. Mobile scanners, smart glasses and other portable devices are replacing the long paper lists.
Video-based work and safety instructions are provided mobile for work support. The production employee is thus guided step by step through the process. This has the advantage that all essential information is constantly available on demand and difficult work steps can be carried out with a lower error rate. Thanks to the data glasses, he also has both hands free to carry out the activity simultaneously with the work video. The visualization of complex work reduces downtime and assembly times. Short machine downtimes due to fast maintenance and repair are an important success factor for companies. If the own technician cannot carry out the maintenance or servicing himself, he has to resort to expensive external resources. Through AR technologies, the necessary tools and parts are displayed in the working environment.
Another use case includes remote support. Employees can use data glasses to connect qualified support live in case of problems. The support employee sees the problem through the eyes of the person wearing the glasses and can give immediate assistance. With the visualization of complex products and systems, locations can be checked for their suitability in advance. As a result, entire plants can be tested before a production chain is finally put into operation.
Through video conferences with real and virtual participants, group work with various location-independent teams can be simplified. In addition, several people can also work directly on a 3D model. AR also facilitates the training of employees when, for example, new machines are integrated into production.
Holistic corporate networking
Industry 4.0 and digital transformation are about much more than just the use of AR, namely large-scale corporate networking. For many companies, it is either a matter of replacing paper processes or better integrating digital solutions into the existing infrastructure. Whether in the picking process in the warehouse, in the step-by-step instructions in maintenance or even in the smart remote service – all scenarios are possible, with the use of the right platform that combines the solutions on the respective device with technologies such as AR.
The demand for the right apps is constantly increasing. IT departments are often unable to meet the large number of development requests. To avoid companies losing touch, employees from other departments must be able to build their own apps. This is where the low-code approach comes in. Employees of specialist departments without special IT training can thus quickly and easily develop their own solutions for their needs. Business processes can be mapped consistently and in a user-friendly manner and internal and external IT landscapes can be networked with each other using standardized connectors. The connection of existing systems and data sources such as SAP or Oracle, but also machines that have a communication interface for data exchange, is thus easily possible.
Thanks to the low-code approach, applications can be created up to ten times faster. The advantage of this is that less individual programming, but applications can be easily configured. Tailor-made applications can be developed, tested and delivered within a few weeks, instead of taking months. Existing application templates can be used as a starting point and adapted to individual requirements at any time. Whether desktop, smartphone, tablet, smartwatch or smart glasses, the sustainable adaptability of the applications through reusable building blocks and the rapid implementation made possible by web technologies guarantee added value in the company.
This article originally appeared in our partner magazine Next Industry.
(ID:46227892)