It is not easy to guess when a new conflict will erupt. Sometimes the causes can be as varied as a birth boom, a bad harvest or, if we remember our lessons in history, the murder of an archduke…
Problem
Despite the difficulty of the effort, there have been interesting initiatives that seek to identify which countries are most at risk of deliberate actions by armed groups that result in civilian casualties.
They are usually based on the analysis of different risk factors such as: a previous history of similar events, restrictions on freedom of movement, coexistence of different ethnic groups and type of political regime. The model created, convert these risk factors into input variables like, for example:
– Population density.
– GDP growth.
– Travel time to the nearest city.
– The proportion of uncultivated land.
– The years since independence.
– The kind of government.
From these input variables, the models generate a risk value or score.
Some models
For example, in 2011, the Peace Research Institute in Oslo created a model to predict conflicts between 2010 and 2050. However, he was not able to predict the civil war in Syria.
Therefore, it is usual to combine different models, maximizing their strengths and minimizing their limitations. A scheme of this kind model assembly it would be similar to the one shown in Figure 1.
Idealized model created by technologyreview
In 2013, researchers US Holocaust Museum and the University of Dartmouth they released their first model "ensemble": The Early Warning Project.
The goal is to generate a early warning systemable to identify countries where there is a high risk of outbreaks of armed violence.
One of the project's notable, though tragic, successes was the ability to predict a massacre in Myanmar, shortly before the mass persecution of the Rohingya began in 2016. Myanmar was then ranked first in the report.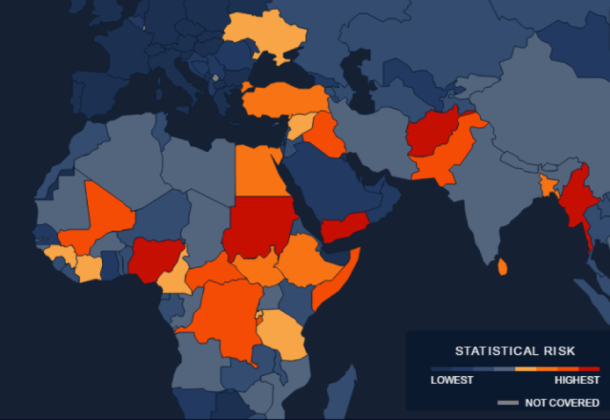 Statistical Risk Assessment Results 2016 Map-Data from the Early Warning Project. Source: US Holocaust Museum
Other models, such as ViEWS, created by researchers from the Uppsala University, offer levels of resolution unthinkable a few years ago. The ViEWS model focuses on conflicts in Africa and provides monthly predictive readings on multiple regions within a given state. Can predict the risk of three different types of conflict – from the state, unilateral and non-state-in a geographic grid with cells of only 55 kilometers sideways and take into account from the first death attributable to organized violence. Figure 3 shows an example of prediction from the latest monthly report prepared by the VieWs project team.
Finding
Lately, unfortunately, when we look at the terms and "War" and "Artificial Intelligence" together, the use of the latter seems to be focused exclusively on improving weapons capabilities.
However, we see that it can also be used as a tool for peace. A tool capable of generating early warnings that allow the UN and other humanitarian organizations to direct aid where it is needed. Also, alert the most vulnerable in advance so they can find a safe place.
Artificial intelligence, like any technology, is neither "good" nor "bad." So are the goals that people use it for.
It is possible to read the original post on Think Big Companies. To keep up with LUCA, visit our website.