Coinpanion launches into the market with an innovative crypto ranking, the Coinpanion Crypto Score (CPCS). Scoring is completely free! The catch to the matter? There is none!
You've been sitting at your PC for days, fanatically looking for THE best token – after several hours of wasted time, you finally decide on a crypto project. The next day you wake up with a pang of conscience. You are no longer quite sure that it was the right decision.
A look at Coinmarketcap shows: Minus 10% in one day. How could this happen?
Who does not know this situation?
However, we can reassure you, help is on the horizon. It is called: Coinpanion.
The German/ Austrian start-up is the first company in the industry with an independent crypto score. The CPCS is intended to give interested parties an overview of the various top cryptocurrencies. Alexander Valtingojer, CEO of Coinpanion, tells us the following:
"We looked at how we can set up a data-driven model to represent fundamental data. Emotions should not play a role in investing. This is what CPCS do."
The score ranges from 0 to 1,000 and results from the analysis of 4 sub-areas. The average of the categories social sentiment, Development, Market and Blockchain results in a rating that should ideally be above 600. The 600 mark is also an admission criterion for the portfolios of the company itself.
A picture of Coinpanion.com
The company is constantly analyzing data from more than 1,000 NFT, DeFi and Metaverse projects to filter out the top crypto projects. Because for the average user, this work can be tedious and time-consuming, the founders also know this from their own experience.
"The crypto industry is developing rapidly, with more and more new projects every day. How do users bet on the right horse with such a large selection of investment opportunities?", says Alexander.
In addition, he explains that users in the traditional financial world often have thousands of analyses and data points at their disposal. So we crypto users are at a disadvantage in this regard.
The CPCS brings additional transparency to a market that should actually be transparent, but is currently still (far) away from it. Let's be completely honest: Who spends hours scouring the blockchain for relevant data?
Whether the company does not disclose a closely guarded secret through the crypto score? Alexander has to answer this question with a slight smile:
"We actually asked ourselves this question. But this is also possible without the ranking. We want to be as transparent as possible. In principle, you can already copy our portfolios now, everything is transparently disclosed."
So if you have programming experience, you could try to set up the same application and just imitate Coinpanion's strategy. To this, Alexander must object that he clearly sees the advantage for the user in the simplicity of the application.
Within a few minutes, interested parties can register and simply let their money work for them. The portfolios work like ETFs from the usual financial world. An investment in the "Adventurous" portfolio allows you to participate in the price developments of the cryptocurrencies Bitcoin, Ethereum, Solana, etc.
Why is Dogecoin even among the top 12 in the crypto score? This is due to the nature of the ranking: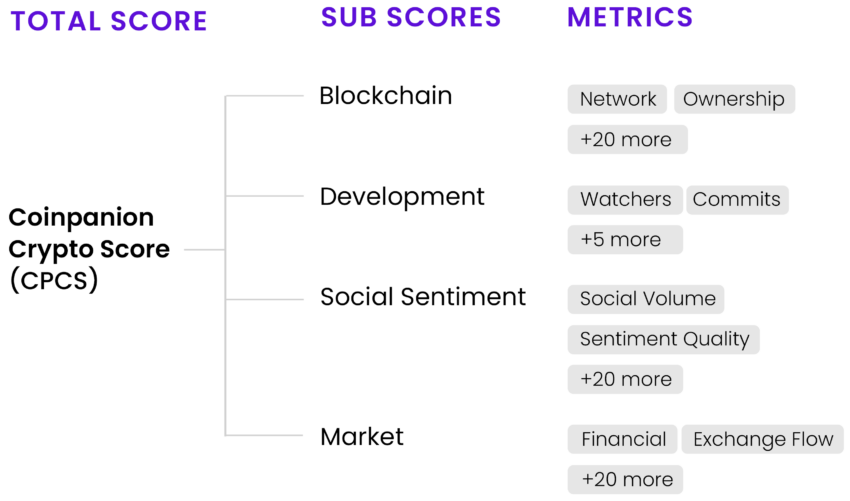 A picture of coinpanion.com
The four categories are not universally meaningful for every project. Ethereum now has a different area of application than, for example, Bitcoin, which is often regarded as digital gold.
Alexander also explains to us that Coinpanion commits itself in its own index not to invest in meme coins, but the coin still provides fundamentally good data. As in Doge's case.
An example of Dogecoin:
The blockchain activity is present to a large extent, there are many transactions taking place, and there is also an abundance of wallets and users.
Social sentiment is also present, as well-known people like Elon Musk tweet about it, among others.
On the market side, it can be stated that a lot of volume flows in.
The development also indicates developments and new code entries.
The data only indicates whether a project is healthy. If a user nevertheless decides against it because he does not invest in meme coins, this is of course his free decision.
Among other things, the price is also part of the crypto score. But just a small part of it and not all. Thus, a user can determine that an overvalued asset, which is currently at the high of the bull market, receives a lower score.
If you are convinced of the Coinpanion CPCS or even want to invest via the platform, you can do so here. This should at least help you to never have remorse again.