The Outerhelios program has been inspired by real jazz songs to learn how to compose jazz music. But the results have not been encouraging.
Composers and jazz musicians can rest easy for now. Of all the jobs that in recent years it has been said that artificial intelligence could grab, his time has not yet come. And from what I hear, if that time comes, it'll take him a while to do it..
This lesson follows from the experiment carried out by two musicians involved in programmers, CJ Carr and Zack Zukowski. His idea was nurturing an algorithm with jazz music and then let him compose his own melodies.
For this purpose, the researchers used the album Interstellar Space (1967), by American musician John Coltrane. Outerhelios came out of this learning. The name of this algorithm capable of composing and broadcasting jazz is a pun.
Coltrane's album is composed of instrumental pieces, where highlights his saxophone the musician's favorite instrument. The songs are named after the planets of the solar system (Mars, Jupiter…). So the algorithm that has learned everything it knows about this album has been christened as Outerhelios.
The goal was probably to mean that the new jazz goes beyond the solar system proposed by Coltrane. However, the result has been a cumbersome music, with unclean sounds. The drums stand out as a backdrop and over it are crushed saxophone whistles. Outerhelios produces a cacophony that can hardly be pleasant to the ear.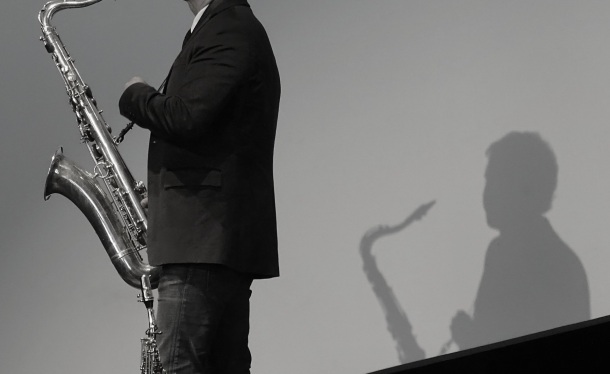 Artificial compositions
Although in favor of the algorithm it must be said that the database from which it has been nourished it is not exactly a jazz for all audiences. In Interstellar Space, Coltrane plays his saxophone to the limit on a bed of cymbals and soft drum touches. An instrumental trapeze artist who plays safely with his fingers and blows.
Outerhelios is not the only project CJ Carr and Zack Zukowski, who also they've tried death metal and skate punk.. And far from it is the only attempt for artificial intelligence to create music.
The compositions of Aiva, which is inspired by the work of the great classical composers, from Mozart to Beethoven, they are pleasant to the ear and easy to hear. In fact, this software, whose pieces have been used for advertisements, has earned the recognition of the copyright society in France: its compositions are protected as intellectual property.
Images: JuhaOnTheRoad, janemarple104