Today's talk was undoubtedly the rebranding of Twitter, to be renamed X. Like any change in the world of pop technological culture, people decided to look if by any chance The Simpsons had predicted it before… and the answer is that… Almost!
You see, this Monday an image of Homer with a smartphone in his hand began to circulate on social networks, in which an icon is seen in the system tray that is suspiciously similar to the recently revealed X logo. The reality is that the image looks very real, so many people took it with a more correct prediction of the popular series.
Fake image circulating on social networks
However, we regret to destroy your illusions, because the image is edited, although only slightly. The reality is that most of the image is accurate, and the X logo is the only thing modified, which can be discovered by performing a reverse search: no similar images appear before this week, which means that it was created specifically after Elon Musk's announcement.
You may be interested in: Opening and images of The Simpsons Death Note chapter revealed
The funny thing is that the original image (which appeared in episode 21 of the 23rd season of The Simpsons, in 2012), did have an X. In the original photo the X logo is certainly different from the one revealed by Elon Musk this week, but it's still the same letter after all. In the chapter, Homer doesn't click on that icon, so we really don't know if Matt Groening came up with any use at that time.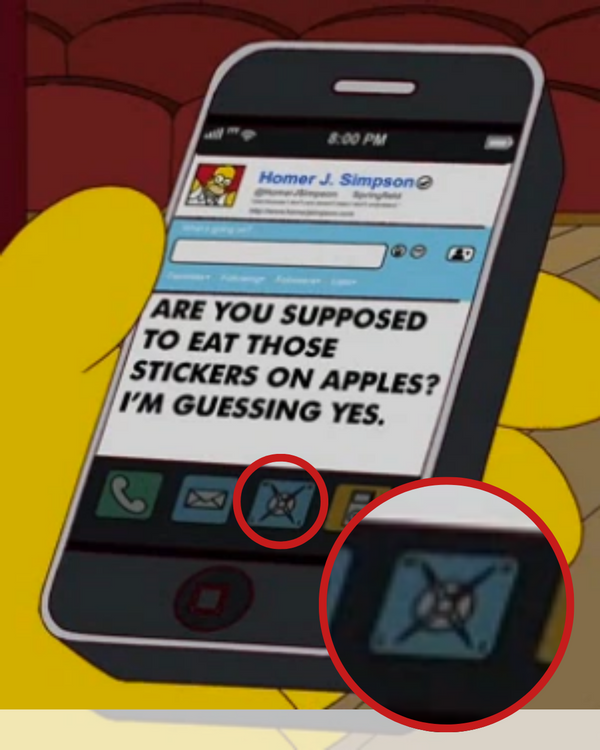 Real picture of 2012
So, although we can't say that the prediction is totally correct because the logo of the original image is different, at least the popular cartoon did guess that at some point we would be using an app whose icon was a big X. And there is no other cartoon that can boast of it.
What do you think about this news? Leave us your comments!