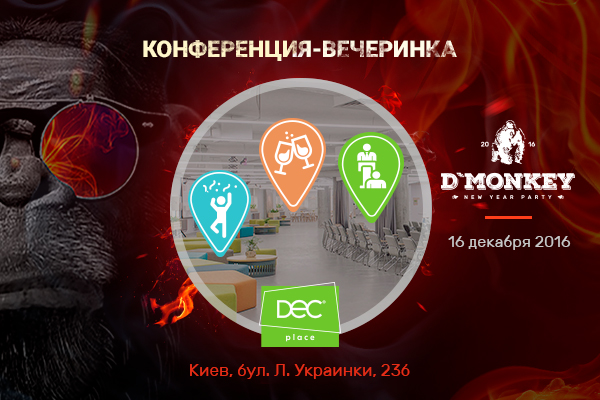 Program is generated, the speakers are ready to participate – it remains to tell where Digital Monkey will be 2016.
So… It will be DEC place is a modern event-a platform for young and intelligent. Here, in the center of business activity in the city, master classes and conferences for the representatives of new professions.
What's good about the site?
Firstly, an excellent location. DEC place is located almost in the heart of the capital, or rather, on Lesya Ukrainka Boulevard, 23B. Is easy to get here, and besides – this part of the city is at the confluence of business activity, there are many business centers, offices and banks.
Secondly, DEC place is a space that is ideal for the format Digital Monkey area welcome drink, conference and parties.
16 Dec from 16:00 to 23:00 DEC place will be a cosy meeting place for digital professionals.
Start Digital Monkey – already December 16!
Sign up right now.