San Francisco Technology company Meta is lifting the requirement to use a Facebook account for Oculus VR glasses. From August, it will be possible to log in to the devices with a new meta account, the use of a Facebook account is then no longer required, the company announced on Thursday.
This could pave the way for a market launch in Germany. In 2020, Meta had to stop selling the devices. The Bundeskartellamt had accused the company of abusing its dominant position with the account obligation and had also been right with the argument before the Federal Court of Justice.
Instead of lifting the obligation to use a Facebook account in Germany, the group had withdrawn the devices from the market.
With the new rules, Meta changes the handling of the account obligation for Oculus devices worldwide. Whether the VR glasses will actually be introduced in Germany is still unclear at first. A response from Meta to a Handelsblatt inquiry was pending for the time being.
The Oculus Quest 2 is considered the most widely used VR glasses in the world. According to calculations by the market research company Counterpoint Research, Meta claimed a total of 80 percent of the global market for VR glasses in the fourth quarter of 2021.
Two-billion-dollar acquisition
The Facebook group had acquired the company behind the Oculus glasses in 2014 for about two billion dollars. In 2016, the first glasses for the mass market appeared with the Oculus Rift. The latest Quest 2 model has been available since 2020. In the US, the glasses cost $ 299 plus sales tax. Analysts estimate that this price is below the cost of manufacturing and development.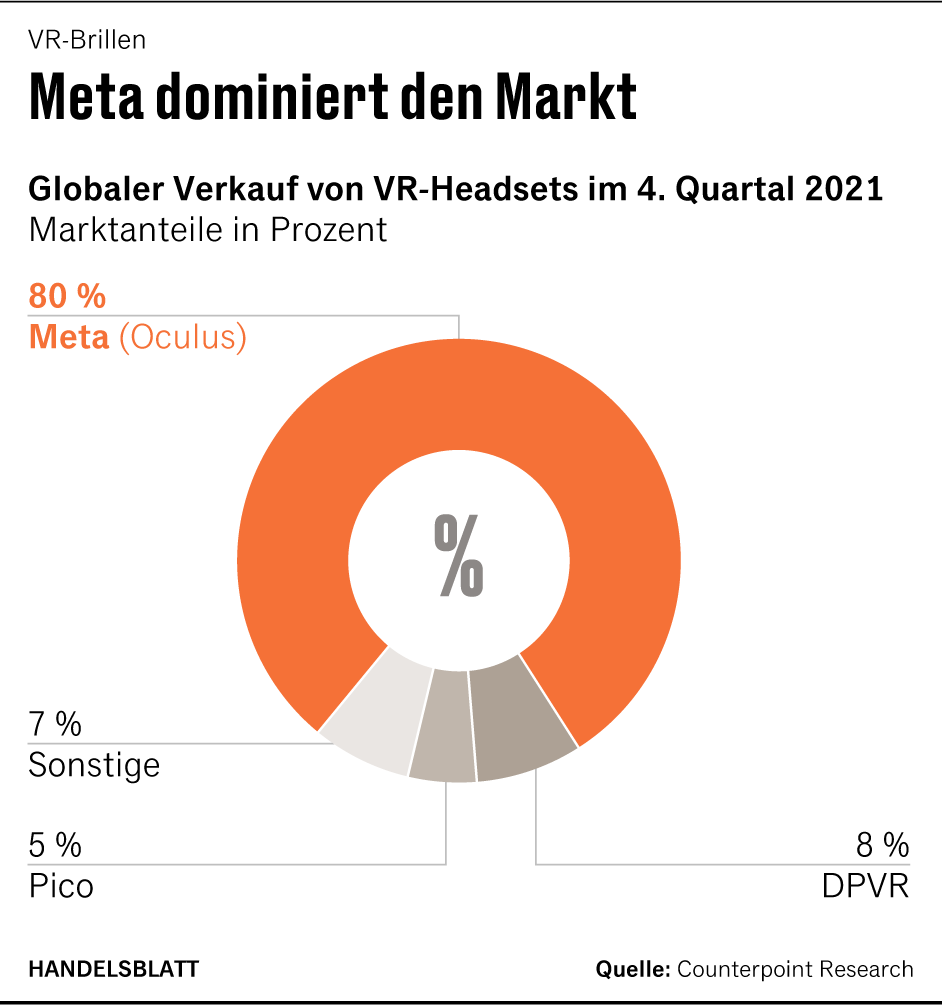 The business unit of the Facebook group Meta, which is responsible for VR glasses, had caused a loss of around ten billion dollars in the past financial year. However, Quest 2 continues to be a high priority for the company, because the area lays the foundation for the company's future in the metaverse, argues company founder Mark Zuckerberg. At the same time, he already announced that the sector will continue to incur significant losses over the next few years.
Meta, on the other hand, has scaled back other hardware projects such as a smartwatch. Most recently, the Group had started to save money at a number of positions in the company – this also affects the Reality Labs business unit.
As a first consequence, the next generation of VR glasses could be launched on the market at a significantly more expensive price. According to reports from the Bloomberg news agency, the next model should be called Meta Quest Pro and cost at least $ 1000.
The new Meta headset is said to have far better graphics processing and performance compared to the regular Meta Quest headset, Bloomberg reports. In addition, there would be high-resolution cameras that can track eye movements.
Rival Apple could also launch VR glasses for the first time at the beginning of next year, according to several analysts. Apple CEO Tim Cook himself recently fueled speculation about the launch of an Apple headset. In a conversation with the Chinese state media "China Daily", Cook said when asked about a headset: "I couldn't be more excited than about the possibilities in this area. Stay tuned and you will see what we have to offer."