Düsseldorf Germany now has a unicorn of the circular economy – a start-up with a billion-dollar valuation. The Berlin-based start-up Grover has raised 330 million euros in equity and debt capital from investors and has since been worth more than one billion US dollars.
The so-called rental commerce offers electronics such as smartphones and laptops for rent on a monthly basis. The business model is similar to the many subscription options for streaming services, for example: you rent a mobile phone or a TV and can return them monthly.
The motto of founder and CEO Michael Cassau: "We want to create availability instead of promoting excessive consumption." Away from a "throwaway society", towards repeated, long-term use of products.
Grover's new financing round was led by the tech fund Energy Impact Partners, in addition to several other investors. Nazo Moosa, managing partner at Energy Impact Partners, considers the market promising: "The business model fits in with the increasingly concrete regulations for the circular economy and the trend towards sustainable consumption."
At the same time, Annette Zimmermann, a smartphone expert from the market analysis institute Gartner, expects a slight decline in sales of new devices due to the current economic situation with war and lack of resources. "In addition, many people will want to look at prices because of inflation."
Repaired cell phones and Co.
Grover is just one supplier in the growing field of recycled electronic products. The marketplaces that offer repaired mobile phones and notebooks are also getting bigger and bigger. Provider Back Market from France, which is also expanding further and further in Germany, cracked the five billion valuation at the beginning of the year, after financing of 450 million euros.
The Austrian start-up Refurbed collected 45 million euros in August last year. Both suppliers cooperate with repair companies and sell refurbished electronics via their platform.
The Finnish company Swappie, which reprocesses and sells smartphones itself, received 108 million euros in growth capital in February. In addition, there will be a 200 million euro financing in December 2021 for the Berlin start-up Everphone, which has also created a rental model, but for company mobile phones.
Politicians want to create "right to repair"
The trend can be well represented in figures with smartphones: The International Data Corporation (IDC) from the USA forecasts the global sales of used smartphones for the year 2024 to almost 352 million units and expects a total turnover of 65 billion dollars. In 2019, there were still 206 million used mobile phones.
EU politicians are also toying with a long cycle for electronics, the "Action Plan for a more Circular Economy" is, according to the EU Commission, at the heart of the European Green Deal, a roadmap to climate neutrality. This year, a resolution on the "right to repair" is to be added.
With this, the EU wants to create guidelines for durable electronics. Since 2021, there has already been a guideline: household appliances and televisions must be designed in such a way that they are repairable, their construction plans must be freely available. The decision for a "right to repair" is also intended to reduce electronic waste in Europe.
Figures from the Federal Statistical Office (Destatis) show that 10.5 kilograms of electrical appliances end up in the garbage per capita per year in Germany. For comparison, this corresponds to about 75 iPhones of the latest model. However, less than 40 percent of this is recycled in this country, i.e. put back into the material cycle.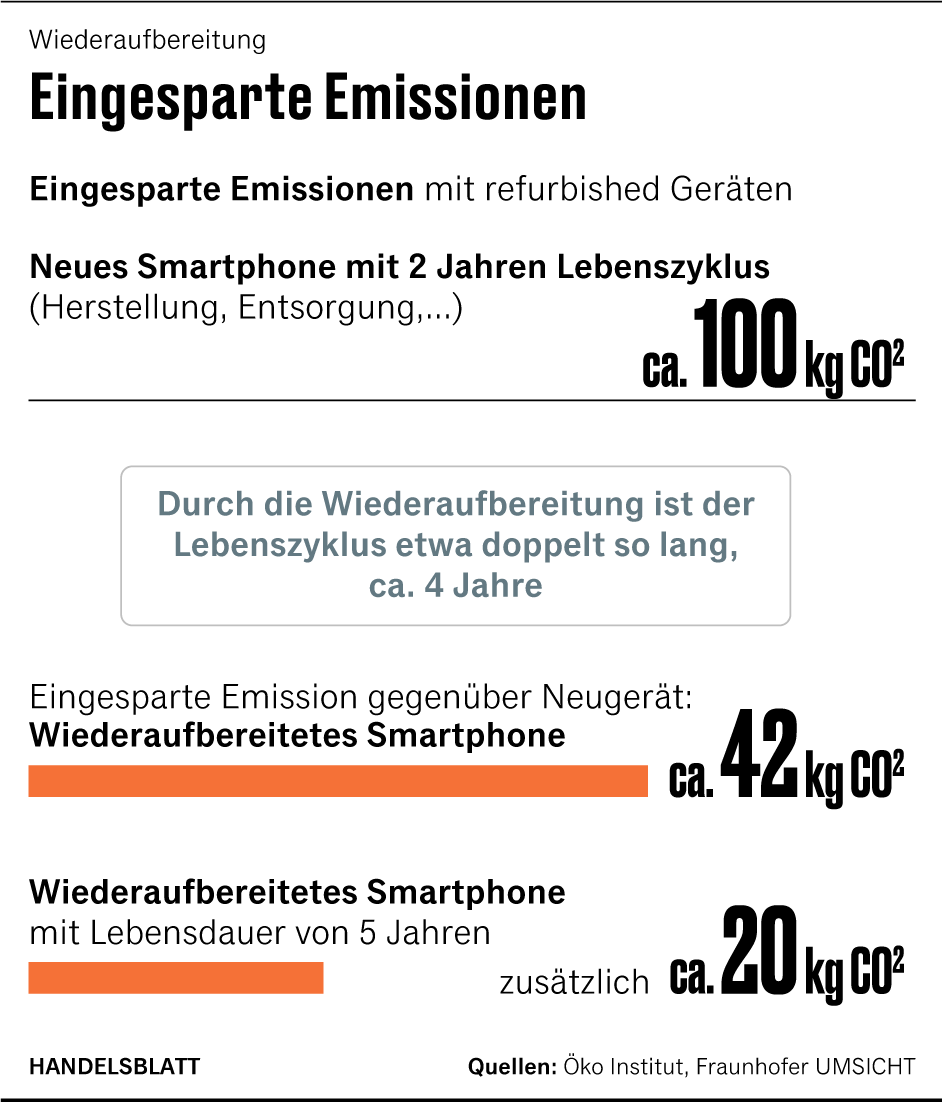 Companies such as Grover, Refurbed and Back Market promise to make a contribution against electronic waste. "As a result of subletting, our devices have a much longer life cycle than devices that are purchased," says Cassau. "Before we rent them out again, they will be repaired, cleaned and updated." An iPhone is rented at Grover about five times, says the founder.
More about the topic:
In a study, the Oeko-Institut calculated the average carbon emissions for the production of mobile phones with a useful life of about two years and came to about 100 kilograms (kg) of CO2 – although the figure varies depending on the device. For a smartphone that is used for five years, according to the institute, there are only 20 kg of CO2 left.
Most recently, Grover was able to increase its sales run rate from 61 million euros in 2020 to 140 million euros in 2021. With the fresh money, Cassau now wants to massively build up subscription numbers and expand further into the USA. Currently, the company has about 250,000 customers. "The demand is far from being exhausted," Cassau shoots after.
Thomas Antonioli and Michael Cassau
The two founders of the electronics rental start-up Grover have collected 330 million euros.
(Photo: Grover)
The reprocessed electronics marketplaces also want to continue to grow. For example, Refurbed was able to double its sales last year compared to the previous year. According to its own information, Refurbed generates several hundred million euros in external sales. More precisely, you can buy refurbished mobile phones and other electronics in the Refurbed shop, which, according to CEO Kilian Kaminski, cost up to 40 percent less than a new device.
An iPhone 12 with 64 gigabytes of memory is about 31 percent cheaper in the shop, the cost point: 547 euros. "Our focus is primarily on quality, so that customers then choose us because of price and sustainability," says Kaminski. "That's why we select the repair partners precisely."
Back Market was launched eight years ago and was one of the first in this industry in Europe. Today, around 1,500 partners repair electronic devices for Back Market, which customers can buy on the homepage. "In Germany, we also introduced buy-back and swap options last year," says Vianney Vaute, co-founder and manager at Back Market.
Customers can exchange or sell their old devices with the company so that they can then be reprocessed. Vaute hopes to use it to put many old devices from people who store them at home back into circulation. The marketplace has six million customers worldwide. For Germany, the start-up plans to allocate 60 million euros for operational operations. In addition, the size of the German team is to be tripled.
If a software update is no longer possible, the mobile phone is also worthless
However, the rental and refurbished providers not only have positive climate effects, but also a common problem: numerous devices, especially smartphones, can often no longer receive new software after a service life of a few years. At some point, the major manufacturers will no longer guarantee updates. "Manufacturers are thus forcing customers to replace devices because the software cannot be extended," says Kaminski. "The legislator must change something, or manufacturers must act on their own initiative."
At least some approaches can be found in the EU's draft for the right to repair: MEPs write that "software updates must be made available for a minimum period of time". The politicians suggest that if manufacturers do not comply, they should be able to be blacklisted for "unfair business practices".
And then there is the problem of what happens to the device if it can no longer be renewed: who recycles it? Christina Dornack is Director of the Institute for Waste- and circular economy at the Technical University of Dresden and sees the current business models as more of an extension of the use of electronics, but not yet a closed circular economy.
Often, even after the end of the life of a refurbished smartphone, it is no longer possible to recycle all components elsewhere. If raw materials in a smartphone are only worth about one euro, then "no processing process is economical afterwards," says the professor. "Primary raw materials are still far too cheap."
According to Cassau, for example, Grover is currently passing on irreparable devices to other re-commerce companies that can reuse their parts. The company is not yet able to actively recycle. "But we are working on it," says Cassau.
The growing start-ups are increasingly getting competition from major manufacturers. The Bloomberg news agency reported at the end of March, citing insider circles, that Apple would launch a hardware rental model at the end of this year. Dornack sees the competition in any case positively: "If there are these offers in many places, people are more likely to think about participating."