Chip production
The high energy prices are driving the business with electricity-saving chips made of silicon carbide.
(Photo: Bloomberg)
Munich For 35 years, Wolfspeed engineers have been developing power-saving semiconductors made of silicon carbide (SiC). For decades, customers were hardly interested in it. The chips made of the innovative material were too expensive. However, in view of the high energy prices, buyers are now struggling for the components. "Supply is still lagging behind demand," Gregg Lowe, chief executive of the US group, told Handelsblatt.
"Energy efficiency is at the top of the agenda everywhere, which has given silicon carbide a boost," the manager stressed. Other manufacturers of SiC chips are also hardly lagging behind in production. "Orders have suddenly increased," explained Isao Matsumoto, CEO of Japanese semiconductor manufacturer Rohm.
SiC is more expensive than conventional silicon, but is considered very promising for the future. With SiC chips, electric vehicles last longer, can be charged faster and reduce operating costs due to lower consumption. Due to the recent sharp increase in electricity prices, this is even more relevant than before.
Power-saving chips make electric cars run longer
At the same time, SiC chips are smaller, lighter and emit less heat. Peter Fintl, semiconductor expert at the technology consultancy Capgemini, says: "By replacing silicon with silicon carbide alone, the range can be increased by eight percent."
Top Jobs of the day
Find the best jobs now and
be notified by e-mail.
According to the companies, the big boom in SiC chips is still to come. "From 2025, the market is really taking off," says Wolfram Harnack, European Head of Rohm.
>> Read here: Funding for chip plants: European technology industry sounds the alarm
A look at the order books proves this. Due to the limited capacities, the car manufacturers conclude many long-term contracts. With this you want to make sure that you get the components in any case. For example, the French group Stellantis, which includes Renault and Opel, recently ordered SiC chips from Infineon for one billion euros. Germany's largest semiconductor manufacturer is to provide the components from the middle of the decade. The British brand Jaguar Land Rover has just agreed on a long-term contract with Wolfspeed, deliveries will start in 2024.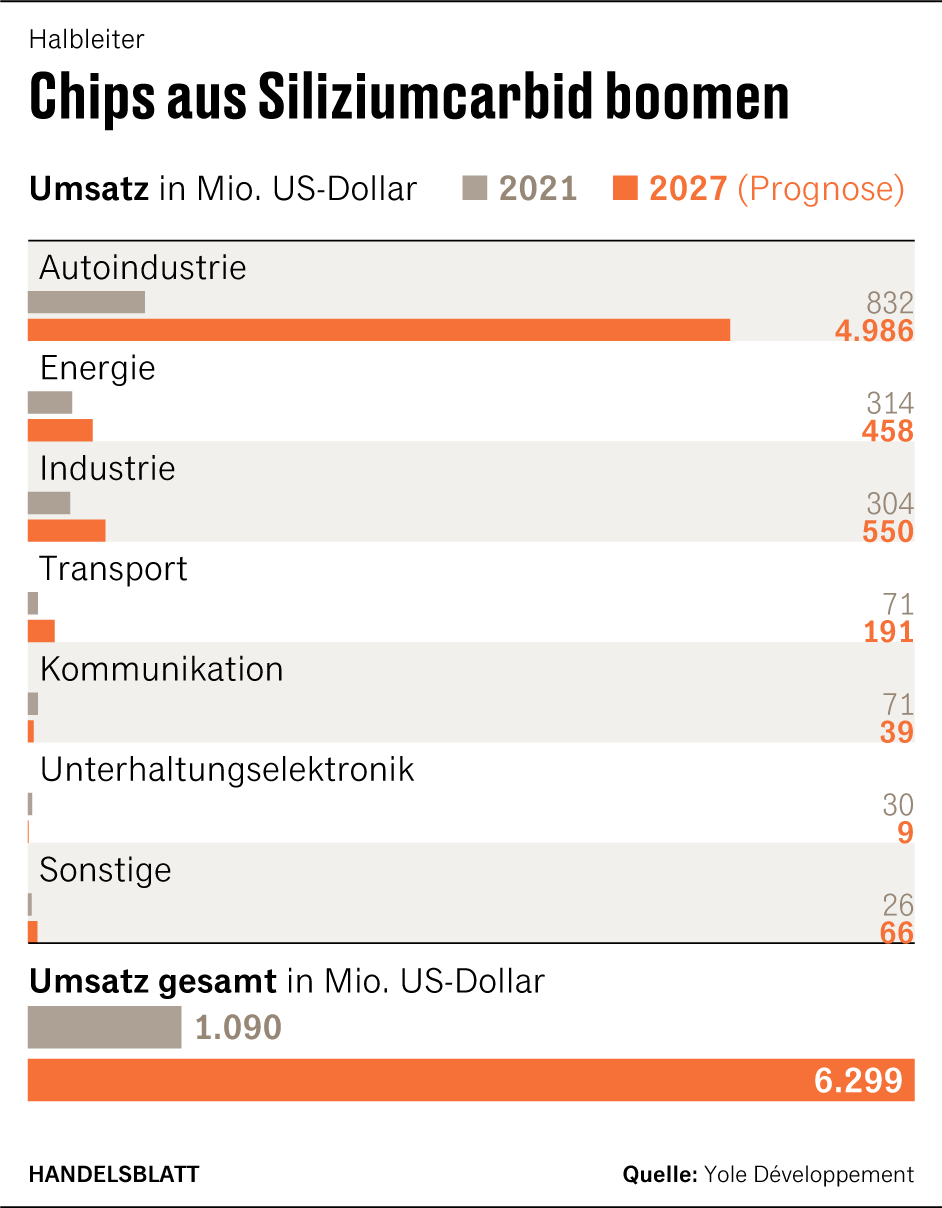 There is another reason why buyers reserve the SiC chips for models in the second half of the decade. They assume that prices will fall massively by then. On the one hand, because with increasing quantities in the chip industry, production costs are always falling. On the other hand, because the industry is switching to a new manufacturing process.
As the first group worldwide, Wolfspeed is currently trying to produce on a large scale on 200-millimeter silicon carbide discs at a new US plant. So-called wafers with a diameter of 150 millimeters have been common so far. Larger discs are more technologically demanding, but increase productivity. Consultant Fintl says: "This is an important technological leap that brings enormous cost advantages." Competitors such as Bosch, Infineon and STMicroelectronics will follow suit in their new plants.
Corporations expect growth even with falling energy costs again
In order to get the coveted chips, customers are now investing directly in the manufacturers. For example, the automotive supplier Borg-Warner recently invested half a billion dollars in Wolfspeed. Borg-Warner will get guaranteed access to SiC chips worth $ 650 million per year.
>> Read here: Infineon expects demand for radar chips to rise sharply
Infineon is not quite there yet. However, the Dax Group is thinking about accepting down payments from customers, said Peter Schiefer, head of the car division, recently. Major investments are pending: Infineon is building a new SiC plant in Malaysia and expanding SiC production in Villach, Austria.
Japanese competitor Rohm does not require advance payments for the planned additional capacities, CEO Matsumoto explained. However, he expects customers to conclude long-term contracts: "We need this to plan." According to Rohm's own information, it expects SiC sales of the equivalent of around EUR 900 million for the 2025 financial year.
Energy efficiency is at the top of the agenda everywhere, which has given silicon carbide a boost. Gregg Lowe, CEO of the US group Wolfspeed
The chip companies assume that the triumphal march of SiC will continue, even if energy prices should fall again. Rohm CEO Matsumoto is convinced: "SiC is indispensable on the way to climate neutrality."
Some semiconductor manufacturers are even expecting even stronger growth than market researcher Yole already predicts extremely positively: by 2027, industry-wide revenues with SiC chips will have risen to $ 6.3 billion, about six times as much as last year. This would already correspond to an annual increase of more than a third.
More: Infineon outlook inspires investors and analysts – Share price takes off