While the Quest 2 is a great device on its own, it has its limitations, mainly due to the limited processing power and graphics options. To avoid this, you can connect it to a PC and take advantage of its hardware. There are two ways to do this: via a cable and via a wireless connection. Here's how to use both options!
Connect by cable
To connect the headphones to the computer, you will need to use Oculus Link. Naturally, you will need a cable: you can get the official Oculus Link cable or you can use another USB 3 cable with a USB C connector that you may have.
Before connecting the headphones to your computer, you will need to install the Oculus app on your computer. To do so, click on the 'Download Software' button on this site: https://www.oculus.com/setup/ .
Download the Oculus app
Once you have successfully installed the app, log in to it. Make sure it is open before trying to connect your headphones to your computer to avoid compatibility issues.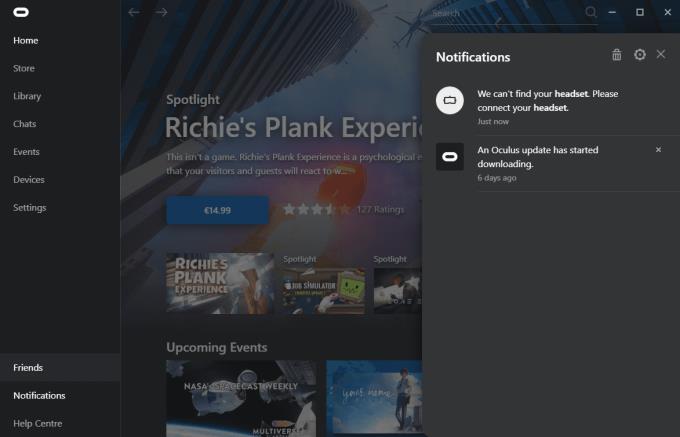 The Oculus app on PC
With the app open and logged in, you can connect your headphones via its USB cable.
Advice : make sure your cable is long enough for you to sit or move comfortably when you play. Be sure not to suddenly pull the cable; it could damage you, your PC or your headphones!
You will be prompted to choose whether or not to activate Oculus Link. Select Activate and wait until the Binding environment loads. You can now access your desktop directly through the central menu bar (the little monitor icon) or launch things like Steam VR and other VR games that you have installed on your computer.
To exit Oculus Link mode, simply use the menu bar again, it is the far left option.

The Oculus Link menu bar
Connect via wireless
First of all, Quest 2 strongly recommends that you use a 5 Ghz connection for this. We agree: while you can do it on weaker / slower connections, the results will be a bit disappointing. You will end up with the delay, tearing of the screen and possibly even some dizziness caused by all this.
That said, the easiest way to wirelessly connect to your PC is to use the Virtual Desktop app in combination with the SideQuest patch. SideQuest is a program for your PC that allows you to add non-Oculus store software to your device.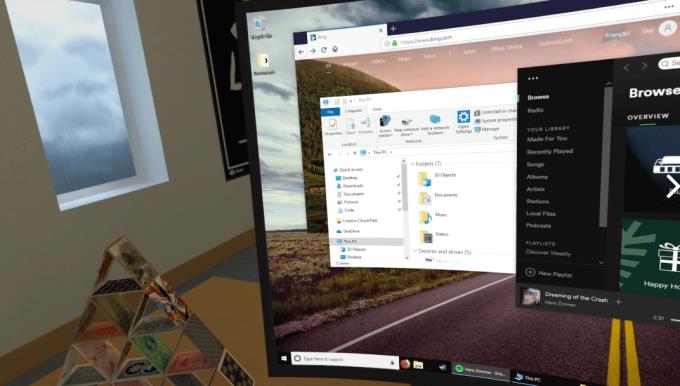 One of several views of a desktop configuration within Virtual Desktop
Virtual Desktop is an app that you can purchase from the store; by default, it gives you access to your computer's desktop through a wired connection. Since that's not what we want here, be sure to download that app and install SideQuest on your PC.
You can find an excellent guide on how to do this here on the SideQuest download page: https://sidequestvr.com/setup-howto .
Once you have done that, you will need to connect the PC and headphones wired once. Download the virtual desktop patch from the SideQuest store.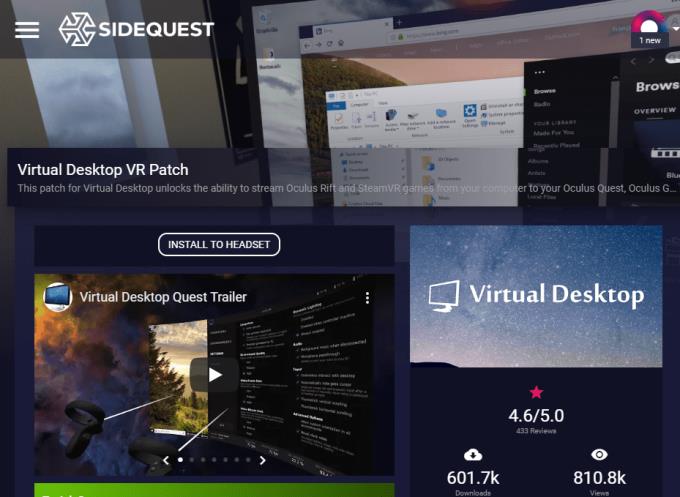 The virtual desktop patch on SideQuest
The patch is free, so don't worry about paying for anything extra. It's also worth noting that Virtual Desktop and the patch were created by the same person-a single developer. In other words, you don't even need to worry about compatibility issues, etc.
Download and install the patch on your headset through SideQuest and wait for the process to finish. When you've done so, you'll also want to download the virtual desktop streaming app on your PC. Your headset should be able to connect to your computer.
This is the official page where you can find it: https://www.vrdesktop.net . You can also find additional help and tips on wired and wireless connections here. If you have problems with virtual desktop software, this is the place to go.
Launch the application on your PC after you've installed it (and ideally set it to start at startup, so you don't have to start it manually each time), and you're good to go.
Tip: For quality reasons, playing virtual reality games for PC is probably best through cable. Unless you have a top-of-the-line Internet connection, you're likely to experience some issues with visually intense gaming.
Finding
After this somewhat lengthy prep work, wirelessly connecting your Quest 2 to your headphones is as easy as putting it on, launching the app in question, and sitting down while the connection is established. You can then use the Desktop Virtual App to control your desktop and even play Steam games wirelessly. Share your opinion in the comments.