In 2009, the downturn in the storage industry in Russia exceeded 40%| 22.12.2010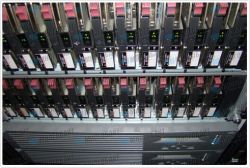 IDC analysts summed up the results of 2009 in the segment data storage systems and said that, despite the great interest of Russian customers to the data storage system, in 2009 the downturn in the industry exceeded 40%
in terms of money. However, enterprise storage level remained extremely popular decision – the total capacity of implemented systems of this type grew by nearly 20%. Once
in the information technology industry showed signs of stabilization, IDC recorded a significant sales growth of DSS. New technologies and approaches to architecture, storage systems enable increasing
the number of customers to obtain reliable and efficient storage at an affordable price.
"The storage market is developing very quickly, and indicators of growth in Russia is confirmed the most optimistic forecasts – said Alexander Zagnetko, senior analyst at IDC. – Efforts of manufacturers,
to reduce data storage costs and improve storage efficiency, enable customers to focus on selecting the optimal solutions for their needs, not focusing mainly
the price of the system. New technologies and approaches to storage procedures and processing data, including "cloud" services are challenging manufacturers and service providers, but, of course,
significantly reduce consumer spending and increase the level of available service."
Source: @Astera