More than five years ago Mark Zuckerberg starred in one of his most known and disturbing photos. That of his arrival at the MWC surrounded by an audience that did not notice his presence. They were in a parallel reality, connected to virtual reality glasses.
At that time it seemed that the world was going to flood with virtual reality viewers in a few months. But the truth is that it has not. This technology remains unpopular. Among other things for what we could call the Symbian effect.
Mr. Liuhuabing
Before the appearance of the first iPhone there were already smartphones. At the time, the company that was leading the charge was Nokia. But despite launching excellent products, they failed to find a hardware and software solution like Apple's phone.
Symbian, the operating system of the old Nokia, had features that even surpassed Apple's iOS system in its early days. Something similar happened with Finnish phones compared to the iPhone. They were creative and had excellent components. Like their cameras. But some things just didn't work well on Nokia.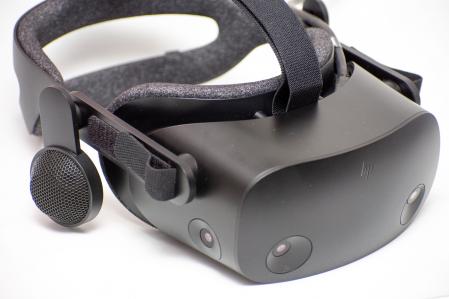 Mr. Liuhuabing
The iPhone was not the best phone in terms of software and hardware. But everything worked as expected and smoothly. In 2021 virtual reality also faces the challenge of being a simple and mature technology.
To see if that time has come, we've tested the Oculus Quest 2 goggles and the HP Reverb G2. Two of the best products out there today to experience virtual reality.
The Oculus are designed to work autonomously, without connecting them to a computer. While HP must be connected to a high-performance PC.  In our case we have been provided for the test a computer with an Intel Core i7 processor of ninth generation, 16 gigas of ram and a graphics card Nvidia of last generation.
It is true that the Oculus also allows, with the purchase of a cable that costs 100 euros, to connect them to a computer. In this way it is possible to use more demanding applications than those allowed by the hardware they incorporate.
The HP Reverb G2 is graphically higher than the Oculus. But, we insist, we need a powerful PC to run the Windows Mixed Reality environment through Steam.
In addition, these HP glasses need to be connected to the PC with an HDMI cable, another USB-C and require connection to the electrical current through a transformer that is not exactly small. Too many wires.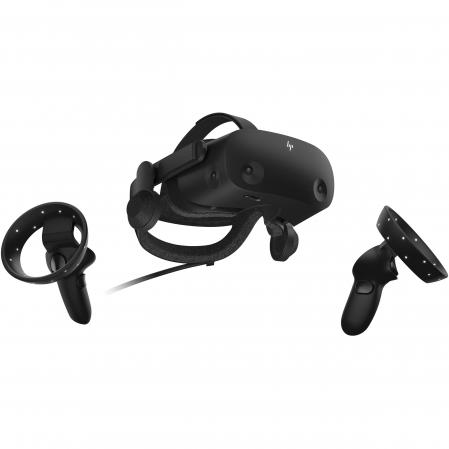 HP
The Oculus Quest 2 dispenses with all that. Something that's important. Even though we sacrifice processing power. In addition, HP glasses require some patience the first time we configure them. Something that does not happen with the Oculus, whose set-up is faster and more intuitive.
Prices are also very different. The Oculus Quest 2 cost 349 euros in its version with 64 gigas of storage memory and 449 euros if we opt for the model of 256 gigas. While HP are sold for 700 euros.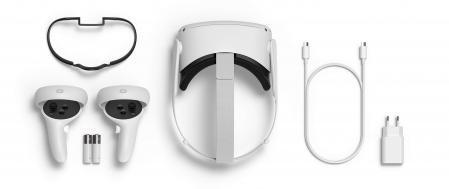 Oculus
It is the price to pay in the case of HP for a visual quality that surprises thanks to the 2,160 pixels of definition of the screens of each eye (and a refresh rate of 90 Hz). The Oculus offers a resolution in each of its viewers of 1,920 x 1,832 pixels and a refresh rate of 72 Hz.
On paper the differences do not seem too great, but in practice the images of the HP model surprise. It is not that the images provided by Oculus are disappointing. But, quite simply, the difference is noticeable.
The main advantage of HP glasses is better graphics performance and an environment that makes it easier to use non-gaming applications
The HP model, thanks in part to Windows technology, is better prepared to work with applications other than games. That, after all, is still the main use of virtual reality glasses.
In fact, it is surprising to use the Microsoft operating system with these glasses along with voice commands that we transmit to Cortana. Although it would be good to improve the graphical interface to make it more intuitive.
The success of Oculus is to do without a computer to generate a quality virtual reality environment, although Quest 2 can be connected to a PC
Another aspect that is better achieved in HP glasses is the sound, which is clearly superior to that transmitted by the Oculus. Although these are also heard reasonably well, this is an aspect to improve.
Something in which we have not found great differences is in the controls of both devices. It is true that HP's are somewhat more solid, but they also require a somewhat more cumbersome configuration. In fact, his behavior has once baffled us.
Testing both glasses gives you the feeling that virtual reality is starting to reach a sweet spot.
Testing both glasses gives you the feeling that virtual reality is starting to reach a sweet spot. In fact, it leaves us with the feeling that for some it may already make sense to resort to it for more than just playing video games.
The manipulation of three-dimensional objects or being able to navigate virtual spaces, can be very interesting uses in education, for artistic creation and in other professional areas. But some things still don't work. Like trying to watch a movie.
Replacing the TV with virtual reality glasses is still not recommended
The weight of both models and the tunnel effect, which makes the edges of the image have less definition than the center, discourage the experience of watching a feature film. To put this aspect to the test we went to see the edition of the Godfather III of 2020 with the HP glasses.
Although there were very satisfying aspects, such as the extraordinary quality with which the grain of the original footage of the film was perceived, the experience was not good. Especially when we think that we would be two hours bearing almost 500 grams in our head. A weight similar to that of Oculus glasses.
Oculus glasses have seemed very interesting for those who want to experience virtual reality without complexity and without cables
The latter are interesting for those who want to experience virtual reality without complexity and without cables. But those looking to transcend entertainment and get a higher quality visual quality, should bet on models like HP.
Virtual reality continues to face major challenges, such as improving the design of the viewers and making them lighter. But also provide them with more powerful hardware. Connecting the glasses to a computer is something that will surely fall into disuse sooner rather than later. A more versatile software environment is also needed.
These challenges can be overcome without having to wait too long. Although it lacks the firm impulse of the industry. Apple is one of the companies that seems to want to launch new products to experience virtual reality. Will the Californian company be able to set the course for the industry if it finally enters this field or will it be too late?
Virtual reality continues to face major challenges, such as improving the design of the viewers and making them lighter