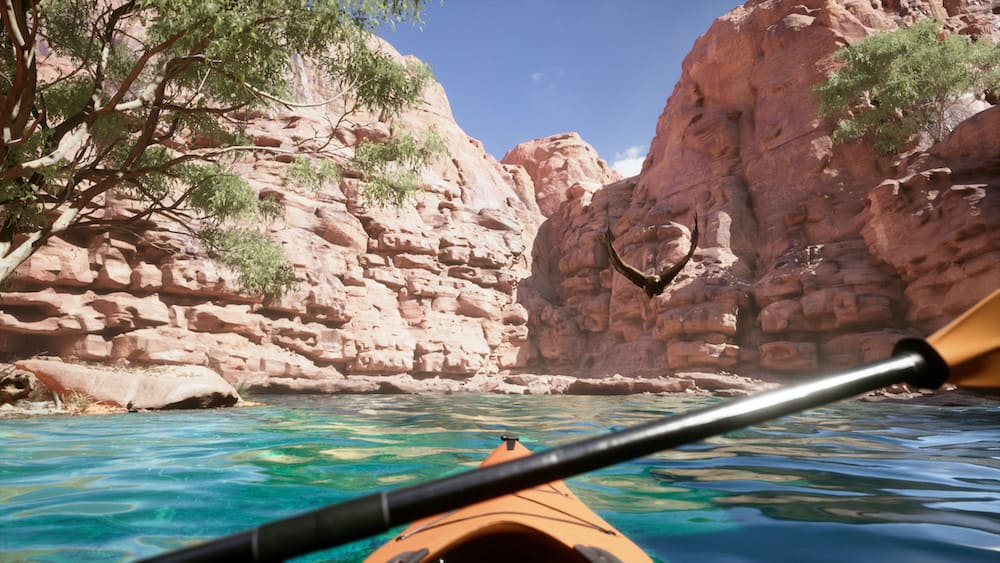 Kayak VR rowing simulator appeared exclusively for PC VR and looks great graphically.
Kayak VR: Mirage is designed Better Than Life and offers two game modes: a physically challenging time race in which players must pass the checkpoints to the finish line as quickly as possible, and an exploration mode in which you can swim along the river and enjoy the scenery. At the same time, the realistic physics of the simulation ensures that the rowing will seem real.
The stealth game Phantom: Covert Ops last year proved how well kayaking works in virtual reality. Here you turn into a special agent who, with the help of a kayak and under the cover of darkness, invades the naval base unnoticed. Since you are sitting in real life and actively rowing with your hands, a boat trip will be especially exciting.
Kayak VR: Great PC VR graphics
Phantom: Covert Ops offers beautiful effects of light and particles, but the whole picture is characterized by brown and gray tones.
Kayak VR changes this gloomy landscape and offers colorful kayaking trips, as they say, in broad daylight. Pay attention to the realistically animated water, the play of light and shadow, and the photorealistic visualization of nature in the video below.
According to the founder of the studio, Leon van Ord, the developers want to challenge the cliche that indie games can not look at the highest level. Therefore, the target platform was clear from the very beginning: PC VR. "The market is half the size of mobile VR, but you can attract more attention," Ord says in an interview with VRScout.
Various landscapes
The hardware requirements are not quite modest: at least one RTX 2070 must be connected to the PC, RTX 2080 is recommended. Thanks to graphics optimization and support for DLSS AI rendering technology, the game should run smoothly, despite the fact that the graphics have become complex. To create photorealistic environments, developers resort to photogrammetric scanning of real landscapes.
The first trailer shows a trip through the canyon. The developers want to offer a lot of variety of landscapes in the finished game, and they can also implement surreal landscapes: a journey through an active volcano or along a fictional river on Mars.
Kayak VR: Mirage is in Early Access. If you want to try the current version of the game, you can request the code in Discord. The title should appear on March 1, 2022. More detailed information is available on the Steam page .