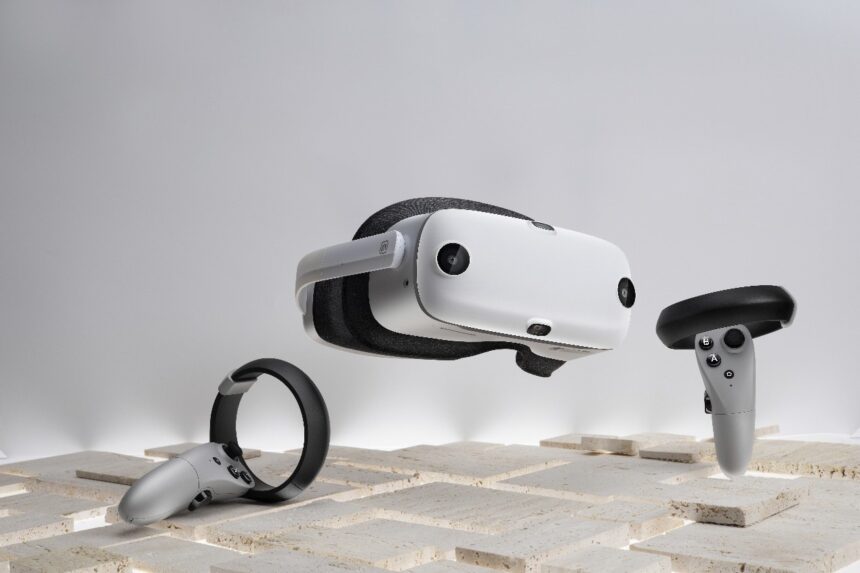 After Pico Neo 3, Qiyu 3 is another clone of Quest 2 for end users in the Chinese market.
The manufacturer of VR glasses is iQiyi, a Chinese video streaming service similar to Netflix, with 500 million monthly active users. iQiyi describes VR glasses as a "new flagship device".
Visually, they resemble Facebook's Oculus Quest 2, except for two large cameras that look like eyes and give the device a cute look. The name also seems to be related to Facebook's virtual reality glasses: Qiyu can be translated as "adventure".
Qiyu 3 can't shy away from comparing with Oculus Quest 2, at least as far as the technical characteristics are concerned:
The LCD display with a sub-pixel RGB matrix has a resolution of 2160 by 2160 pixels per eye. The maximum refresh rate is 90 Hz.
The Snapdragon XR2, which also uses the Oculus Quest 2, is used as a chipset.
VR glasses can also access up to eight gigabytes of RAM. Oculus Quest 2 has six gigabytes of RAM.
Like Facebook's VR glasses, the device must provide spatial tracking of the head and hands with millimeter accuracy.
Unlike Oculus Quest 2, you can adjust the distance between the lenses for maximum visual comfort instead of three levels. The adjustment range is from 58 to 72 millimeters.
Applications: virtual cinema and the first VR games
Since video streaming is the main activity of the manufacturer, the device is positioned as a virtual pocket cinema. With the accompanying VR application, the content of the streaming service can be viewed on a large screen at any time and anywhere. Among other things, 3D movies in 4K resolution and 8K videos with a frequency of 60 frames per second are offered.
Those who pre-ordered VR glasses, which went on sale on August 31, 2021 for the equivalent of 450 euros, received free access to 30 games. In addition, users should receive new games for free every month.
It is not known how extensive the application library is. iQiyi names, among others, Arizona Sunshine, Swarm, Mercenary: Silicon Rising, Zombieland: Headshot Fever and All-In-One Sports VR as examples of applications.
Internal competition: Pico and HTC
Qiyu has been working in virtual reality since 2016 and has since released four products. The Chinese company says it wants to continue investing in content, platforms and equipment. Nothing is known about the expansion to the West.
The biggest domestic Chinese competitor is likely to be Pico. Announcing Pic o Neo 3, the company launched a similar device on the market and created an impressive app store, which features such well-known games as Superhot VR, Angry Birds VR: Isle of Pigs, OhShape, Sairento VR: Untethered and Apex Construct.
Pico was recently bought by the creator of TikTok Bytedance. Thanks to the financially powerful video platform, investment in virtual reality is likely to increase significantly. In the West, Pico sells B2B versions of virtual reality glasses a reality called Pico Neo 3 Pro.
Another competitor is HTC. The company has in its portfolio self-sufficient high-quality VR glasses Vive Focus 3, but sells them only to corporate customers.