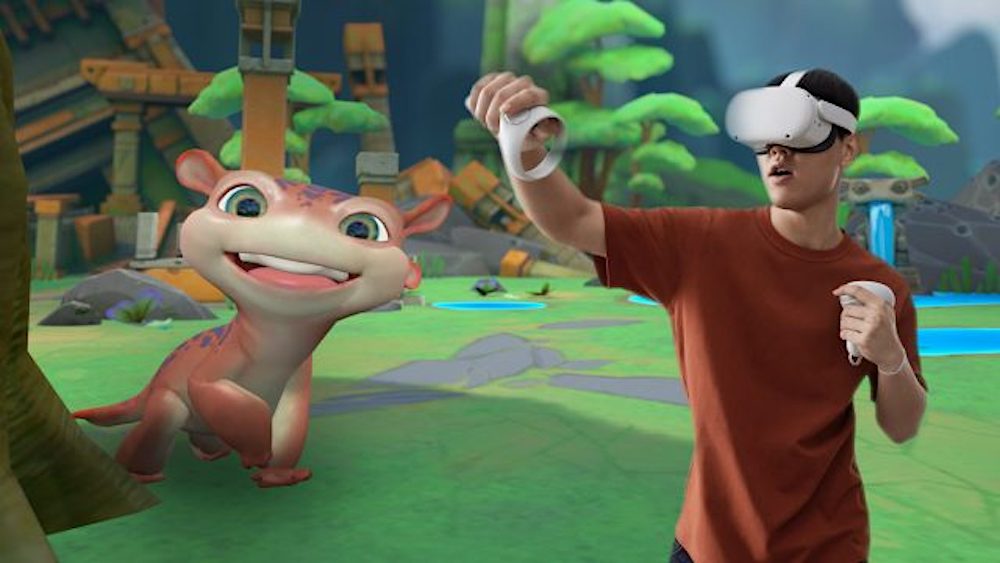 Facebook is releasing a major update 29.0 for Oculus Quest. What new features does it offer?
Starting in February, Oculus Quest 2 owners can create additional accounts for family members and friends and share their purchased apps with them. One of the benefits of additional user accounts is that game progress, achievements, and friend lists are saved separately. With the latest Quest 29.0 update, user accounts and app sharing are now also available to owners of the first Oculus Quest.
With Oculus Quest, you can record videos of VR gaming events or stream them online. So far, only the image and sound are recorded, but not your own voice. This will change with update 29.0. If you want to prevent recording your own voice, you can disable the microphone in the settings.
Live Overlay is the name of a new broadcast feature in the Oculus app for iPhone that allows you to create a kind of mixed reality video. Quest users can point their smartphone camera at themselves and record superimposed video in real time using the Oculus app. The app inserts a video with a VR perspective in the background. This should give the impression that you are in the game. Live Overlay only works with iPhone XS or later. It will initially be available to a limited number of users of the Oculus app.
Notifications from your smartphone
In update 29.0, Facebook adds a number of additional features to the Infinite Office feature pack. Infinite Office is gradually turning Oculus Quest into a full-fledged working device and a virtual office. Users can project virtual monitors into the environment, draw their physical desks in VR, and transfer keyboards to virtual reality. The following features are advertised as Infinite Office Features, but are still useful.
Now you can display iPhone notifications in virtual reality without lifting your smartphone or taking off your virtual reality glasses. In the corresponding VR menu, you can specify which notifications will be transmitted. Users of the secondary account cannot access this information. Android support should be coming soon.
File manager and video view button
Facebook has also integrated a file manager. If you launch the appropriate app, you will have access to the data stored in the VR glasses and will be able to manage and share it. Using the Oculus browser, you can also upload media files to the network or upload them to VR glasses. Which platform (Google Drive, Dropbox, etc.) you use for this is up to you. Previously, you had to use a PC and a program like Sidequest to manage files in Oculus Quest.
Anyone who frequently uses video review to keep in touch with the outside world can now easily switch between video review and the virtual environment with a single click in the quick settings. The old method of double tapping on the body of VR glasses should still work.
Bright menus and content ads
The latest update also includes a redesigned universal menu that simplifies multitasking and provides access to your favorite apps. Another new feature is a bright version of the universal menu, which can be activated in Settings> Experimental Features.
Last but not least, Facebook is testing Oculus content ads in the Oculus app. Developers can now place ads to reach more users of the Oculus app. Facebook indicates that in the future, app ads may be displayed in virtual reality glasses.
Update 29.0 is released for Quest users from May 17. The update for all virtual reality glasses can take up to two weeks. If you want, you can view the version number in Oculus Quest and check if the update is already available in Settings> Info.
You can find the full text of the update inIn the Oculus release notes.