Photo Source: Revolut Media
Challengerbank Revolut is increasingly targeting the retail sector and now has its own card readers in its product portfolio.
The British Neobank, which operates with a Lithuanian banking license, has also been targeting business customers for a long time. The product "Revolut-Business" with special functions for expense or payroll accounting is a terrific success and is used by more than half a million companies. Now the expansion is also going in the direction of smaller companies, which should be one of the growth areas of the future for Revolut. As a first step in this direction, their own card readers have now been launched on the market, which are directly connected to the business account of the respective merchants.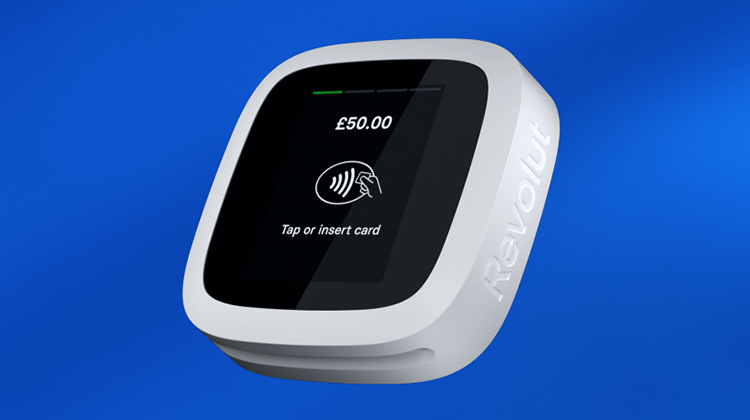 Photo source: Revolut Media
Readers of the product series "Revolut Reader"
Visually, the launched devices from the "Revolut Reader" series are reminiscent of the solutions of the competitor Sumup and have a comparable range of functions. The corresponding devices from Sumup are already successfully used as part of POS systems at various companies. Revolut enters direct competition with its own products.
According to its own description, the "Revolut reader" is intended to enable merchants in a conventional retail store, as well as on the go at mobile shops, a more secure, lightweight and powerful card payment system. Each payment should be completed in a few seconds. Accrued amounts will be credited to the linked Revolut business account without delay. Even at night, on weekends and holidays, any amount should be booked in a few seconds for the benefit of the entrepreneur. On the cost side, a fee of EUR 0.02 plus 0.8 percent of sales will be charged, the rollout will take place on a trial basis in the UK and Ireland. Other countries may follow in a timely manner based on experience.
The system should be linked to existing PoS systems via a suitable interface. However, it has already been announced that Neobank will introduce its own PoS system in the coming months in order to be able to offer companies even greater flexibility in payment systems.