Observability Cloud based on OpenTelemetry Splunk bundles monitoring solutions for DevOps teams
Applications and coupled services distributed in the cloud are confusing and complex. The Splunk Observability Cloud is designed to eliminate the problems and blind spots of classic monitoring solutions.
Companies on the topic

Application Performance Monitoring of the Splunk Observability Cloud.
(Picture: Splunk)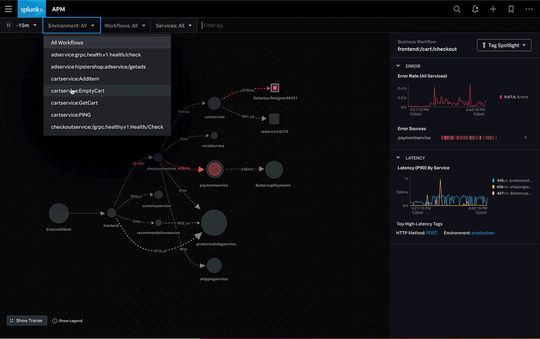 The Splunk Observability Cloud bundles various monitoring and logging tools, including application performance Monitoring.
(Picture: Splunk)
The new Splunk Observability Cloud is designed to unify and unify metrics, traces and logs in one place – in real time, without sampling and on any scale. The target group is IT and DevOps teams that accompany cloud transformation and need an overview of their distributed infrastructure.
As an OpenTelemetry native solution, the Splunk Observability Cloud uses existing open source standards to collect and manage data. In this way, customers could unify the collection of data without binding manufacturers and reduce the consumption of resources. The platform combines all relevant monitoring and logging solutions from Splunk:
Infrastructure Monitoring: real-time optimized, scalable, and AI-driven infrastructure monitoring for Hybrid or Multi-Cloud environments.
Splunk APM: Real-time application performance monitoring with AI-driven, targeted troubleshooting.
Log Observer: Logging solution designed for DevOps teams and their use cases, focused on troubleshooting.
Splunk Real User Monitoring( RUM): Troubleshooting and insight into the web browser performance, in conjunction with the APM, should create transparency over the entire user transaction.
Synthetic Monitoring: Synthetic monitoring to improve API uptime and performance, service endpoints, business transactions and user flows.
Splunk On-Call: Intelligent and automated incident response and collaboration.
Further information on the Observability Cloud and the prices of Splunk DevOps individual solutions can be found on the Splunk website.
(ID:47390019)