Sports fans are increasingly showing interest in NFTs.

However, confidence in marketplaces is currently low.

Fans see positive effects of the asset class on their respective sports.
The willingness of the sports industry to adopt has contributed significantly to the success of non-Fungible Tokens (NFTs) in the mainstream, as clubs and players are already using the new technology diligently as a tool for fan loyalty. Now it is the fans who want to be more than part of the hype and instead invest specifically in NFT and its publishers.
The crypto winter has already ensured in recent weeks that the significantly inflated minimum prices on the NFT market have come back to the bottom of the facts, which is why investors now have to think twice about which investment is really worthwhile. In this context, a new study by the National Research Group (NRG) shows that sports fans are increasingly open to dealing with NFTs and learning to understand the functioning of the market. The current dry spell could be the perfect time for this.
NFT sales from June 2021-June 2022. Source: NonFungible
For example, NFT sales fell to a one-year low in June 2022, which could signal the temporary end of the previous hype. A survey of 3,250 sports fans in the USA, Great Britain, Japan and Brazil, conducted by NRG, shows that in view of the current developments, they are no longer investing in NFTs, above all because they are afraid of losing money or being cheated.
Only 15% of respondents continue to have full confidence in NFT trading, while 30% indicate little to no confidence. As the study notes, this is especially true for Japan, because here "4 out of 10 participants have only low confidence in NFT marketplaces".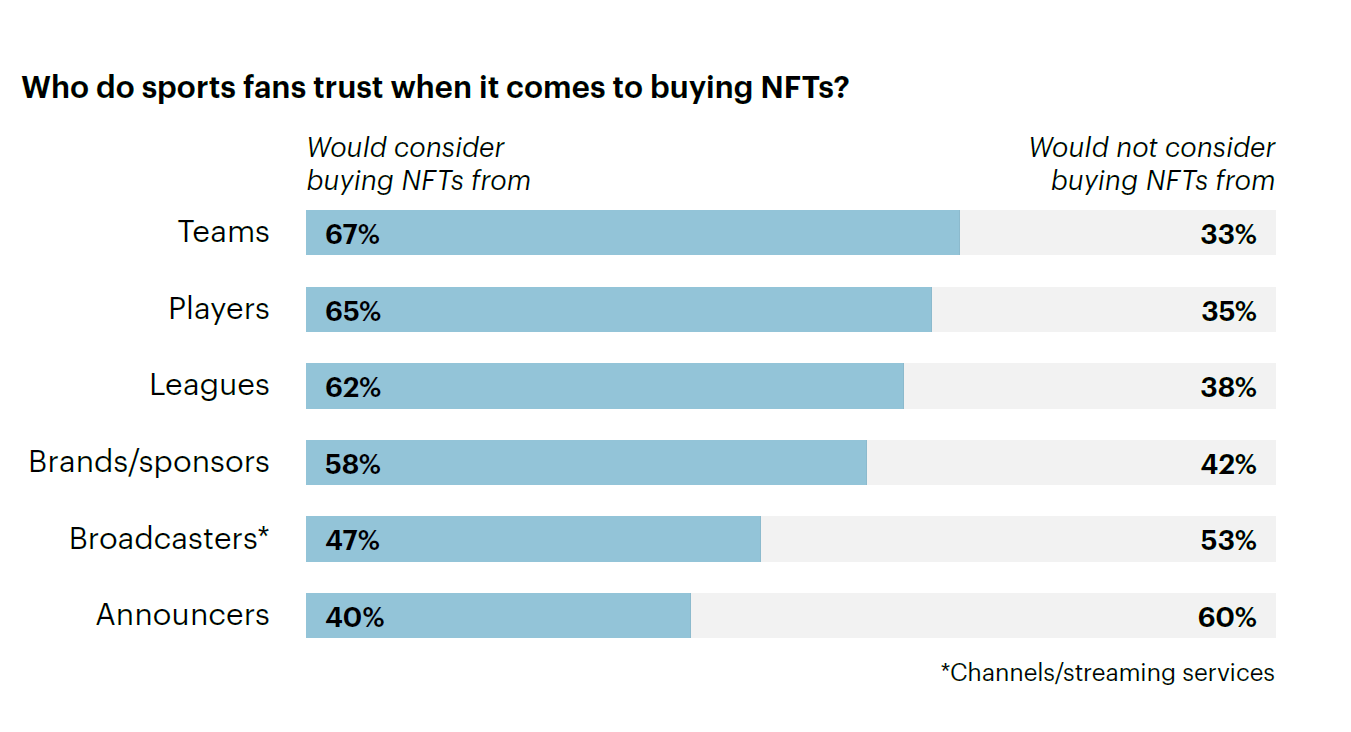 Despite all the regional differences, fans in all four countries agree that the NFT market needs stricter regulation, including regulations such as age restrictions and risk mitigation mechanisms.
58% of sports fans in the USA, Great Britain, Japan and Brazil state that they have at least an approximate understanding of NFTs. 54% (or 1,755 people) are also convinced that NFTs have had a positive impact on their respective sports.
The non-Fungible tokens are also currently showing their usefulness in other areas, for example, the Ukrainian government wants to use funds from the sale of NFTs to rebuild cultural institutions and works destroyed by the war.
According to the relevant Ukrainian ministry, the Russian attacks have so far caused "damage worth almost 6 billion euros" to the country's culture.