The market-leading stablecoin Tether (USDT), which is also the third largest cryptocurrency in terms of market capitalization, is noticeably losing market value in the course of the ongoing weakness on the crypto market.
For example, the market value of the USDT slipped below US $ 70 billion on Thursday for the first time since October 2021. This downturn was preceded by a series of smaller reversals after Tether's market capitalization reached a new record high of over $80 billion in May.
At the time of writing, the market capitalization of Tether (USDT) is already back to 69.3 billion US dollars, which corresponds to an increase of 300 million US dollars compared to the previous downturn to a multi-month low.
Market capitalization of Tether (USDT). Source: CoinGecko
The major competitor USD Coin, the second largest stablecoin pegged under the US dollar and issued by the major crypto payment service provider Circle, was able to break the milestone of US $ 50 billion market capitalization in February, but is still significantly behind the market leader.
While Tether has lost market share in recent weeks, other stablecoins such as the USD Coin (USDC) have been able to catch up. For example, the latter recently improved from USD 48 billion in mid-May to USD 55 billion in mid-June.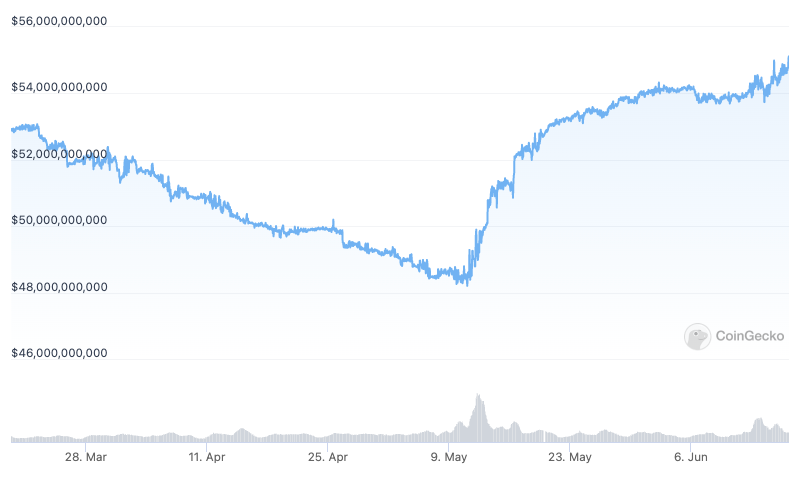 Market capitalization of the USD Coin (USDC). Source: CoinGecko
Tether's losses come against the backdrop of a market-wide crisis that has pushed the total market capitalization of all cryptocurrencies below $1 trillion for the first time since February 2021 in recent weeks.
In order not to lose the trust of crypto users in addition to market share and market value, Tether is currently trying to distance itself from the structural problems of some related crypto companies. For example, the stablecoin issuer explicitly communicated on Monday that the impending insolvency of the crypto savings bank Celsius, for which Tether has acted as a lender and investor, among other things, has no effect on the company's reserves or their stability.
Log in to our social media so as not to miss anything: Twitter and Telegram – current news, analyses, expert opinions and interviews with a focus on the DACH region.