What is the engine capable of joining Movistar Home hardware and software and making them work? The answer is Aura, Telefónica's Artificial Intelligence.
After learning how both the Movistar Home hardware and software work, Julia Llanos, Data Science Manager at Telefónica Aura, and her team explain how Aura is implemented within the Movistar Home device.
Aura is Telefónica's AI and within Movistar Home acts as a Virtual Assistant. Is an AI with cognitive capabilities, this means, that the user learns to anticipate their needs.
Isabel Menendez, Data Scientist at Aura, tells us that to be able to implement artificial intelligence and truly learn, you have to have "a lot of interactions that users have previously had with Aura and analyze what they have asked for and what they have received, and if it is within what they expected or was not what they expected".
Isabel Menéndez testing with Movistar Home
In order for the communication between users and Aura to be fluid, the work of Vadim Melenciuc, platform developer at Aura, comes into action. He's in charge of implement a bot or application to automate actions. " These actions that we are going to automate are having conversations with many users and attending to different types of requests, " says Vadim. To be able to build all this, there understand what the user is going to ask for and attend to such requests.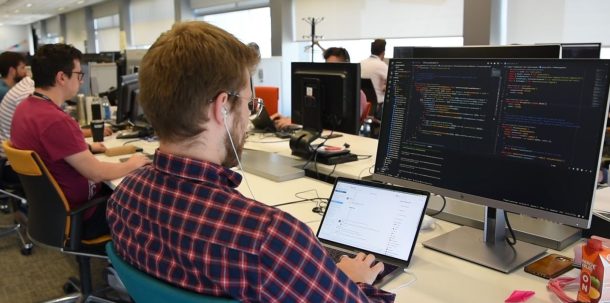 Vadim Melenciuc testing the bot for Movistar Home
In order for Aura to understand what the user requests, use is made of the natural language processing. Linguists are responsible for enter in Aura all possible questions from users, taking into account all the possible verbs to use before the same request, such as, for example: "Ok Aura, put me a movie" or "OK Aura, I want to see a movie".
But Aura also has to be prepared for other types of queries raised by the user. Esther Vaqueroa linguist on Movistar Home's use case team, he tells us that "there are some who even ask Aura if she lives in Madrid or if she likes chocolate, so we also have to develop answers to those questions".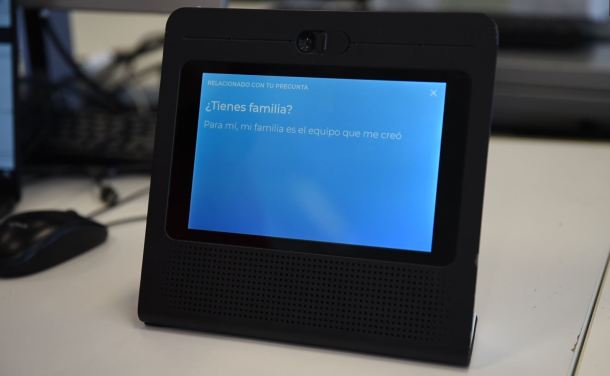 One of the answers to the questions raised by Movistar Home users
"Aura's goal at Movistar Home is bring technology closer to users, trying to make technology learn and adapt to them and not the other way around"Julia points out. All this is achieved by incorporating cognitive systems that will allow Aura, through Movistar Home, to develop new capabilities and challenges.