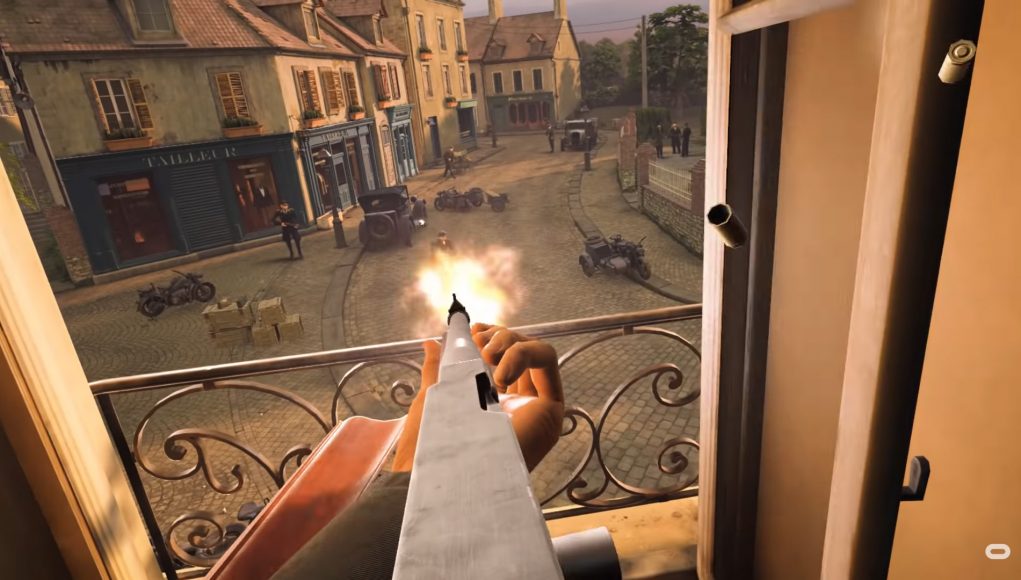 In 2019 there was no shortage of great games for virtual reality, although the year 2020 will also be a fairly significant year in VR games.
The compilation collected the best games are approved for issue by 2020, which include everything from polished indie games and big budget games ending with class "AAA" and expected games that were released at the end of 2019.
Lone Echo II (the Rift)
Description : go Back to the rings of Saturn on a journey that will deepen you into the mysteries of the cosmos — beyond the boundaries of time. Venture outside the unknown to Lone Echo II .
Release date : 2020
Medal of Honor: Above & Beyond (Rift)
Description : Medal of Honor: Above and Beyond historical returns of the battlefield of the Second world war to the fore for an epic experience of AAA. You will play as an agent of allied office of strategic services (OSS), whose task is to infiltrate and outwit the Nazi war machine. When you complete your travel tour of Europe, you will work with the French Resistance, working to sabotage Nazi operations behind the enemy's line .
Developer : Respawn Entertainment, Oculus Studios
Release date : 2020
The Walking Dead: Saints & Sinners (VR PC)
Description : Saints & Sinners — the game is not like any other from the universe of The Walking Dead. Every challenge that you face and the decision you make depends on you. Fight the undead, collect garbage in the flooded ruins of New Orleans and face a painful choice for you and the other survivors. Live dark drama the walking dead in your own skin.
Developer : Skydance Interactive
Release date : January 23, 2020
LOW-FI (VR PC)
Description : Welcome to virtual reality next-generation Cyberpunk. Patrol the streets and skies, solving mysteries, fighting crime, or succumbing to corruption and their own desires. The choice is yours .
Developer IRIS VR
Release date : 2020
Firmament (PC VR, PSVR)
Description : Firmament — a magnificent fantasy journey in the style of steampunk — a Grand journey through the varied and interesting fields, as well as deep and moving teachings and emotional chronicle of essential mentor.
Developer : Cyan Worlds
Release date : release to KS backers in July 2020
After the Fall (PC VR, PSVR)
Description : From the creators of the Arizona Sunshine comes an epic virtual action with intense cooperative gameplay in which you fight up to 4 players in this huge hostile world of virtual reality in a fierce struggle for survival.
Developer : Vertigo Games
Release date : 2020
Iron Man VR (PSVR)
Description : Wear the headset PlayStation VR to become the armored avenger in the original adventure with Iron Man! The use of two motion controllers PlayStation Move launches jet engines and Iron Man takes off into the sky with an Arsenal of legendary weapons that are always at hand. Fight the greatest enemies of Iron Man in battle with high stakes. Update the technology in the garage of Tony stark to customize the Iron man suit and amazing abilities.
Developed By : Camouflaj
Release date : February 28, 2020
Paper Beast
Description : Paper Beast — game-exploration in a colorful ecosystems. Embark on a virtual journey of discovery through a gripping and poetic gameplay.
Developer : Pixel Reef
Release date : first quarter 2020
Stormland (Rift)
Description : a Storm destroyed your body Android. Travel the ever-changing cloud landscape, to enhance themselves and save their friends. Explore a vast world with complete freedom — jump over cliff, glide across gaps and fly through the slippery stream. Blow up, use electricity and improvised weapons to overcome the monolithic Titan sentries and guards. Play single game or explore the forgotten ruins together.
Developer : Insomniac Games
Release date : November 14, 2019.
Budget Cuts 2: Mission Insolvency (VR PC)
Description : Go through the path of splattered oil stomach TransCorp, once and for all put an end to their vicious budget cuts.
Developer Neat Corporation, Fast Travel Games
Release date : 2019
Boneworks (VR PC)
Description : BONEWORKS — adventure experimental physics VR. Using physical weapons, tools and objects to fight through the dangerous game mysterious landscapes and architecture.
Developer : Stress Level Zero
Release date : last quarter of 2019
Sniper Elite VR (PC VR, PSVR)
Description : Experience the brand new game Sniper Elite with first person view, explosive campaign and an exciting motion control.
Developer : Rebellion Games
Release date : 2020
Half-Life: Alyx (VR PC)
Description : Alyx Vance and her father secretly increase the resistance to the brutal occupation of the Earth by a mysterious alien race. Like Alix, players battle against the Alliance to save the future of mankind. Half-Life: Alyx was designed from scratch for virtual reality and includes all the hallmarks of the classic game Half-Life: exploring the world, solving puzzles, intuitive battle and complicated story that connects all this with the iconic characters to the universe of Half-Life.
Developer : Valve
Release date : March 23, 2020
Espire 1: VR Operative (PC VR Quest, PSVR)
Description : the ultimate experience stealth virtual reality: Espire 1 brings the genre of stealth into an immersive virtual reality environment, providing game mechanics to the genres of stealth and action, which are yet to be explored.
Developer : Digital Lode
Release date : fall 2019
Source