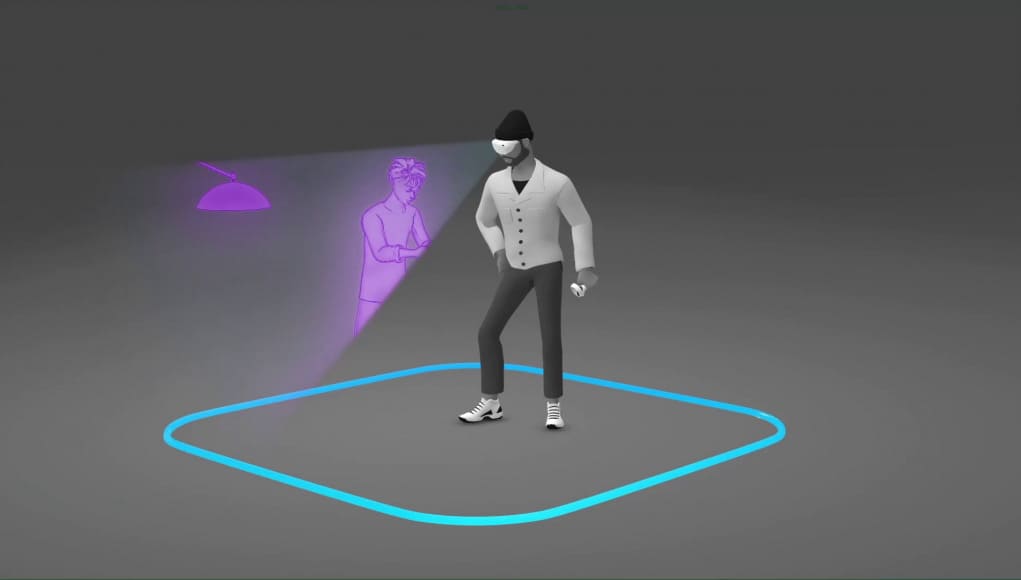 Last month, Oculus Quest received a v32 software update that made changes to file syncing, friend lists, and more. Now it has been discovered that there is a video in v32 demonstrating what may be an upcoming feature of the Guardian system that seems to warn you when someone enters your game area.
Guardian, the boundary of the game space for Quest, may receive a reconstruction and change due to an upcoming feature that may appear in the upcoming Quest v33 software update.
This feature, called Space Sense, was first discovered by a German programmer Basti564. While studying the hidden v32 files, Basti discovered a video hidden in them, demonstrating the capabilities of Space Sense.
https://thumbs.gfycat.com/ImpressiveHauntingKoala-mobile.mp4
There was also a menu text under the video explaining what Space Sense does:
Take a look at your real environment in VR

Turn on Space Sense to see the contours of people and objects on the border of the scale of your room. Being aware of what surrounds you in virtual reality helps protect you and other people.

You can see the contours up to 9 feet away while they are still within your boundary, and right in front of the headset. You can disable this feature at any time in the settings.
The implementation is not reliable; someone can always come up behind you outside the field of view of the sensors. Taking into account the number of videos in which people suffer from controller shocks, this is undoubtedly good news for people with pets, children and people who are not familiar with how VR works.
Space Sense is not yet launched, however, recently it should become one of the biggest additions to the Quest room zoom system. Guardian has basically not changed since the launch of the Quest platform in 2019, with the exception of a feature added last year that detects static objects in the game space, such as tables or chairs left in the way during the installation process.