The robot became a member of IFC| 10.07.2020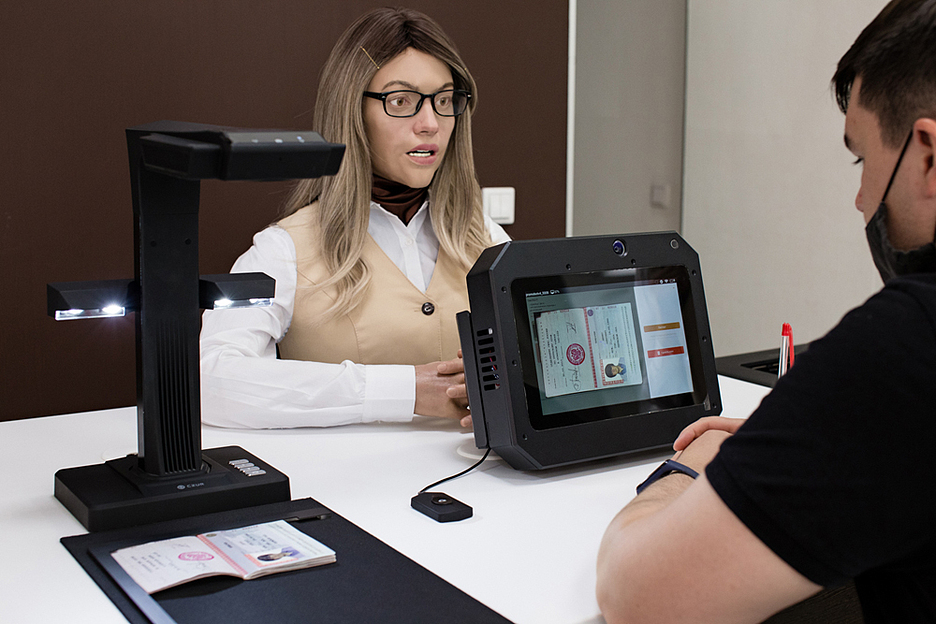 Humanoid robot, developed by Promobot, started in Perm multifunctional center "My documents". This is the first case in Russia when the robot is the counterpart of man replaces the
specialist in the provision of public services.
Robot is a fully anthropomorphic car. He copies the emotions of a man: the ability to move the eyes, eyebrows, lips and other "muscles", to chat and answer questions. Technology
developed in Promobot, as well as our own patented design allows you to play over 600 options micromite person. Experts Promobot also used their technology
the creation of artificial skin.
The appearance of the robot created by the neural network: the development is based on the study of ethnic auto – and heterostereotypes. Artificial intelligence has analyzed the appearance of several thousands of Russian women and
created a generalized image of the girl with brown hair and brown eyes.
The robot independently takes visitors to the IFC, the client is only suitable to a free window where he is met by an automated specialist. Around the robot created an entire ecosystem: the machine is connected to
other devices and services. The robot scans the documents (passport, birth certificate, driver's license, notarized power of attorney), then, based on the document type, creates the statement.
A visitor signs the application, the robot scans it and sends to the information system of the MFC.
Within the test period, the AI will help the citizens to obtain the certificate of no criminal convictions and administrative liability for the use of narcotic
funds. Subsequently, the functionality will be expanded. The robot, along with the specialists of the branch will carry out the functions of receiving documents for the most popular services.
The staff of the MFC independently tested receive services from the robot and give feedback, with their help developers more accurately set up the scripts of interaction of the robot with the person.
This is the second robotic employee Perm IFC in February 2019 center "hired" model Promobot V. 4. The robot greets customers at the entrance to the IFC, helps them to navigate in
services, said the willingness of the documents, to check the status of the coupon in the electronic queue, fills in the application, works with electronic queue. Since March last year promobot took more than 30 thousand
appeals. Due to the mechanical staff member, every administrator of a branch savings of approximately 43 minutes of working time a day.
It frames, Robotics
Promobot | Promobot