Toy racing car from Aston MartinЕвгений Kuryshev | 14.11.2020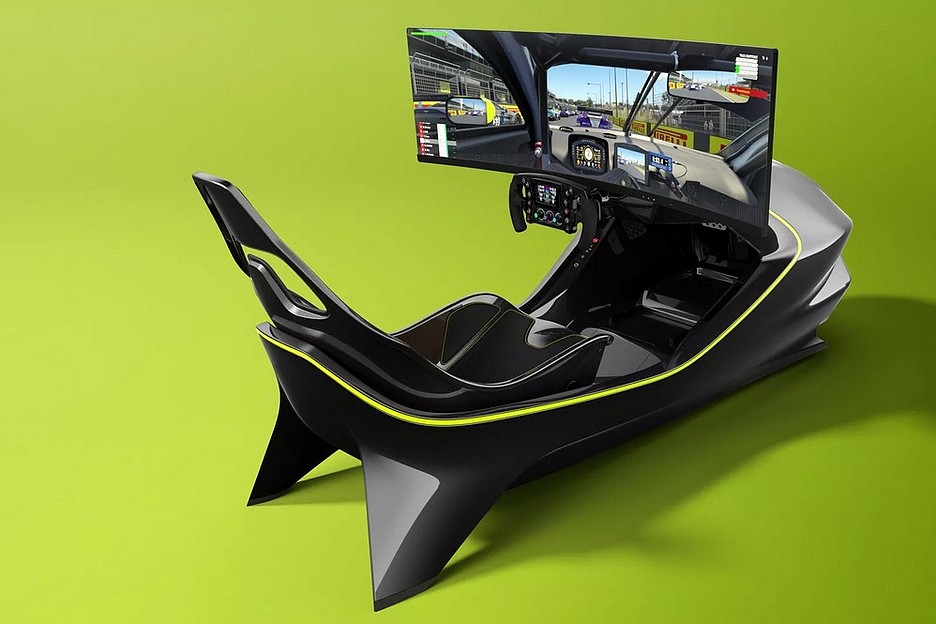 British automaker Aston Martin and the company Curv Racing Simulators has released a limited edition version of the game racing simulator AMR-C01, which has all chances to become the most expensive and
unusual in its class. If Aston Martin is known to many, something about Curv Racing Simulators it is worth to say a few words. This young British company, founded by Darren Turner
(Darren Turner) – professional racing driver who in the team "Aston Martin Racing" three times occupied the first position in the oldest existing racing endurance "24 hours
Le Mans."
AMR-C01 is a lightweight carbon monocoque inside with a fixed racing seat, which is very similar in execution to the same real-hypercare Aston Martin Valkyrie.
By the way, the top speed of a full-sized Valkyrie exceeds 400 km/h, so it is referred to as a hypercar, not just supercars. The design and color options of the simulator responds
directly design Studio of Aston Martin, where staff focused on the genuine livery of the cars of this brand. Individual parts seat AMR-C01 trimmed in leather and Alcantara.
In addition, the customer will be able to choose colour and trim options.
Manage the semi-virtual car will have using the built-in body pedals with 200mm travel and a multifunctional steering with gearshift paddles, nine rotary switches,
twelve the usual buttons and a built-in color display. The main game image is displayed on a widescreen QHD curved monitor with an aspect ratio of 32:9. From the hardware
computing part of AMR-C01 manufacturer feel the need to specify the Intel Core i7 processor and Nvidia RTX 2080, other characteristics are unknown. Also the simulator is equipped with acoustics and
Sennheiser headphones production.
Despite the fact that the game default to luxury attraction was Assetto Corsa, it will also be available to other game releases. At the moment we know about the support of racing
racing game iRacing and rFactor 2. It is worth emphasizing that all of these games are designed to give the player as close to the real experience of driving cars that
distinguishes them from most arcade computer racing.
The dimensions of the simulator are impressive: height – 1050 mm, width is 725 mm, length 1985 mm, and the width of the monitor 1195 mm Promise to release only 150 copies of the AMR-C01, each of which will traditionally
assembled manually. The cost of one "machine" will be £57 500, at the exchange rate at the time of this writing, exceeds the sum of 5,7 million roubles. It is obvious that a product designed for a very special
buyer because at this price you can buy a nice real car, including sports. On the other hand, the price is the Aston Martin Valkyrie, which partially copied the AMR-C01,
is at the level of $3 million.
First deliveries of the AMR-C01 is scheduled for the end of this year.
technology
Journal: Journal IT-News, Subscription to magazines