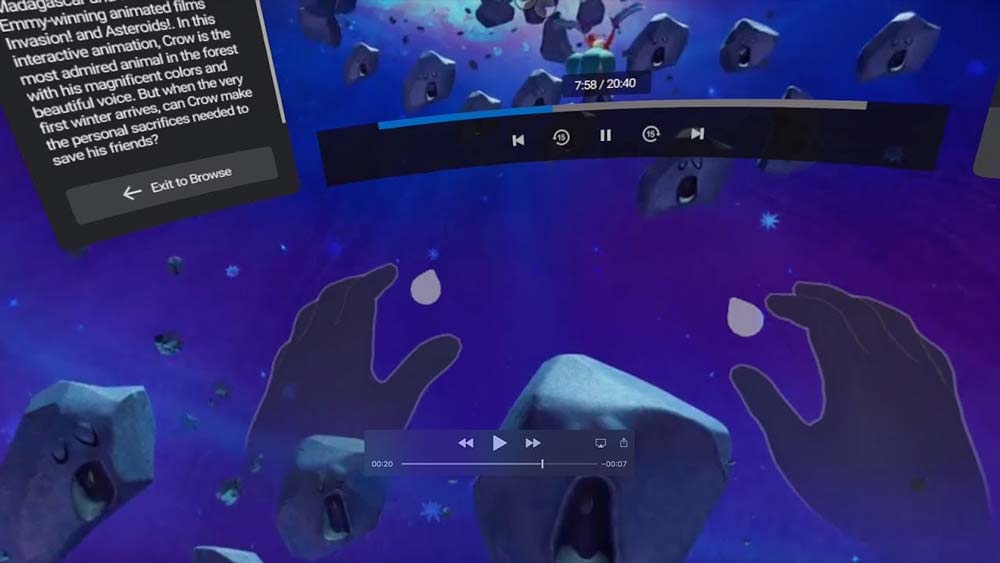 Recently Facebook released an experimental feature hand tracking without a controller for the Oculus Quest, and a week later the kit for software development for hand tracking that allows developers to start experimenting with this feature.
Although no official app store Oculus does not support hand tracking, many developers have released a demo, game or test application in a SideQuest that use the new SDK and tracking hands.
This experience is not full-fledged applications or games, and is a small pilot projects, which aim to show the potential of apps and games with hand tracking in the future.
All apps and games below are available in the shop SideQuest.
MRTK (Mixed Reality Toolkit) Hands
MRTK Hands from Eric Provencher (an extension of the original set of tools Mixed Reality from Tarukosu ) is a simple environment that allows you to resize, move, and play with various objects. It serves as a means of demonstrating and playing with all the different types of interactions in the SDK. This app will also allow you to switch to using controllers instead of tracking the hand in the middle of the application, but you will have to return to the Quest menu, to switch back to hand tracking.
Original application MRTK from Tarukosu also available on the SideQuest, which basically offers similar opportunities.
From all applications, perhaps, MRTK Hands is the most reliable when it comes to the implementation of hand tracking.
VirtualPiano
VirtualPiano is exactly what the name says — a piano in the virtual reality, in which you can play with your hands.However, don't expect that you will be able to play Mozart — technology not good enough to be a real piano, and you can not hope to play more than one finger at a time. Without tactile feedback it is incredibly difficult to fake playing the piano, but it is a fun example of where the technology could head in the future.
Might of the Gods: Sun Shard
This is a fun demo game to test the concept in which you play a giant who is waving his hands, killing the small creatures approaching the center of the level. Although the implementation is not perfect and is not the most stable of the available games, this is a cool way to look at what games without a controller may appear in the future.
Cubism
Cubism is a short demonstration of the full game, which is expected to launch early access a little later. This is a fun puzzle game that allows you to use your hands to combine objects of different sizes together to solve the puzzle. It is also possible to play with controllers, but recently it has been updated and now includes experimental support hand tracking.
Hand Tracking Floaty Blocks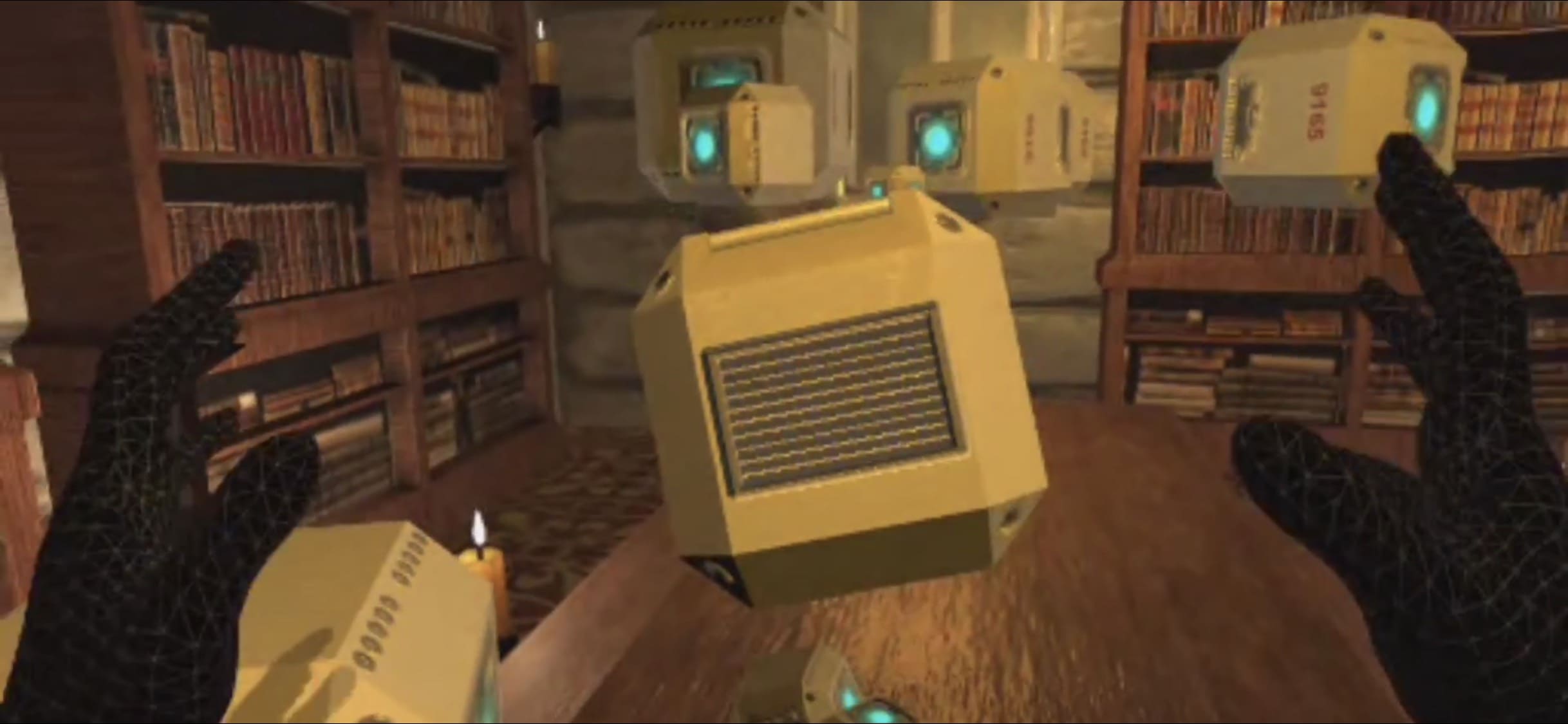 The game is inspired by a demonstration of the Leap Motion Blocks that allow you to play with some blocks and gravity, using hand tracking.
SDK Hand Tracking Demo
The SDK comes with sample application for developers, which sees you control a small train on the railway track, press the buttons with your fingers to speed up or slow down the train. This is a very simple demonstration , but as a starting point and play with it.
HyperBuild
"HyperBuild is a prototype of a visual scripting interface based on "blocks", which you can control and interact with your own hands!" The demonstration presented in the form of an alpha version with a few simple mathematical blocks.
BONUS:
Best games and apps for the Oculus Quest download SideQuest without using hand tracking
Half-Life VR (Lambda1VR)
If you have a Quest and a copy of Half-Life on PC, you should try it yourself. Yes, in your Quest you can play all the famous first-person shooter from Valve. the game involves waving a crowbar, as if you were Gordon Freeman.
Lambada1VR continues to improve its existing support. In fact, recently added support for non-expansion Blue Shift. This is the best place where you can get the fix Half-Life VR, while everyone is waiting for the official game in VR.
Important, however, is that this app is only for the engine, and you will need to have a copy of Half-Life from Steam and place it in the correct folder for installation together with a modded engine.
Half-Life VR can be set via SideQuest .
The Tea For God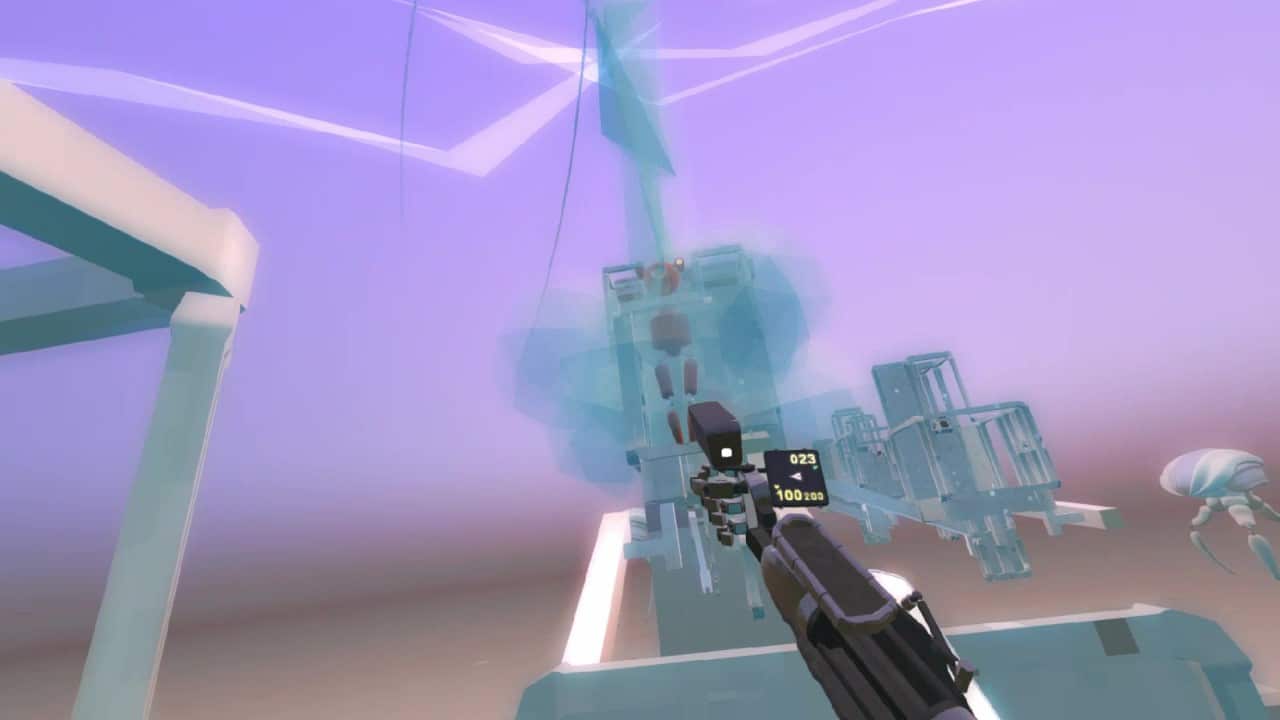 Invisible Diplomacy popularized the idea of perpetual motion in a virtual room with randomized rooms. But Tea For God takes this template and applies it to one of the most popular genres of virtual reality: the shooter.
Although it is a bit patchwork, there are few experiences as exciting as losing yourself in the winding corridors of this experimental FPS. Truly possible to forget where you actually stand when you go around turns shy and hiding in the elevators.
The Tea For God Quest APK is available for download online and can be installed via SideQuest .
Virtual desktop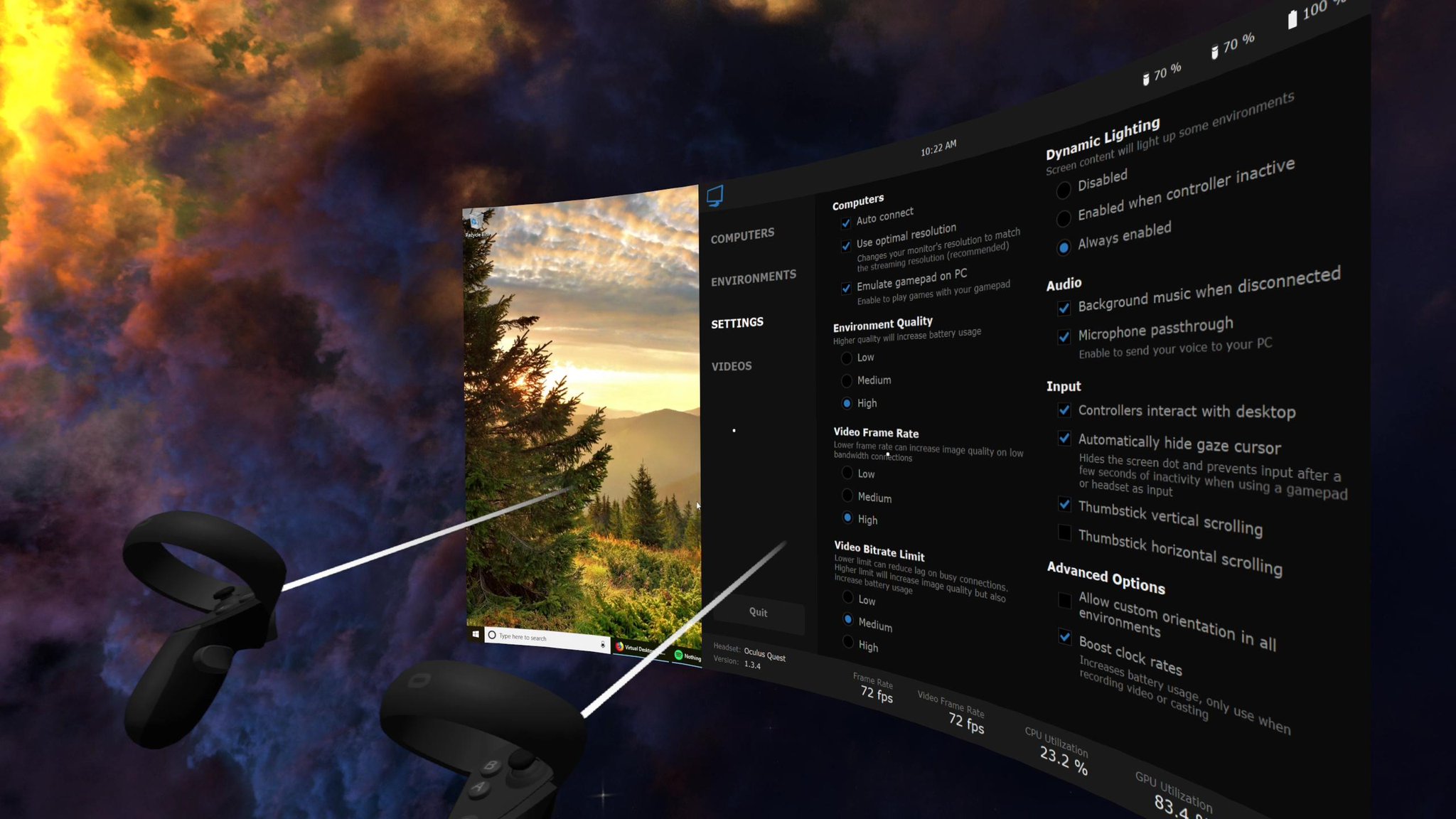 Yes, you can get a Virtual Desktop in the official store Quest. But the best version of the app is only available through the SideQuest. Why? Because this version allows you to wirelessly stream PC games from your desktop on a Quest. While Oculus offers the same Link functions, the downloaded version of Virtual Desktop provides you with the same function, but without wires. We should note that you will likely be more delays and compressing videos while playing PC VR content in your Quest through a Virtual Desktop.
Oculus Link is overall a smoother experience with fewer delays. However, the level of delay and compression will vary depending on many factors, including what kind of router you use and its location in your home regarding your computer and your Quest. There are a lot of elements — whether you use the 5 GHz network (which is recommended), how many walls is between your Quest and your router, if your desktop via WiFi or a wired connection, and even how congested your local network/router at the moment.
A modified version of the Virtual Desktop available in a SideQuest , but you will still need to purchase a copy of the version in the store Oculus Quest to downloaded version worked.
Pavlov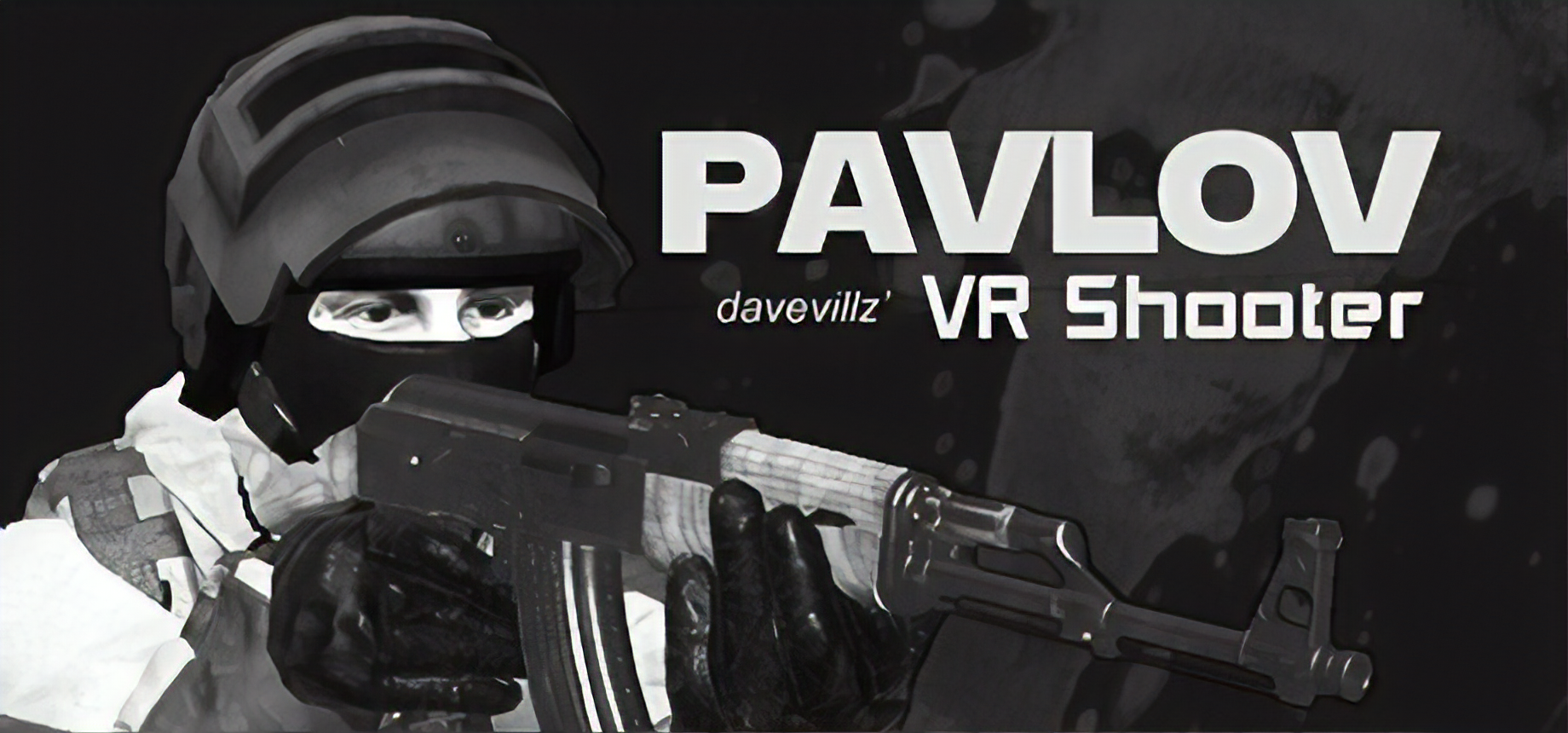 Soon Pavlov will officially release the game Oculus Quest called "Pavlov Shack", but until then you can test the latest build of quests with the help of side loading. Developer Dave Wills (Dave Villz) publishes links to the latest build Quest on his Twitter account, which you can download and install via SideQuest.
Quake2Quest
As LambadaVR, Quake2Quest is app side-loading, which modifies the Quake 2 engine, allowing you to play the famous game on Quest. As in Half-Life, you will also need a version of Quake 2, which will be loaded together with the mod engine.
Quake2Quest available in a SideQuest .
Source