More overview at Kubernetes and network level Auto telemetry for New Relic One
Automated Kubernetes metrics become an integral part of the New Relic One observability platform thanks to "Auto-telemetry with Pixie". In addition, the monitoring specialist has announced a startup and a student edition of the platform.
Companies on the topic

Pixie has comprehensive pxl scripts out of the box to help troubleshoot Kubernetes clusters.
(Picture: New Relic)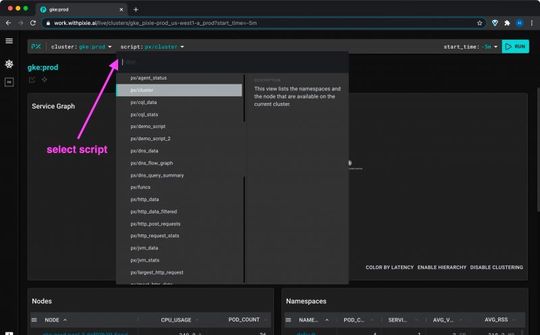 Pixie has comprehensive pxl scripts out of the box to help troubleshoot Kubernetes clusters.
(Picture: New Relic)
At the in-house developer conference FutureStack 21, New Relic announced several product innovations and community initiatives. Auto-telemetry with Pixie will therefore be the heart of the observability platform New Relic One, the integration takes place without code updates or data sampling.
With a data-driven framework, Pixie aims to give software engineers immediate visibility into their Kubernetes clusters and workloads, and accelerate troubleshooting. AI and machine learning models select the most relevant data sets and transmit them to the New Relic Telemetry Data Platform, where they are correlated and stored with other services and alerting mechanisms.
The primary purpose of the solution is to provide comprehensive telemetry data at every stage of the software lifecycle. Auto-telemetry with Pixie is initially available as part of an open beta phase. Previously, New Relic had already announced that it would bring Pixie to the Cloud Native Computing Foundation (CNCF) as an open source project under Apache 2.0 license.
Other features announced include – in addition to dashboard improvements-error tracking and network monitoring. The so-called "Errors Inbox" allows error analysis and correction centralized via the user interface of the New Relic One Platform. Data from the entire application stack is taken into account – from application performance management to mobile and serverless structures to real user monitoring.
The New Relic One platform is also designed to simplify collaboration between DevOps and networking teams. The basis for this is the cooperation with Kentik, a provider of network observability. Thanks to the collaboration, New Relic extends its own platform with functions at the network level.
New Relic has also announced corresponding community versions to enable startups and students to get started with observability. New Relic for Startups offers young companies exclusive discounts and credits, the New Relic Student Edition provides some practical simulations in addition to the observability tools to interactively build expertise and experience.
(ID:47435683)