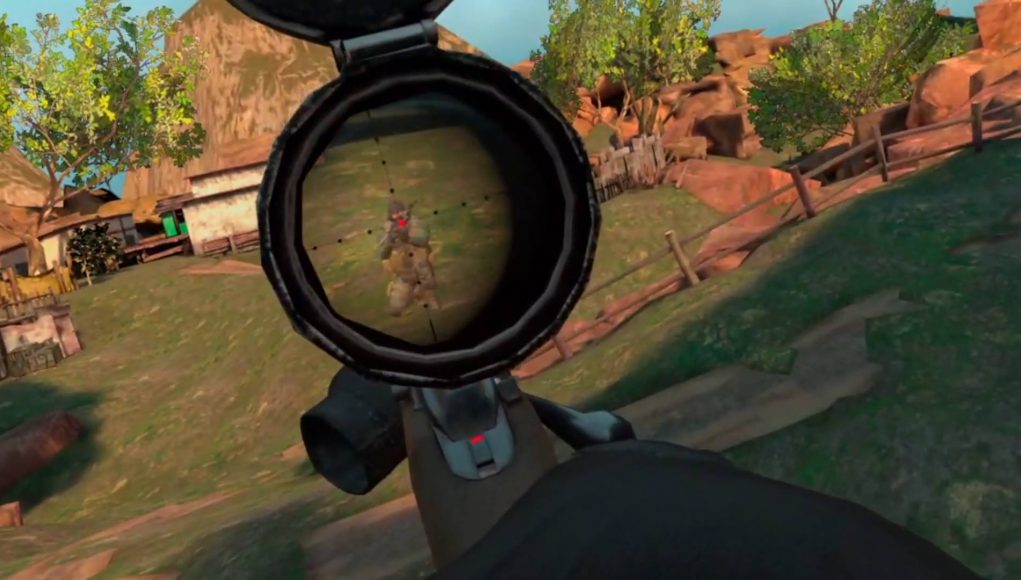 You can relieve stress by meditating, doing art or a good workout in virtual reality. In addition, you can lighten a heavy machine gun at anything that moves. And there are some really great options if you are looking for such a therapy to calm your nerves.
Here we review the best first-person shooter on the Oculus Quest platform, including everything from competitive online games and a full single player campaign is clearly to some of the more abstract things that really only work in VR.
Single player
The Walking Dead: Saints & Sinners
Zombie weapons, knives and swords. Be sure to move and shoot to the right place because stamina doesn't last forever. Excellent single-player story, an even more exciting battle with zombies.
Developer : Skydance Interactive
Price : $ 40
Link to shop
Pistol Whip
The rhythm and shooting, finally together. You will constantly move forward through a cinematic bullet hell to the beat of a great soundtrack. Shoot goals in tact.
Developer : Cloudhead Games
Price : $ 25
Link to shop
SUPERHOT VR
Time moves when you move. Take the gun and slowly Dodge bullets. Be tactful and feel like a superhero.
Developer : Superhot Team
Price : $ 25
Link to shop
Espire 1: VR Operative
A bit like Metal Gear Solid. Climb, sneak, shoot and perform different tasks.
Developer : Digital Lode
Price : $ 30
Link to shop
Phantom: Covert Ops
Tactical kayaks — sounds pretty ridiculous, but rowing in virtual reality actually surprisingly fun and intuitive way to travel. Sneak, shoot and blow up the enemies — that's your goal.
Developer : nDreams
Price : $ 30
Link to shop
Space Pirate Trainer
Space Pirate Trainer remains a unique sci-Fi wave shooter.
Developer : I-Illusions
Price : $ 15
Link to shop
AUDICA
Harmonix, creators of Rock Band, in fact, the combined Space Pirate Trainer and Beat Saber, Audica to create. Shoot and smash targets to the beat of the soundtrack with the songs of the most popular artists in the world.
Developer : Harmonix
Price : $ 30
Link to shop
In Death: Unchained
Archery and arrows in a medieval fantasy Kingdom. Incredibly complex and, along with that exciting single-player action.
Developer : Superbright
Price : $ 30
Link to shop
Robo Recall: Unplugged
Robo Recall was a sort of measure for immersive shooters in the early days, when he appeared on the Rift. Quest is a bit different, but still great.
Developer : Drifter Entertainment / Epic Games
Price : $ 30
Link to shop
Gun Club VR
Take a look at some of the objectives using realistic weapons, or enjoy a more dynamic gameplay, alien shooting at pop-up targets.
Developer : Nextgen Reality Pty
Price : $ 20
A link to the store
Multiplayer
Population: One
A bit like Fortnite for VR. This Royal battle where you build, climb anything and slide. Cross-play with PC VR.
Developer : BigBox VR
Price : $ 30
Link to shop
Arizona Sunshine
One of the first zombie VR games. The campaign can be played alone or in online co-op game. Significant graphic improvements to the Quest 2.
Developer : Vertigo Games
Price : $ 40
A link to the store
Blaston
Competitive duel in slow motion among the hail of bullets. Move your body, free your mind. Play online or against bots.
Developer : Resolution Games
Price : $ 10
Link to shop
Onward
Realism is the second name of the game, to "Onward" to save reality. The gun on my hip, the radio on his shoulder. Take your time and plan your attack with your team. Cross-play with PC VR.
Developer : Downpour Interactive
Price : $ 25
Link to shop
Contractors VR
Striving for realism, this multiplayer shooter with military competition offers all the standard elements of the genre. Less realistic than Onward, and more like CS: GO. Cross-play with the Rift.
Developer : Caveman Game Studio
Price : $ 20
Link to shop