"Computer Science "and" Cybersecurity " English Bachelor courses at Saar-Uni
Starting with the winter semester 2021/2022, Saarland University is leading the purely English-language bachelor's degree programmes "Computer Science" and "Cybersecurity". In doing so, the Saar-Uni wants to position itself more internationally and become more attractive for students from Germany and abroad.
Companies on the topic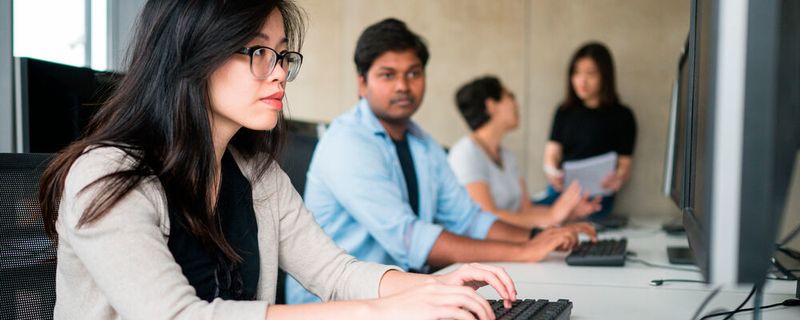 International students at Saarland Informatics Campus.
(©Oliver Dietze)
With the new degree programmes, Saarland University is the first German state university to offer bachelor's degree programmes in the field of computer science in English only. However, the university underlines that for more than 15 years from the third year of study, English has been taught entirely. Already, more than half of the students in master's degree programs in computer science come from abroad.
"Research and teaching at Saarland University have always taken place across national borders," says University President Manfred Schmitt. It is only logical to take the step of offering only English-language bachelor's degree programmes in computer science. With the new offers, the aim is to further strengthen the international orientation in order to attract more students who do not yet have a knowledge of German. As part of your studies, you will then take German courses on site at the International Study Center Saar.
Computer Science professor Sebastian Hack is heading up the new degree programme" Computer Science":" In order to be able to attract talents from all over the world to our research and business location, the opening of our bachelor degree programmes is an essential factor, " he says. At the same time, the offer is also intended to prepare local students even better for the globalized, English-speaking world of work.
Christian Rossow, responsible professor at Saarland University and researcher at CISPA Helmholtz Centre for Information Security, will take over the English degree programme in the field of" Cyber Security". "Cybersecurity is already one of the defining issues – whether political, economic or social," says Rossow. "By intensifying the training of excellent security experts, we are thus making an important social contribution and working from Saarland to the whole world."
Both degree programmes are restricted in admission, and the application deadline for the coming winter semester ends on 30 July 2021. Further information on the degree programme" Computer Science "and the Bachelor in" Cybersecurity " can be found on the corresponding landing pages of Saarland University.
(ID:47386882)