Facebook's latest virtual reality technology may take a little longer to be ready to enter the market, but it deals with an important social aspect.
VR glasses protect the area around the eyes and, therefore, have an anti-social effect: if you only look at the black glasses from the outside, and not into the eyes of a person, this can cause irritation. After all, eye contact is one of the most important means of expressing body language and a central component of non — verbal communication.
It is unlikely that a new experiment by Facebook researchers will solve this problem. But this at least shows that the group has a problem and is looking for possible technical solutions.
The projection of the eye in the display of the light field
At the Siggraph conference on scientific computer graphics, researchers from the Facebook reality laboratory will present a "VR feedback" system in the "new technologies" segment: cameras installed in VR glasses take pictures of the eye area of the wearer of VR glasses and project the image onto light field displays directed outward.
According to the project description, light field displays can display eye movements in the correct angle, so that "visual cues to support social interactions of co-presence" are possible. The details of the technical implementation are not yet known, they should appear on Siggraph in August.
What are real eyes in VR glasses for?
Eye displays can be useful in learning, virtual reality, for example , when instructors want to interact with the simulator from the outside, as well as many other public and social scenarios, such as museums, art, research and, of course, for their own use at home, if you don't directly drop VR glasses for each (socially oriented) contact.
However, for home use, the technology should be much more compact. On the other hand, perhaps displaying eyes on VR glasses is just weird. But this is exactly what research is needed for.
This year, Siggraph will be held from August 9 to 13 . In addition to Facebook's unusual research project about eyes in virtual reality , there will be numerous other XR projects that are still in the experimental stage.
One of these experiments shows a virtual airplane from Microsoft Flight Simulator at the corresponding point of reality, if you look at the sky with AR glasses or in the AR of a smartphone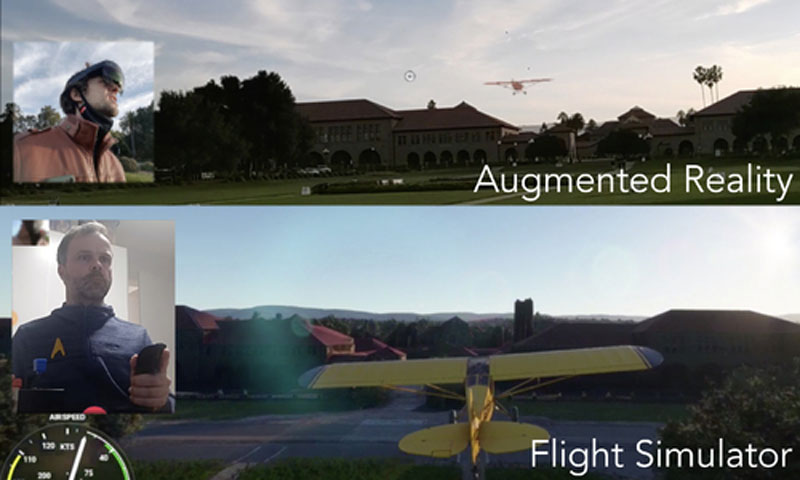 How soon will virtual planes from Microsoft Flight Simulator cross the real sky? | Image: Leuze via Siggraph