Support, Free upgrade, System requirements, Preview Windows 11 insights in WBSC
Windows 11 will be available on new PCs at the end of the year. Free upgrades are available for "eligible Windows 10 versions". How these are defined is not yet clear, according to Microsoft expert Manfred Helber. However, he suspects how this will be dealt with in practice.
Companies on the topic

Insights into the upcoming Microsoft operating system Windows 11 were given at an AltspaceVR event of the WBSC.
(Picture: sdecoret – adobe.stock.com / Sven Langenfeld – [M] J Rath)
Windows 11 is knocking. What are the system requirements? Who will get free upgrades and when? When does support for Windows 10 expire? And a question that worries many users: where will the Windows Start button be? For some of these questions there are no official answers yet, for others there are.
Manfred Helber and his IT training company are organizers and trainers at the Windows Business Solutions Club (see box, below). At a virtual event in AltspaceVR, he gave insights and outlooks into and on Windows 11 for Microsoft partners.
Image gallery
Picture gallery with 6 pictures
The new operating system comes with great innovations on the surface, but a lot has happened under the hood with Windows 11, especially in the security area. "That's why the current hardware requirements also include a TPM 2.0 chip," says Manfred Helber.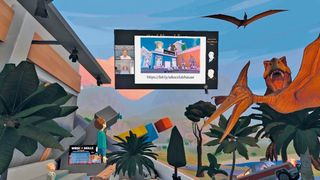 But not the final Windows
Windows 10 was actually presented as the last Windows, but as you know, there were always updates. Under Settings, System, Info you will find, for example, the information "Windows 10 Pro V 21H1". So it can be said that the product name Windows 10 has not changed since its availability,but the version does. These Windows 10 versions all have a support end date, with the first version released six years ago and out of support for four years, explains the WBSC organizer. In 2025, the support end for Windows 10 in the Home, Pro and Enterprise editions is coming.
Support Period Details
But what does this mean in concrete terms? First of all, Windows 10 continues as follows: the next update is due in the fall. Support is available in the Home and Pro version for 18 months, in the Enterprise version for 30 months. "We will have to wait and see how it goes after that, but what is certain is that Windows 10 will be supported until October 2025," reports the MVP. "The service timeline for Windows 11 should accommodate all those present here," said Helber in his presentation in the AltspaceVR environment. "If you have a current Windows 11 on your computer, you can expect 24 months of support in the Home and Pro editions and 36 months in the Enterprise edition."
As for the question of the free upgrade for "authorized versions of Windows 10", Helber assumes that "those systems that meet the technical requirements for it will be authorized".
Version Strategy for Windows 11
For Windows 11, there will no longer be two versions a year – as with Windows 10, one in spring and one in autumn – but only one a year. "There have already been many debates on the system requirements on the net, I would like to emphasize that the hardware requirements have not yet been finally communicated. But I would say that there is nothing that is not possible, " says Helber" As for the supported CPUs, for example, copies of the current generation of AMD, Intel, and also Qualcomm are in demand.
System compatibility check via Github tool
For a system compatibility check, the tool "WhyNotWin11 "can be used for concretization if the regular system check has resulted in a negative, but unspecified" no". The tool can be downloaded from GitHub and shows what is missing, for example a missing " DirectX + WDDM2 "or a non-current"TPM Version". Helber emphasizes that the tool works on the basis of the current Microsoft hardware specifications for Windows 11, which can still change.
Getting the preview version
A preview version of Windows 11 can already be tried now. Testers must register under "insider.windows.com" register as an insider. Then you can join the Windows Insider program under System Info at System Settings under "Update & Security". The Windows 11 version is now available on the Developer Channel there. After a system restart, Windows 11 is available as an update for Windows 10.
A visually striking innovation is the placement of the taskbar, bottom, center. "This will cause discussions, "says Helber," but it can be switched to the classic arrangement with just a few clicks."
Teams, new commission model, app availability
An important step with the new Windows is the default Teams integration. The Microsoft store comes with a new look and feel, but important are also new sales and commission models in the background, which according to Helber will make the store more interesting for many developers: "After the app availability was not so great so far, Microsoft has now responded."Apart from the games content, apps require between 0 and 12 percent of commission for the provision in the store, depending on the partner's performance, instead of the usual 30 percent.
Additional information
Windows Business Solutions Club (WBSC)
Android Apps on Windows 10
Also Android apps will run under Windows 11. The apps are provided via the Amazon App Store-this is the convenient way. "Since not all apps are available there, there will also be an installation path via a sideloading function," says Helber.
(ID: 47502799)