Intel on Monday held a conference CES 2021, where he introduced four new line of processors for PCs and mobile devices. Intel said that the first quarter will increase production of its advanced server processors, and that its new GPUs are manufactured by TSMC.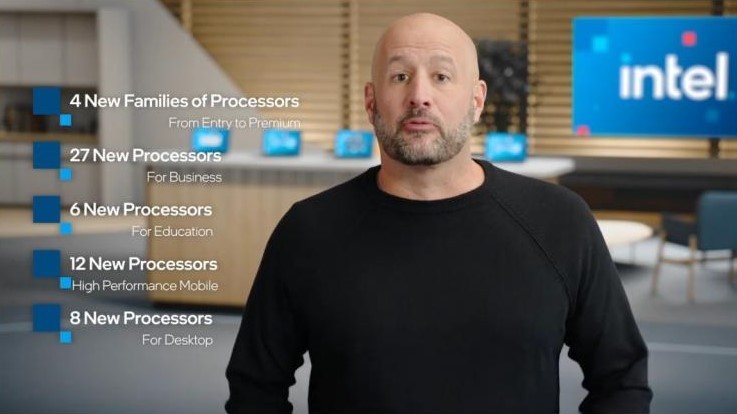 Shares of Intel (INTC), which lost 12.5% for the last 12 months, rose on Tuesday (at time of writing) after the world's largest manufacturer of processors for PCs and data centers has made a number of announcements and product launches at their conference CES 2021.
Four of the new line of Intel processors for PC and mobile devices
Intel said that in 2021 she will represent more than 50 processors 30 of which will be using the new 10-nanometer technology, with the result that the market will be more than 500 new designs in laptops and desktops.
The company introduced the new Core vPro 11th generation laptop business class, which, according to her, are the industry's best performance and most complete in the world of hardware security. Evo vPro processors for laptops Chromebook should appear in the first quarter.
For its clients in the sphere of education, Intel introduced a new processor N series Intel: Pentium, Celeron, and Silver.
The third announced a range of steel mobile Intel Core processors, H series 11-th generation, whose performance allows the use of the best online gaming platform.
Intel also announced the products that will appear on the market later in 2021, including Intel Core's 11th generation desktop (codenamed Rocket Lake-S) and next-generation processors (codenamed Alder Lake).
Intel will increase the production of new chips for data centers
On Monday Intel also said it will increase production of server chips Ice Lake, made by her 10-nanometer technology this quarter, though has not announced a specific volume.
Intel will offer TSMC to produce a new graphics chip
After an influential investor Third Point in the last month sent to the Board of Directors of Intel to the letter with a request to consider whether to keep the development and production of chips under one roof, the company said it will report its decision on outsourcing the production of 21 Jan.
Intel had planned to outsource production of some of its products 2023.
According to Reuters, Intel is planning to bring Taiwan Semiconductor Manufacturing Co (TSMC) for the production of a discrete graphics chip of the second generation for personal computers, codenamed "DG2". It is expected that DG2 will be released at the end of this year or early 2022.
The production will take place in the framework of the new process at TSMC, which, Intel hopes, will allow the new chip to compete with similar products from Nvidia (NVDA) and Advanced Micro Devices (AMD), which cost from $400 to $600
Long delays of its own manufacturing process Intel allowed competitors like Nvidia and AMD to take some market share from Intel.
Intel Mobileye announced the mass production of inexpensive lidar sensors to 2025
Another Intel's announcement on Monday began plans for Mobileye, an Israeli subsidiary of the company purchased by Intel in 2017.
Involved in the development of technologies for self-driving vehicles, Mobileye has developed a new lidar sensor, a laser device that helps the car to obtain three-dimensional image of the road. Intel allowed to place active and passive laser elements on a silicon chip.
According to the company, the new technology will make these sensors available and thanks to the production capabilities of the Intel "scale unprecedented way." Lidar chip will be manufactured at a factory of Intel in new Mexico, the company expects that it will reach mass production by 2025 and fulfill the dream that any car could be Autonomous.