Employees are not as enthusiastic about the meta verse as their bosses. Working in the new world brings with it some concerns for the employees.
Metaverse games are among the most exciting things in the future of entertainment. But according to the results of a new survey, working in this new environment could be more of a worry.
Working from home has its advantages. You can wear the most comfortable clothes and do not have to listen to boring stories from work colleagues with whom you actually have nothing to do.
A particularly great advantage of remote work is the Location independence. So you can do your work while sitting in the café and looking at the sea.
Working in the Metaverse also offers an exciting opportunity. Maybe it takes a while to figure out how to sit on virtual chairs or find the right virtual outfit for the sales session, but just the thought of it is already fun. Meeting colleagues online in a virtual office with a waterfall and a zen garden can not be so bad.
But despite all the fascinating things about such a workplace, there are also negative sides for the employees.
ExpressVPN, in collaboration with Pollfish, commissioned a study in which 1,500 employees and 1,500 employers answered questions about working in the Metaverse.
Technological advances have increased productivity
90% of employees and 88% of employers are convinced that technological progress has also increased productivity in remote work. In addition, people feel more connected with their colleagues. 27% of employees say that video conferencing is the most effective way to connect and bond with each other.
Another 32% of employers consider video conferencing to be the best way to promote cooperation. In addition, 17% see working in the Metaverse as the best way to stay connected at work. However, only 9% of employees share this view.
A survey statistic from ExpressVPN
Overall, more employers than employees show curiosity and enthusiasm for the metaverse. With regard to working in this new environment, 66% of employers are enthusiastic about the idea and 54% are optimistic. In contrast, 24% of employees speak of fear, 20% of distrust and 17% think that it will be confusing above all.
A big concern here are the monitoring possibilities at such a workplace. The authors of the report state" "Employee monitoring software has become increasingly popular with employers and the metaverse will only increase the potential for such activities. 73% of employers confirm that they make use of existing surveillance tactics."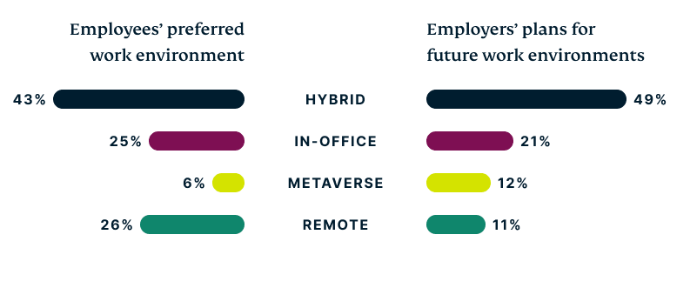 A survey statistic from ExpressVPN
The fears of workers in the Metaverse
Employees state three concerns regarding the real-time monitoring of certain data at the workplace. 51% are concerned that their location is being tracked, 50% are afraid that their screen is being monitored and 47% are worried about time tracking.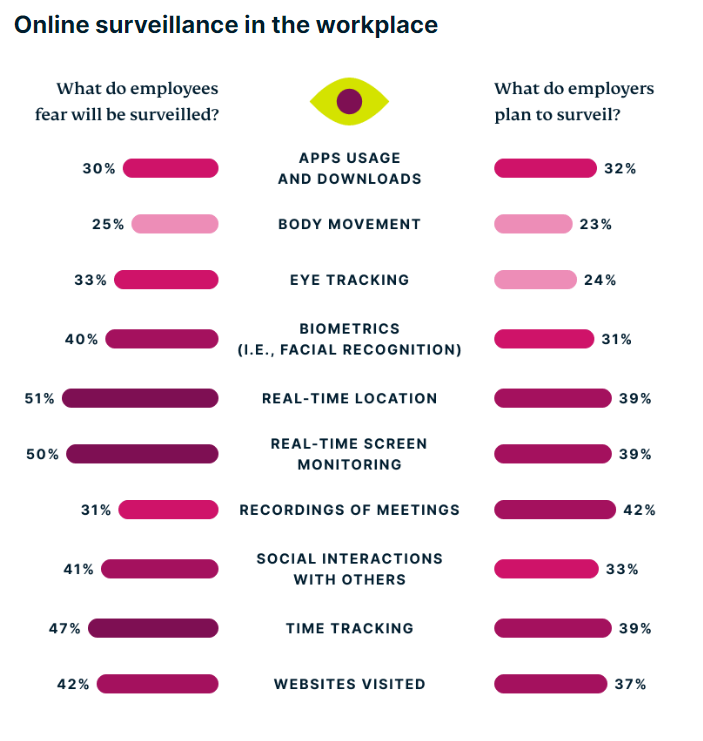 A survey statistic from ExpressVPN
Employees are not necessarily wrong with this opinion. On the part of employers, 42% want to record meetings at the workplace, 39% want to perform a time recording, 39% want to track the real-time locations of employees and 39% want to monitor the screens.
Harold Li is the vice president of ExpressVPN. "For the most part, workers are not ready to accept further monitoring in the workplace. Therefore, when planning further such activities in virtual workspaces, employers should be careful and weigh up whether it is worth the potential loss of trust and satisfaction among their employees."
Disclaimer
All information contained on our website is researched to the best of our knowledge and belief. The journalistic articles are for general information purposes only. Any action taken by the reader on the basis of the information found on our website is done exclusively at his own risk.