Oculus Air Link is here. With the deployment of the v28 version for the software and the headset, Oculus kicks off the high-end wireless PCVR that it already advanced in mid-April. We know you want to try it to see what it feels like to play Half – Life Alyx wirelessly in between, and we'll give you a cable, never better said.
We review all the hardware and software requirements necessary to play with your Oculus Quest 2 using this new feature. Thanks to it, the latest model of the VR headset is able to receive the image from the PC without having to be connected via USB-C. Of course, you need to meet both its requirements and the steps that we indicate below.
Oculus Air Link requirements and how to activate it
Before we get into the process and the additional requirements, let's look at the PC you need to use Oculus Air Link:
Advertising:
Recommended hardware requirements
Technically, if your computer meets the requirements to run Oculus Link smoothly, you won't have any problems with Air Link. Still, let's refresh your memory:
CPU – Intel i5-4590 / AMD Ryzen 5 1500X or higher
RAM Memory – 8 GB or more
Operating System – Windows 10
Advertising:
"¿That graphics card do I need to play with Oculus Air Link?"As the manufacturer indicates, there is a very specific selection of GPUs compatible with Oculus Link and, at the same time, compatible with the wireless VR. They are as follows:
Supported GPUs or Nvidia Graphics Cards
Nvidia Geforce GTX
Nvidia GeForce GTX 970
Nvidia GeForce GTX 1060 – 6GB RAM
Nvidia GeForce GTX 1070-All
Nvidia GeForce GTX 1080-All
Nvidia GeForce GTX 1650 Super
Nvidia GeForce GTX 1660
Nvidia GeForce RTX Series 20
Nvidia GeForce RTX Series 30
Supported GPUs or AMD Graphics Cards
Advertising:
AMD 400 Series
AMD 500 Series
AMD 5000 Series
AMD 6000 Series
AMD Radeon Series
Other additional requirements
The first and most important thing is that you download and install the v28 version of the Oculus app on your PC. Just enter here, download and install (as of April 22, the PC software is now available, while the headset update is slowly rolling out).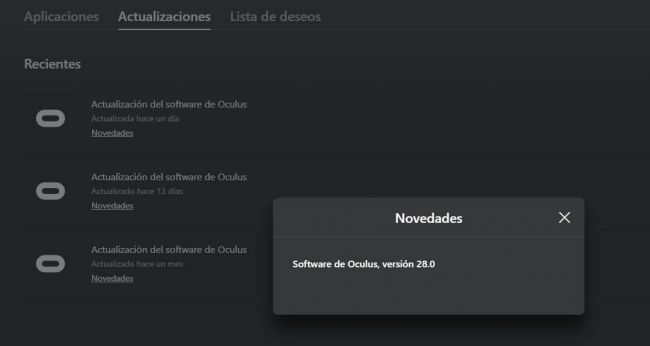 You must have Oculus Software version 28.0
Having done that, the next thing is to check the quality of the connection. Air Link need to use secure 5 GHz Wi-Fi networks (this is very important if you want to save yourself trouble.) In addition to that, the firm recommends that you connect your PC with an Ethernet cable to the router you are using, if possible of type AC or AX. To avoid connectivity, image quality and performance issues, it is important that the area in which you play is within a maximum radius of 6 meters from the WiFi router.
Recap:
Use an AC or AX router connected to your PC via Ethernet cable
Enable 5 GHz Wi-Fi network
Use the headset at a distance of less than 6 meters from the router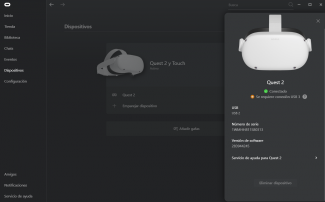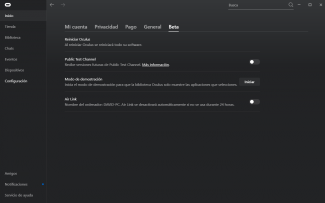 (Left) Even if the app says v28, check that you also have it on your helmet. (Right) Air Link is in the beta configuration of the app, and then in the experimental configuration of the helmet.
How do I activate Oculus Air Link on PC and glasses?
You need both your PC and your Oculus Quest 2 glasses to have the oculus Link v28 software. To do this, you just have to download the new version of the tool in the PC app. We have had some problem because the app said that we already had the v28 and the glasses were still in the v27 (I couldn't find anything new when looking for updates), but by synchronizing the headset with another computer we managed to unlock the process.
Once you have it on your computer, you have to activate the Air Link function on your PC:
Go to"Settings"
Click on"Beta"
Activate "Air Link"
Now, go to virtual reality in Oculus Quest 2 to activate the feature on it as well. Put it on and follow these steps:
Go to"Settings"
Click on"Experimental"
Activate "Air Link"
If you want to play by connecting the USB-C cable to your PC, it is very important that you return to the headset settings and disable the "Air Link" function. Otherwise, it will always attempt to sync wirelessly and will not use the wired connection.
The Oculus Air Link function works quite well despite being in the previous phase, and if the Wi-Fi does not measure up you can always lower the emission bitrate. See in this demo with Vader Immortal how we play the PCVR version of the game (Oculus Rift) for an hour without problems with a Quest 2 without cables, before it gets stuck in the final half hour: