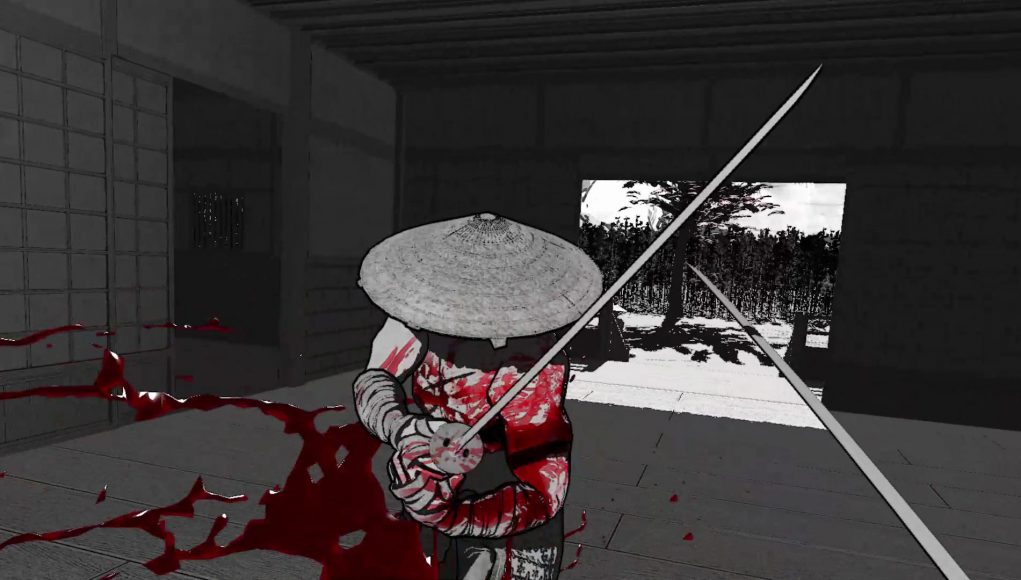 Samurai Slaughter House is a physics-based combat sandbox game from indie developer Tab Games that tries to shake up the genre with some really stylish visual effects, which the studio calls "half manga-inspired and half traditional Japanese ukiyo — e paintings."
The ambitious single-player game promises a large "open world in the style of metroidvania", where you collect items, strengthen your character, explore cities and interact with NPCs. It is planned to be released on all SteamVR headsets  and Oculus Quest in 2022, as well as on the next-generation PlayStation VR when it arrives.
Referring to Reddit, the creator of the game explains that the main cycle of the gameplay revolves around killing mythical Japanese monsters called yokai, and chopping them in slaughterhouses. You will be able to achieve goals with the help of brute force, stealth and creativity.
Take a look at some of the black-and-white scenes, dotted not only with spots of crimson blood — in the latest trailer of the game below:
The sole developer of Tab Games, Justin Roset, says that while it won't have "crazy depth", he aims to get something in between The Legend of Zelda: A Link to the Past and the original Dragon Warrior games.
"I can create content quickly and cheaply by buying resources and modifying them to fit the game," Roset explains. "The dialog system is basically a purchased framework. I had to create the user interface myself, but there were built-in dialogues, a quest system and many other features, so adding story content to my game is as easy as adding story content to an RPG Maker game. I'm also an artist and a musician, so I can do most things myself without waiting for someone to do it for me."
Tab Games plans to release a free demo version on the game's Steam page in the near future. There is also a game prototype on Viveport, although you will need Infinity to access it. You can follow Tab Games via Twitter and the studio's YouTube channel.