Sony continues to bet on virtual reality in video games as one of its signature technologies, and has announced the PlayStation VR2. It has done so without showing its design and without giving too many data about the successor to PlayStation VR, just a logo and its first specifications, so to see the design we will still have to wait.
What is clear is that Sony is still betting on this technology as one of those that differentiates the PlayStation 5 from the rest of the consoles, since neither Nintendo nor Microsoft seems to have decided to enter virtual reality yet. Below we will tell you the first details that we know after Sony's announcement.
PlayStation VR2 technical data sheet
Screen

SMELL
Frequencies of 90 Hz and 120 Hz

Resolution

2000 x 2040 per eye

Field of view

110 degrees approx

Lens separation

Adjustable

Sensor

Motion sensor: six-axis motion detection system, three-axis gyroscope, and three-axis accelerometer
Infrared proximity sensor

Chambers

4 cameras for helmet tracking and the PlayStation VR2 Sense controller
Infrared camera for eye tracking by eye

Feedback

Vibration in the helmets

Audio

Input: built-in microphone
Output: stereo headphone jack

Connection

USB type-C
First traces of the next gen of virtual reality
Sony has presented its new VR system without revealing its design, although it has shown us its main specifications. In them, we see that they are still betting on OLED on the screen, although offering a resolution of 2000 x 2040 per eye. This is a great improvement over the 960×1080 that it offered per eye in its previous system.
With this, Sony ensures that the games they release for this system they will be viewed with 4K resolution and HDR technology, being able to reach frequencies of 90 or 120fps depending on each game. In the field of view, we have a small improvement going from 100 to 110 degrees.
The other big improvement they have announced is that PS VR2 will be much easier to connect to the console, and you will only have to connect a single cable. In addition, the helmet and the controls will include motion detection systems to simplify everything to the maximum, although we will have to wait to see the design to draw definitive conclusions.
Finally, Sony has also given other details, such as that the helmets they will have an eye tracking system to know in which direction we are looking so as not to depend only on the gestures of the head when showing us content. They will also have 3D audio to try to improve the feeling of immersion as much as possible.

PlayStation VR2 Sense controller specifications
Button

Right: PS button, Options button, circle/X buttons, R1 button, R2 button, Right Stick / R3 button
Left: PS button, Create button, triangle/square buttons, the L1 button, L2 button, Left Joystick/L3 button

Motion detection

Motion sensor: Six-axis motion detection system (three-axis gyroscope + three-axis accelerometer)
Capacitive sensor: Finger touch detection IR LED: Position tracking

Feedback

Haptic feedback
Shooting effect on R2/L2 buttons

Harbour

USB type-C

Connectivity

Bluetooth 5.1

Battery

Built-in rechargeable li-ion battery
Last March, Sony announced the controllers of its future PlayStation VR equipment, and this is the only image we have of them in the absence of them making the official presentation. These are the PlayStation VR2 Sense, whose main asset will be using a haptic technology similar to DualSense to transfer sensations from the game to your hands, as well as the adaptive triggers, which will complement the 3D sound that we will have in the helmets.
The controllers will communicate wirelessly via Bluetooth, and will have a rechargeable battery of which we do not yet know the capacity. They will also have all the necessary sensors to be able to accurately record our movements.
Horizon Call of the Mountain will be the first game to arrive
Finally, it has also been announced what will be the first game to release the new generation virtual reality. Horizon Call of the Mountain is set in the world of Horizon Zero Dawn and Horizon Forbidden West. The game will be responsible for expanding the universe with an adventure specially created for virtual reality, and that is being developed by Guerrilla and Firesprite.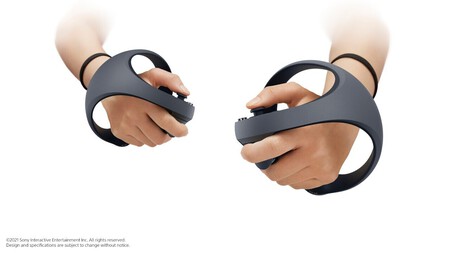 At the moment, we have not seen more than a small staging of the game, but it is certain that we will start to know more details soon. What we do know is that in the adventure we will control in the first person a new character created for this game, although we will be able to meet Aloy during the game, the protagonist of the main games.