If you still don't know the chatbots, these are software programs or applications that serve to talking to humans. Translated as chat bot or chat bot, chatbots are the text equivalent of automated telephone customer service. Those in which you hear a recorded voice that offers you options and what number to press. A technology already integrated in any application or website. And also in online education and digital education.
The chatbots answer questions you formulate them. They can guide you by offering a link, solving a question or contacting a human employee. Are a automated version of customer support that allows you to find what you are looking for on a website or in a messaging app like WhatsApp. Banks, telephone companies or energy … You ask what you want and you get an answer. Any day, any time.
In addition, chatbots have been perfected a lot since those conversational programs of the 80s and 90s that simply responded to the words you wrote. Today, many chatbots use artificial intelligence. They adapt to each user, offer personalized suggestions and they remember what you looked for before. And beyond technical support or customer service, chatbots are being used in other fields such as online education or digital education.
A teacher always available
The advantages associated with chatbot technology they serve both the aforementioned tasks, customer service or technical support, as well as other areas such as online education. Namely: seek information and give the most appropriate option for the user, answer user questions, solve doubts … is not education to provide knowledge, that is, answer questions?
Chatbots integrated into digital education platforms can perform multiple tasks at once. To begin with, resolve technical doubts about the operation of the platform itself. Price of the courses, if they are paid, calendar to register and take the course, if there is a certificate at the end of it… administrative tasks. And, in addition, the expected educational tasks: offer reference material at the request of the user, answer questions on an agenda, make a test or test in real time … The possibilities are many and varied, thanks to the implementation of artificial intelligence, which gives chatbots more dynamism and adaptation.
As with any automation, the tasks to be performed by chatbots are those that do not require, in reality, a human interaction to use. I mean, once the human teacher has selected books, articles, videos and any other resource for the student to process and learn, providing that list of material can be done by a chatbot. And the same goes for student assessment. Ask random questions in the form of small tests or evaluative exams you can do it by a teacher or you can delegate it to a chatbot. And by having access to all the information related to the subject of study, you can answer students ' questions instantly.
Questions, answers and actions
In practice, chatbots work through a common conversation. This usually starts with the chatbot itself showing up and offering to help you. At first he usually says what he can do for you. From there, interacting with a chatbot is much more than with an Internet search engine. You Can ask questions no need to highlight only the keywords you want to search and ask again if the answer is not quite right.
For its part, the chatbot can give an answer in the form of a previously designed phrase or paragraph. Or give specific information, such as an email address or a link. Precisely, depending on the chatbot, the answers or solutions the questions raised may consist of a link, a list of options from which you must choose one to continue with the conversation, a document to download, a video integrated into the conversation, a link to the calendar, etc.
Another incentive of chatbots is anyone can program them. Currently there are many platforms that offer pre-designed chatbots. You can configure them manually and / or use specific templates for specific tasks or areas such as e-commerce or online education. Once configured, it can be tested and improved by adding constant changes with new information, responses or actions.
And like all online technology, chatbots allow you to save interesting data of your interaction with students to obtain usage statistics of the tool, evaluate the student according to their evolution and interaction with the chatbot, detect students who need more dedication or advice, etc.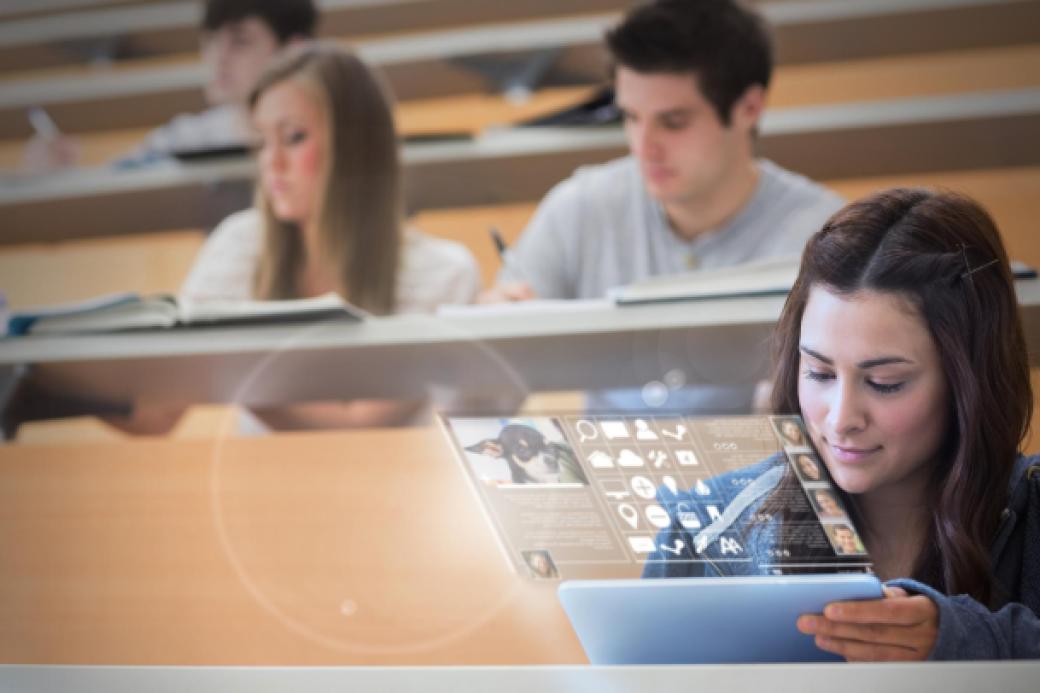 Chatbots: one more tool for the same purpose
The question is inevitable. Are chatbots the modern version of teachers a lifetime? The answer is that they are not a substitute, nor are tablets or smartphones. Moreover, several decades ago, computers did not end the teaching profession either. And at the time, the threat was in the books. Why take classes from a person if I can read a book instead?
Chatbots applied to digital education are another tool, a help always available for both students and teachers. A way to unload certain tasks in order to dedicate to others. The teacher can lean on the chatbot to provide resources and answers to the student at any time of the day. Even outside school hours. And the educator can focus on more complex tasks such as counseling, organizing activities such as talks or debates in class…
Science fiction greats like Isaac Asimov imagined a future in which education had a strong technological component. But far from changing the teacher for a hologram or, this time, for conversational software with artificial intelligence, technology can be used to expand teaching 24 hours a day, perform complementary tasks to those performed by teachers and, ultimately, turn education into a more complete and always available experience no physical or hourly distances involved.
Chatbots that teach and advise
Career guidance also benefits from chatbot technology. Fundación Telefónica has a chatbot called Virtual Professional Counselor. Available on any platform and device connected through the browser, it helps you know which career fits your knowledge, needs and concerns. Learn from your questions to offer an answer.
This particular chatbot allows to channel the professional path of the person who is on the other side. It also serves to know what professions and profiles are the most demanded in the technological labor market and what online education resourcesin the form of online courses, there are available to improve our professional profile.
In the words of its creators, " the counselor recommends online courses from the main e-learning platforms such as Coursera, edX, MiriadaX, Tutellus and Udacityamong others." And if you already dedicate yourself to a profession related to the digital world, you can know what skills and competencies they demand recruiters and current job offers. So you can prepare for your daily life and for your immediate future with the help of personalized digital education.