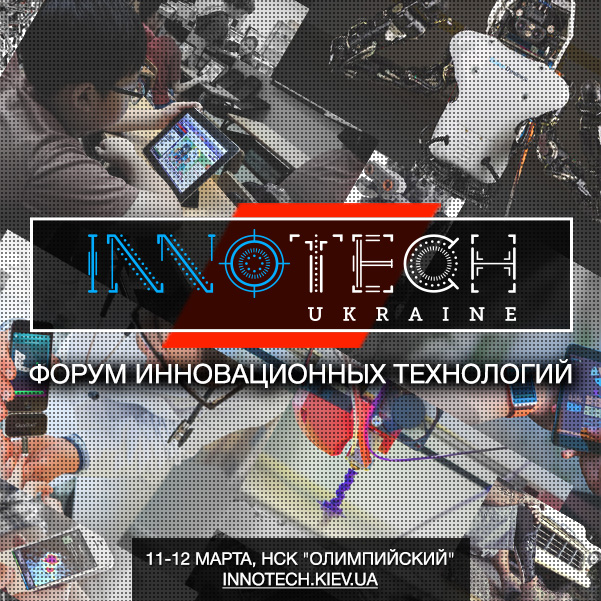 March 11-12, 2016 in Kiev will be held the second Ukrainian forum of innovative technologies, InnoTech Ukraine 2016. It will unite on the platform of all participants of the innovation market: the producer and the final consumer, developer a start-up project and investor, the idea and its subsequent implementation, and also will draw attention of state structures to the necessity of development of innovations.
The event will be available with such advanced technology, like robots and robotics, 3D-printers and 3D-scanners, smart gadgets and equipment for smart home and other innovative technological innovations.
The initiator of the forum – the company Smile-Expo – leader in the organization of events contributing to the development of innovative technologies and electronic communications.
Participants of the event will be leading companies, talented designers and all those who initiate the introduction of new technological achievements in all spheres of our life.
A unique forum InnoTech Ukraine will be divided into five thematic areas:
3D printing
Robotics
Smart technologies
Health care
Education
Each of them will be the reports presented interesting speakers whom the organizers invited to the event.
Within two days, the company Smile-Expo will delight all of its members a rich program of activities:
The conference
Professional dialogue Speed dealing
Demo-zone
Master classes for children
In addition, the organizers have prepared many interesting surprises for visitors.
Forum InnoTech Ukraine is more than thirty speakers, and start-up projects and an extensive demo area where you can see the most advanced developments in the field of digital technologies.
This year is Smile-Expo promises to make the forum more interesting, richer and more informative. The event was a place for old and new members.
Create the technology future of Ukraine together with us at InnoTech Ukraine 2016.
We are waiting for you on 11-12 March in Kiev. Come – will be interesting!
To see the conference agenda and invited speakers on the official website of the forum: http://innotech.kiev.ua/