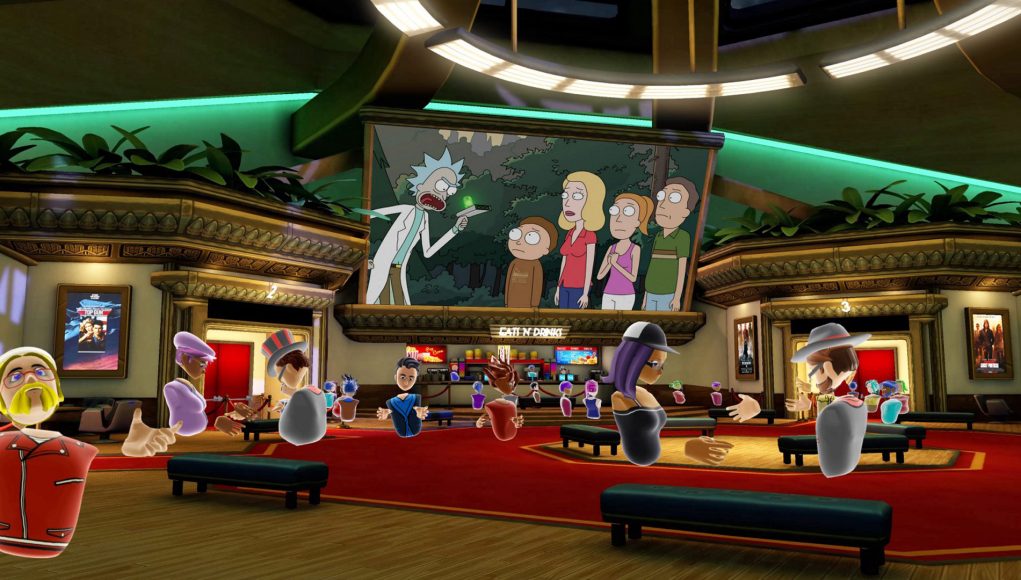 VR headset is more than just another gaming gadget. In fact, you can chat, play games and watch movies with their friends, almost as much as if you were just near.
Here are a few applications where you can chat with old friends or meet new. Oh, and most importantly, they're free!
VRChat
The popularity of VR Chat is still gaining momentum, even after almost six years after its first release on the Oculus Rift DK1 in 2014. Over time he created a unique culture of the strange, organic memes thanks to its open avatars and abilities of creation. You can also connect to the application without the virtual reality, making it a great meeting place for almost all… except the owners PSVR — at least for the moment.
Steam — Viveport — Rift — Quest
Bigscreen
Now there's a place where you can hang out and socialize, but really the best part of all on the Bigscreen is to sit down with friends or strangers and use their unlimited potential to share. Everything you can access on your computer and display on your monitor may be sent to anyone that makes Bigscreen gold standard of social viewing.
Steam — Rift — Quest — Go
Rec Room
Gay chat is cool, and you can chat in the Rec Room, because it is cross-platform application brings together all the community of owners of VR headsets in one bright and exciting place. There is a cooperative quest, a shooter with a Royal battle, and plenty of reasons to stay and have some fun "fresh air"with your friends.
Steam — Rift — Quest — PSVR
NeosVR
NeosVR is a mixture of operating system, game engine and chat; app wants to be the Metaverse. However, it is quite a technically advanced app, and the things you can create in the game, fantastic. NeosVR even has its own cryptocurrency, however, the user base still isn't large enough to make it functional.
Steam
OrbusVR
Perhaps the most full-featured MMORPG in VR. You can play for free until level 10, and in contact with the entire player base in the process. Play as a bard, mage, paladin, shaman, villain and others, exploring wide-open game world.
Steam — Rift — Quest
Mozilla Hubs
Mozilla Hubs is an easy social program, which actually is not an application, but is a social environment based on WebXR that allows you to easily create virtual rooms are literally one click to which anyone can join from desktop browsers to smartphones to VR headsets directly from your browser. Just enter the code of your room for a private chat and join friends on any device.
PC VR Quest, Go
Oculus Home
Unfortunately, at the moment the app is only available for users of the Rift, though with fully customizable space is a good enough reason to meet up with friends in Oculus Home, before heading to other multiplayer games, as long as Facebook Horizon will not go for a platform which should bring together all users of Oculus in a single application.
SteamVR Home
And Oculus Home, Home SteamVR is actually not a traditional chat room, although it has some of the best custom spaces from all socio-centric. Where else can you chat with friends in the preview section of Half-Life: Alyx?
It is embedded in SteamVR, although you can visit the Steam Workshop and browse through the available user space.
VTIME
If you are just looking for a quiet place to communicate with a minimum number of users, then vTime is what you need. Works as a social network. You make friends and send a chat invitation to people, and then sit down at round tables in different places.
Windows MR — Rift — Go — Android — iOS
Altspace VR
AltspaceVR includes live performances, meetings, classes, and availability on multiple VR headsets. Although it is not the live platform, as it was in the early days of VR, you have all the basic functions, and community engagement is still impressively high. Check out all of the upcoming events here .
Steam — Rift — Quest — Go
As a bonus
Couch Live is a brand new free app that allows you to meet friends, spend time and watch movies in a virtual living room.
What distinguishes the Couch Live from something similar to the Bigscreen, is the fact that avatars are created from a selfie, so that's your real face, and it also supports users without virtual reality. This means that users of virtual reality, mobile phone users and desktop users share the same space and spend time together.
You can quickly set up an account on the website and upload a selfie to create an avatar. It doesn't look amazing, but it is at least a decent solution to avoid cartoon avatars, that uses any other platform.
There are two rooms to choose from: lounge, shown in the video above, and black room. From there you can choose stream content from the PC and create a link for someone to join from any device that they prefer.
"You can invite friends to your room using the link, and they can create your avatar selfie" — says the Creator Couch Live Devon Bradley. "This is a great way to spend time with friends who are far away. I built it to spend more time with my family members scattered throughout the United States. For me it was important that they could feel in the room with me, even if I'm in virtual reality, and they join with the iPhone".
Visit the official site to try Couch Live.
Source