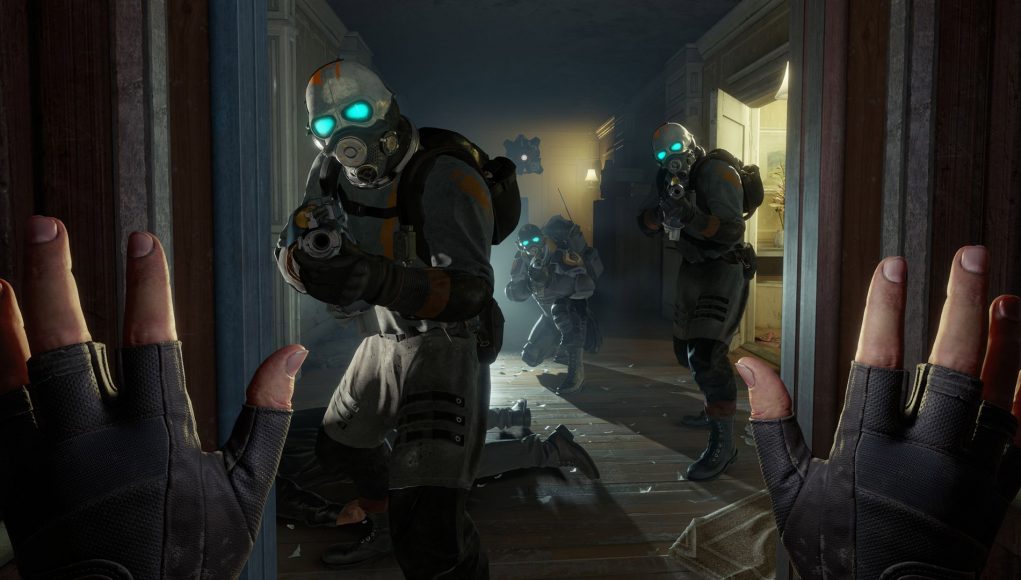 A list of all the announced VR games in 2020, so you don't miss all the upcoming releases. Supported platforms: HTC Vive (Pro),Oculus Rift (S), Oculus Quest, Valve Index, MR Windows, PlayStation VR.
Note 1: VR-glasses, which will be ported to the previously published game that are marked with an asterisk *
Note 2: You can view the complete table on your phone, flipping through to the right.
The game
Genre
VR glasses
Release
Link
Warden of the Isles
Strategy
HTC Vive (Pro)
14.02.2020
Warden of the Isles
MENTAL
Action
HTC Vive (Pro),
Oculus Rift (S),
Valve Index
Early access: 20.02.2020
Final version: 4th quarter 2020
MENTAL
Silicon: Rising
Action / Shooter
HTC Vive (Pro),
Oculus Rift (S),
Valve Index, Windows MR
Early access: February 2020
Final version: June 2020
Silicon: Rising
Half Life: Alyx
Action
HTC Vive (Pro),
Oculus Rift (S),
Valve Index, Windows MR
March 2020
Half Life Alyx
Marvel's Iron Man VR
Action
PlayStation VR
15.05.2020
Marvel's Iron Man VR
Pavlov: Shack
Shooter
Oculus Quest
SideQuest: 10.01.2020
Official: first quarter 2020
Pavlov: Shack(SideQuest)
Ironlights VR
Action
HTC Vive (Pro),
Oculus Rift (S),
Valve Index, Windows MR
2nd quarter 2020
Kickstarter
Panther VR
Stealth-action
HTC Vive (Pro),
Oculus Rift (S), Valve Index
Windows MR
2nd quarter 2020
Panther VR
Paper Beast
Adventure
PlayStation VR
2nd quarter 2020
Paper Beast
Pixel Ripped 1995
Arcade adventure
HTC Vive (Pro),
Quest Oculus, Oculus Rift (S),
PlayStation VR
Valve Index, Windows MR
2nd quarter 2020
Pixel Ripped 1995
Separation
Adventure
PlayStation VR
2nd quarter 2020
The Room VR: A Dark Matter
Puzzle Adventure
HTC Vive (Pro),
Quest Oculus, Oculus Rift (S),
PlayStation VR
Valve Index, Windows MR
2nd quarter 2020
The Room VR
Undead Citadel
Action
HTC Vive (Pro),
Quest Oculus, Oculus Rift (S),
PlayStation VR
Valve Index, Windows MR
2nd quarter 2020
Undead Citadel
Straylight
Parkour
HTC Vive (Pro),
Oculus Rift (S),
Valve Index, Windows MR
Early access: 03.02.2020
Final version: Q3 2020
Straylight
Zenith VR
MMORPG
HTC Vive (Pro),
Quest Oculus, Oculus Rift (S),
PlayStation VR
Valve Index, Windows MR
3rd quarter 2020
Zenith VR
After The Fall
Shooter
HTC Vive (Pro),
Oculus Rift (S),
PlayStation VR
Valve Index
2020
After The Fall
A Haunting: Witching Hour
Horror, Adventure
HTC Vive (Pro),
Oculus Rift (S), PlayStation VR *,
Valve Index
2020
A Haunting: Witching Hour
Bigscreen
VR theater experience
HTC Vive (Pro),
Quest Oculus, Oculus Rift (S),
PlayStation VR *,
Valve Index, Windows MR
2020
BigScreen
Blunt Force
Arcade
HTC Vive (Pro),
Quest Oculus, Oculus Rift (S),
Valve Index, Windows MR
2020
Blunt Force
Coloniam
Strategy
HTC Vive (Pro),
Oculus Rift (S),
Valve Index, Windows MR
Early access: 25.012020
Final version: 2020
Coloniam
Contractors
Shooter
HTC Vive (Pro),
Quest Oculus, Oculus Rift (S),
Valve Index, Windows MR
Early access: 2019
Final version: 2020
Contractors
DeMagnete VR
Adventure, Puzzle
HTC Vive (Pro),
Oculus Rift (S),
PlayStation VR
Valve Index, Windows MR
2020
DeMagnete
Down The Rabbit Hole
Adventure
HTC Vive (Pro),
Quest Oculus, Oculus Rift (S),
Valve Index
PlayStation VR
Windows MR
2020
Dreams
Creative adventure
PlayStation VR
2020
Dreams
Echo Arena
Sports / Action
Oculus Quest
2020
Eleven Table Tennis
Sport
Oculus Quest
2020
Eleven Table Tennis
Eternal Starlight
Strategy
HTC Vive (Pro),
Quest Oculus, Oculus Rift (S),
Valve Index, Windows MR
2020
Eternal Starlight
Firmament
Adventure
HTC Vive (Pro),
Oculus Rift (S),
Valve Index, Windows MR
2020
Free Company VR
Action, strategy
HTC Vive (Pro),
Oculus Rift (S),
Valve Index
Early access: 08.01.2020
Final version: 2020
Free Company VR
Garden of the Sea
Modeling
HTC Vive (Pro),
Quest Oculus, Oculus Rift (S),
Valve Index
2020
Garden of the Sea
Gravity Lab
Puzzle
HTC Vive (Pro),
Oculus Quest *, Oculus Rift (S),
Valve Index, Windows MR
2020
Gravity Lab
Honor and Duty: D-Day
Shooter
Oculus Quest *,
PlayStation VR
2020
Honor and Duty: D-Day
Horizon
Social experience the Metaverse
Oculus Quest,
Oculus Rift
2020
Kin
3D platformer
HTC Vive (Pro),
Oculus Quest *, Oculus Rift (S),
Valve Index, Windows MR
2020
Humanity
Modeling
PlayStation VR
2020
Humanity
Legendary Tales
Action
Oculus Quest
2020
Lone Echo 2
Action
Oculus Rift (S)
Low-Fi
Action
HTC Vive (Pro),
Oculus Rift (S),
PlayStation VR
Valve Index, Windows MR
2020
Low-Fi
Marineverse Cup – Yacht Racing
Racing game
HTC Vive (Pro),
Quest Oculus, Oculus Rift (S),
Valve Index, Windows MR
2020
Marineverse Cup – Yacht Racing
Medal of Honor: Above & Beyond
Shooter
Oculus Rift
2020
Naau: The Lost Eye
Action
HTC Vive (Pro),
Oculus Rift (S),
Valve Index, Windows MR
2020
Naau: The Lost Eye
Nostos
MMORPG
HTC Vive (Pro),
Quest Oculus, Oculus Rift (S),
PlayStation VR
Valve Index, Windows MR
2020
Nostos
Onward
Shooter
HTC Vive (Pro),
Quest Oculus, Oculus Rift (S),
Valve Index
Early access: 2018
Final version: 2020
Onward
ParanormalActivity: The Lost Soul
Horror
HTC Vive (Pro),
Oculus Quest *, Oculus Rift (S),
PlayStation VR
Valve Index
2020
ParanormalActivity: The Lost Soul
Pavlov VR
Shooter
HTC Vive (Pro),
Quest Oculus, Oculus Rift (S),
Valve Index, Windows MR
Early access: 2018
Final version: 2020
Pavlov VR
Phantom: Covert Ops
Stealth, Action
Quest Oculus, Oculus Rift (S)
2020
Pixel Ripped 1989
Arcade
HTC Vive (Pro),
Oculus Quest *, Oculus Rift (S),
PlayStation VR, Valve Index
Windows MR
2020
Population: One
Shooter, battle Royale
HTC Vive (Pro),
Quest Oculus, Oculus Rift (S),
Windows MR
2020
Population: One
Predator VR
Horror
HTC Vive (Pro)
2020
Predator VR
QuiVr Vanguard
Action
HTC Vive (Pro),
Oculus Quest *, Oculus Rift (S),
Valve Index, Windows MR
2020
QuiVr Vanguard
Rhythm Of The Universe
Music game
HTC Vive (Pro),
Quest Oculus, Oculus Rift (S)
2020
Sentenced VR
History, Indie
HTC Vive (Pro),
Oculus Rift (S)
2020
Sentenced VR
Shadow Legend VR
Action RPG
HTC Vive (Pro),
Oculus Quest *, Oculus Rift (S),
PlayStationVR,
Valve Index, Windows MR
2020
Shadow Legend VR
Sniper Elite VR
Shooter
HTC Vive (Pro),
Quest Oculus, Oculus Rift (S),
PlayStation VR
Valve Index, Windows MR
2020
Sniper Elite VR
Solaris: Offworld Combat
Shooter
Quest Oculus, Oculus Rift (S),
PlayStation VR
2020
Solaris: Offworld Combat
Space Pirate Arena
Action, VR arcade
HTC Vive (Pro),
Oculus Quest *, Oculus Rift (S),
Valve Index, Windows MR
2020
Star Child
Jump and run
PlayStation VR
2020
Star Childn
Tarzan VR
Adventure
HTC Vive (Pro),
Oculus Rift (S),
PlayStation VR
Valve Index
2020
Tarzan VR
Tea For God
Shooter
HTC Vive (Pro),
Quest Oculus, Oculus Rift (S),
Valve Index, Windows MR
2020
The Wizards – Dark Times
Action, Adventure
HTC Vive (Pro),
Quest Oculus, Oculus Rift (S),
Valve Index, Windows MR
2020
Until You Fall
Shooter
HTC Vive (Pro),
Oculus Rift (S), Oculus Quest *,
PlayStation VR *,
Valve Index, Windows MR
2020
Vertigo 2
Hack and kill
HTC Vive (Pro),
Oculus Rift (S),
Valve Index, Windows MR
2020
Vertigo 2
Viro Move
Fitness
HTC Vive (Pro),
Oculus Rift (S),
Valve Index, Windows MR
2020
Virtual Fighting Championship
Fighting game
HTC Vive (Pro),
Oculus Quest *, Oculus Rift (S),
Windows MR
2020
Virtual Fighting Championship
Voronium Locust Sols
Shooter
HTC Vive (Pro),
Oculus Quest *, Oculus Rift (S),
Valve Index, Windows MR
2020
Voronium Locust Sols
vTIME
Social games
HTC Vive (Pro),
Go Oculus, Oculus Quest *, Oculus Rift (S),
Valve Index, Windows MR
2020
vTime
Source