Peggy Johnson, CEO of Magic Leap, has celebrated that he has been in that position for a year to present the first image of his new generation of AR glasses Magic Leap 2, announce that the company has obtained 500 million dollars in its last round of funding and announce a strategic alliance with VMware, a company specialized in virtualization software that recently presented the Workspace ONE XR Hub platform, an enterprise solution designed specifically for XR devices.
The new design of Magic Leap 2 is significantly smaller and lighter
On Magic Leap 2 no specific information has been given, only one photograph has been published and it has been stressed again that it will be a device for companies more advanced than the first model, with critical updates that make it more immersive, more comfortable and light, smaller, with an optics that will allow its use in environments with a lot of light and a greater field of view. These new AR glasses will be presented later this year, but will not go on sale until 2022.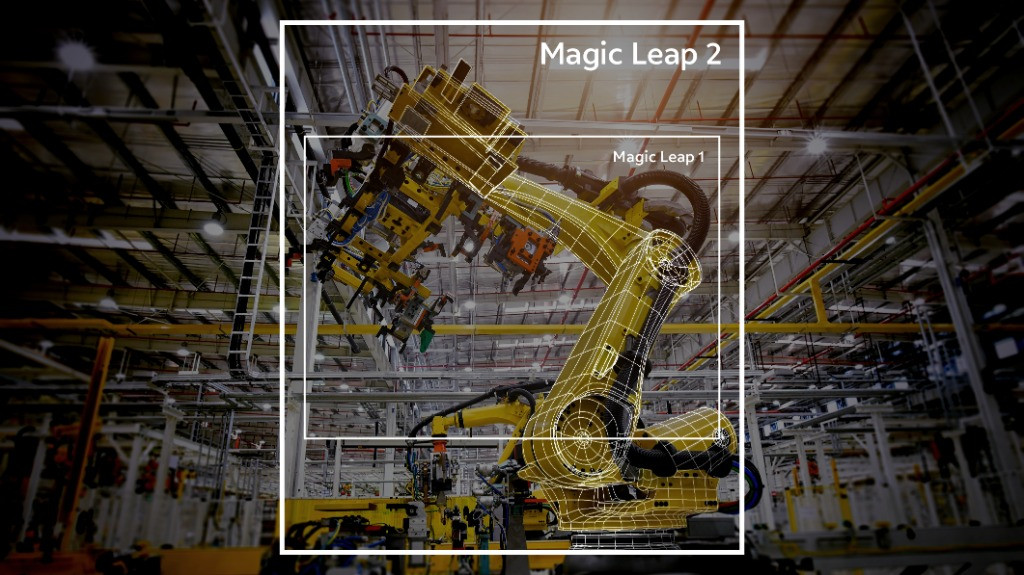 Comparison between the FOV of Magic Leap 1 and Magic Leap 2
During the twelve months Peggy Johnson has spent with the company, her efforts have focused on strengthening the management team to redefine the strategic approach and broaden its financial base. In this sense last week Magic Leap obtained 500 million more dollars in financing, and its valuation as a company is now 2 billion.
Partnerships with other companies include Google Cloud, PTC, NVIDIA and VMware. With the latter, an agreement has been reached for its Workspace ONE XR Hub business solution to be integrated into Magic Leap 2which will allow companies that purchase these AR glasses to securely deploy and deliver experiences with personalization options and identity and access controls for their employees. It will also offer support for collaborative work with Workspace ONE UEM.