i-Free intends to stabilize the market for mobile micropayments| 29.10.2008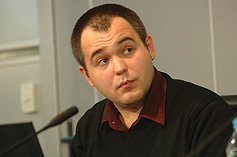 Wednesday, October 29, i-Free has announced that it has established a subsidiary company called Planet3. This structure will be engaged in mobile micropayments.
On approval of i-Free, the formation of a separate "daughter" working in the market of mobile payments that was scheduled for the end of the year. However, due to the financial crisis that affected the
the work of the billing companies, the company has decided to hurry with the launch of "project". Assessment i-Free, starting Planet3 will allow to stabilize the situation in the mobile market
micropayments.
In General, "daughter", i-Free will have to do the processing and build a "full-fledged electronic payment system". Planet3 is also going to start development of NFC-enabled Commerce (Near-Field
Communications; technology wireless data transfer at very short distances less than four centimeters). This technology allows to pay for goods and services using mobile
phones with embedded RFID chips.
Planet3 will cooperate with the firms "InterMedia" and "Neva Line", which is also working on the micropayments market and become aggregators of traffic for the new company.
To lead the new "daughter", i-Free will be Sergei Tulayev. Previously, Mr. Tulaev headed to i-Free the direction of affiliate programs.