As the most used streaming application in the world, Netflix usually works on most devices in the world. However, as new functions are added, some of them are also becoming obsolete. And unfortunately, there is a new cleaning this October.
Netflix will stop working on some devices this October
In the last few hours, users on social networks have started reporting that the Netflix application has stopped working on some old devices, as of this October 16th. Apparently, the most affected gadgets are video game consoles, televisions and Blu-ray players.
A user on Reddit revealed that his mother's Blu-Ray stopped working:
Users report on Reddit the discontinuation of Netflix
Another user reported that a notice appeared on his PS Vita, indicating that the service will also stop serving: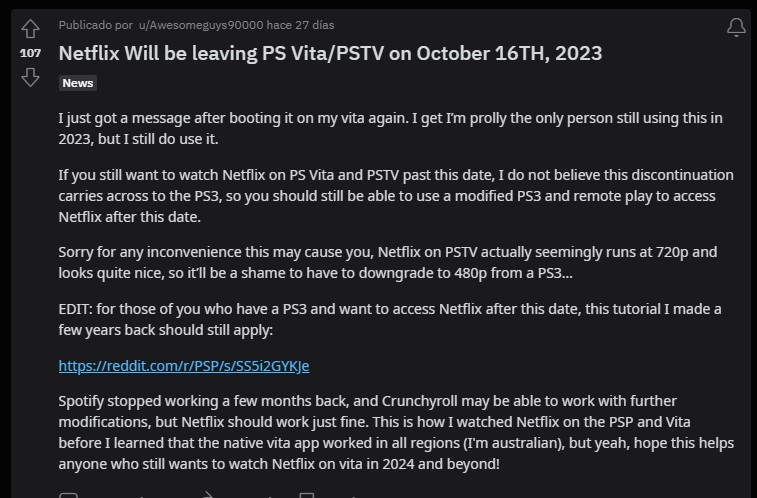 Netflix will stop working on the PS Vita
You may be interested in: What is Netflix House? The streaming company will open centers to live unique experiences
Which devices will Netflix stop working on this October?
There is still no specific list of models and brands that suffered the guillotine, but from the information collected, it seems that these are some of the discontinued products:
* Playstation Vita

* Playstation TV

* Hitachi Televisions

• Panasonic TVs

* Samsung TVs

* Sony TVs

* Vizio tvs

* Samsung Blu-ray Players

* Toshiba Blu-ray Players
It should be emphasized that all the affected products have already been on the market for more than 10 years. Therefore, if you have any recent model, even if it is from one of these brands, it is very likely that you will not have any problems.
What do you think about this news? Leave us your comments!