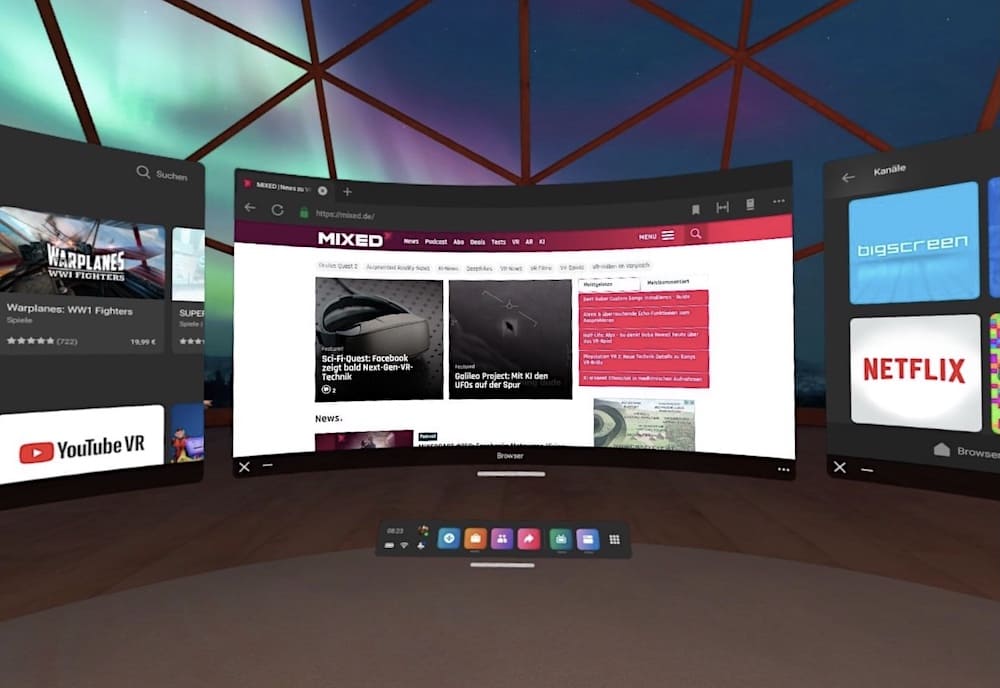 In June, Facebook introduced multitasking in Oculus Quest. This feature makes it easier to use Android apps and makes VR glasses more convenient for work and entertainment.
Android apps like Netflix, Discord or Spotify that you install on Oculus Quest via Sidequest and launch and use as 2D apps: there's nothing new about this. You could already do something similar with Oculus Go. It is not surprising that this is possible: both pairs of VR glasses are based on the Android operating system.
However, the multitasking of Oculus Quest, introduced with Update 30.0, makes this unofficial feature very convenient: Quest users can now simultaneously use Android apps, browse the web through the Oculus browser and browse the Quest Store. Android apps can be organized, minimized, and closed. Previously, this was not possible.
Oculus Quest: On the way to a virtual working platform
It is no coincidence that support for Android apps has been improved: Facebook is currently working on integrating applications for smartphones. Thanks to the integration of Android applications in the Quest Store, the company is building a bridge to the ecosystem of smartphone applications and provides Quest users with access to a large library of installed applications and platforms that will significantly improve virtual reality glasses.
Facebook's stated goal is to make Oculus Quest a portable personal computer and a virtual office that will one day replace tablets. The company calls this feature pack Infinite Office. Multitasking and support for Android apps are important steps in realizing this vision of turning Oculus Quest into something more than just a game console.