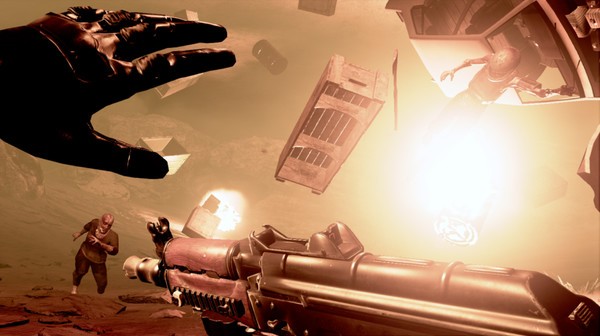 Terminal — VR is an upcoming FPS (First-person shooter) focused on a single game in ravaged planet, exposed to severe weather, natural disasters and terrible beasts. You will have to fight during the game, avoiding the debris and fighting off the threat of raiders.
According to a post on the Steam store page, it is scheduled for release early access on December 17, and the developer REMANIC plans to keep her there for 6-12 months while they test the new content, the development of which is already close to completion.
Visually it looks pretty impressive for a game from such a small, unknown indie band. The mechanics of the weapons seemed to be satisfactory, and it is a little more varied than just the use of wave shooter in the arena, and it's more than the vast majority of shooters in VR in Steam.
You can also use special abilities like slow time, sprint, and the inclusion of night vision during missions. Right now there are three game modes: Rush, Arcade and Holdout.
In Rush you travel on foot to the specified meeting place, to evacuate, avoiding the infected bumps;
Arcade — busy mode in which you need to survive extreme weather and the infected ambush;
Holdout mode is based on survival where you must survive as long as possible fighting hordes of enemies.
Over time, will also be added two new game modes: Shootout and Arena. In a Shootout you have to use cover, when you fight with enemy scavengers in the shootings, while the Arena will be focused on melee with throwing objects and weapons that you pumped to hit enemies.
Source