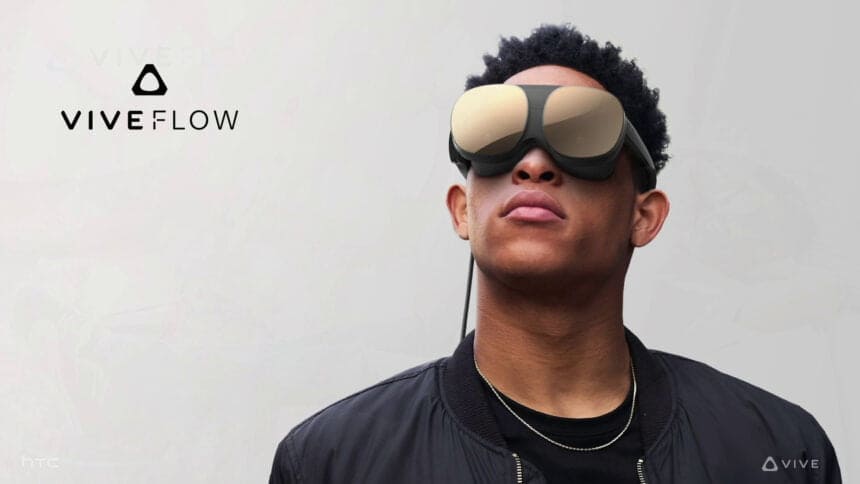 Shortly before HTC's presentation, new Vive Flow VR glasses appear online. Even the price and release date are already known.
Renowned technical specialist Evan Blass posted the first photos of Vive Flow on Twitter. In fact, Flow looks like the Vive Proton concept glasses shown in February 2020.
The photos confirm some details of the leak of the Vive Flow protocol, but the Flow are not completely self-sufficient virtual reality glasses. Instead, they can be connected to a smartphone using a cable. Wireless communication via Bluetooth connection with the smartphone app is also described in the figures.
Miss me, @HTC? pic.twitter.com/hB7iPLLCHk

— E (@evleaks) October 12, 2021
There may be a difference between video streaming via Miracast and real-time 3D content. The latter will then need a cable connection or additional power of the current smartphone. There are processors built into Vive Flow, but they should provide less performance than Quest 2.
For people who wear glasses, Vive Flow offers a focusing mechanism up to -6.0D. In addition, surround sound speakers are built into the case, and a cooling system is installed in the front of the glasses. The smartphone becomes a turn and hover controller in VR, as we know from the Oculus Go controller.
pic.twitter.com/NutC8vPZhc

— E (@evleaks) October 13, 2021
As the leak shows, Vive Flow does not have its own VR controller. In Vive Flow, games play a secondary role, the main focus should be on video and social interaction. HTC describes Vive Flow as VR glasses for "wellness and productive work."
The cameras are embedded under the opaque cover of bronze-colored glasses, which should be used to track the room and, possibly, AR mode, in which the image of the outside world is transmitted to the glasses.
In one picture, a woman looks at her smartphone through glasses. However, it is possible that she is looking at the digital image of her smartphone in virtual reality, and not at the real smartphone screen through the glasses' cameras.
pic.twitter.com/vfK7D0Pbjg

— E (@evleaks) October 13, 2021
Interestingly, HTC cleverly hid the security cameras under the cover of bronze-colored glasses, so that they can only be partially recognized from the outside. This makes VR glasses look more like one piece, and outsiders may have less of a feeling that they are being taken off.
Vive Flow starts in November
The head mount is certainly a striking feature: unlike other VR glasses, it is not attached to the head. Instead, glasses with two arches are worn more like regular ones. This means that they can be quickly put on and taken off.
pic.twitter.com/sBbILkEfji

— E (@evleaks) October 13, 2021
If Blass's information is correct, Vive Flow will launch in November 2021. HTC will be offering pre-orders from October 15 at a price of $500. Pre-orders: You will receive seven virtual reality apps for free, two months of free access to Infinit/Vista, possibly a new store or social offer from HTC, and the eyeglass case shown in the photos.